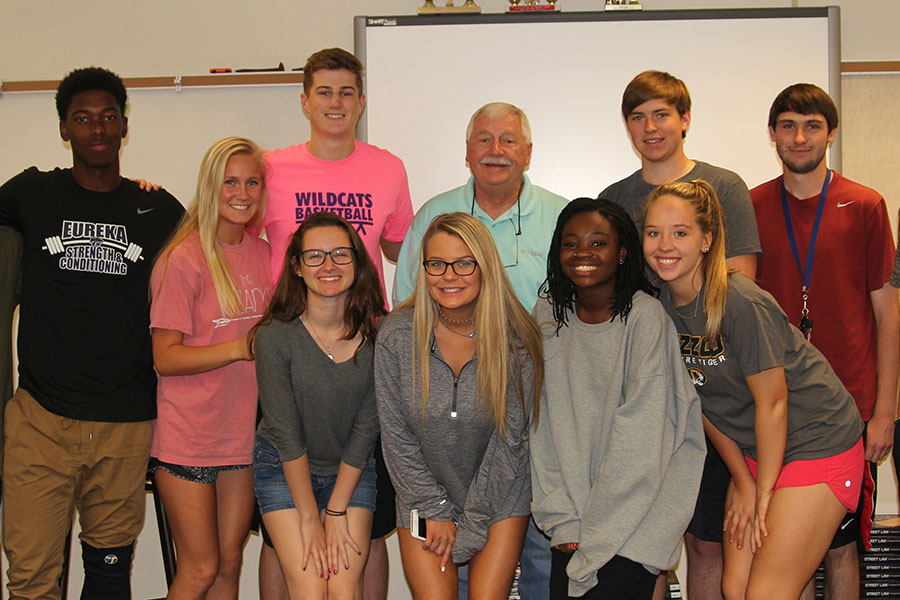 Bill Goggin
Bill Goggin taught for 24 years and spent every minute at EHS. He taught Sociology, Law and Justice and Contemporary Issues.
"He's really interesting," Adam Alexander, Contemporary Issues student, said. "He's a nice teacher, and it's probably one of the easiest classes.
Favorite part of teaching
"Connecting with the kids," Goggin said. He coached varsity boys soccer for 18 years and varsity girls soccer for 20 years. In 2013, he led the girls to a state victory.
Favorite EHS memory
"I have a lot. I've loved my time at EHS," he said. "Winning state in soccer, having kids come back and say how much they've enjoyed my class, and the floods of '93, '95, 2015, and 2017. My son's graduation from Eureka was a huge memory for me."
What he learned
"Kids are a lot smarter than we give them credit for," Goggin said. "Kids want to do the right thing. Kids need direction."
What he will miss
"I will miss the interaction with the students. Their ideas and creativity are amazing," he said. "I will also miss the friendships with other teachers and parents. Plus, I will really miss the Social Studies Department lunch conversations."
Goggin has spent his time at EHS building friendships.
When Jordan Thompson, Sociology student, was struggling with some things outside of school, she turned to Goggin.
"He's always been there for me," Jordan Thompson, Sociology student, said. "He's not just my teacher; he's also my friend."
Goggin connected with his students and the staff..
"He always has those students that he picks on, but they're okay with it. It just makes the class more enjoyable," Raegan Holland (11) said. "You feel a part of the class."
After retiring from teaching, Goggin will be working for an investment firm as well as looking for volunteer opportunities.