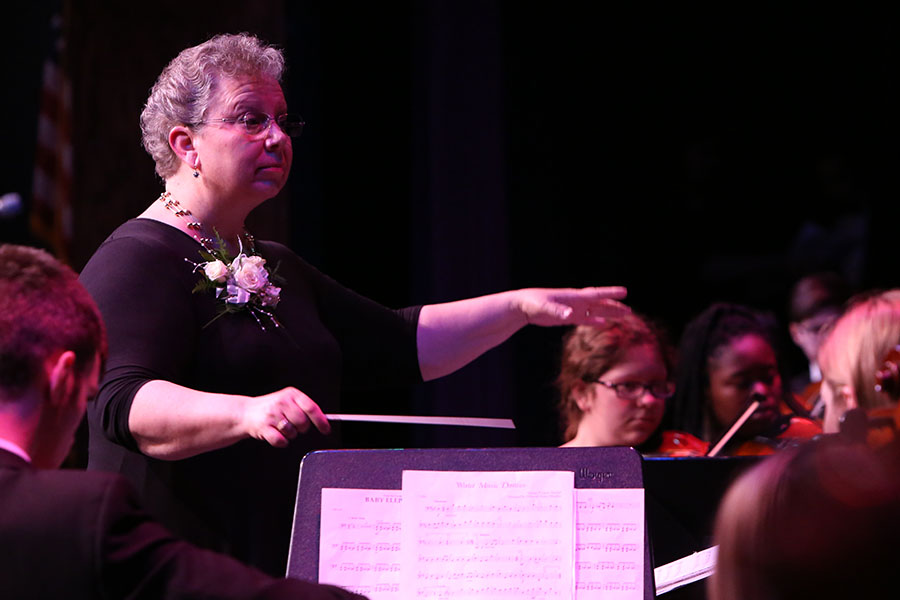 Patti Fleer
Patti Fleer taught and directed orchestra for over 25 years. She began at St. Clair High School then went to East Central College. Later, she moved to the Rockwood School District, where she taught elementary, middle school and high school strings classes.
Over her career, she has held many positions such as orchestra director, choir director and music appreciation teacher.
Fleer originally began teaching only one class at EHS starting off with just 15 students. She would then leave and go to either an elementary or a middle school to continue her teaching during the day. She left EHS with a program of almost 100 students.
"She's really generous and really sweet," Leah Agoncillo, Symphonic Orchestra student, said. Agoncillo was struggling in math and Fleer helped her out despite not being a math teacher.
Her favorite part of teaching
"There's something new every day," Fleer said. "The kids keep me laughing, and they're really smart. I have a good time."
Favorite EHS memory
"All the concerts are my favorite memory. I like giving concerts," she said. "I like performing, and I like preparing the students."
What she has learned
"I've learned to appreciate high school students. They always amaze me," Fleer said. "For all the bad press teenagers get, I defy that. I think they're wonderful."
Fleer taught more than music.
"Mrs. Fleer has taught me to bring the most out of everything and always enjoy the day," Zach Holtz, Chamber Orchestra student, said.
The dedication of her students is a reflection of her. Jacob Gyori, Symphonic Orchestra student, was a student of Fleer's since middle school for a total of six years.
"She cares a lot about the students and she does whatever she can to make sure they know what's going on and they get a good education," Gyori said.
She joins the Class of 2017 and leaved the halls of EHS to ahead to a future that waits to be determined.
"I feel like I'm graduating," said Fleer on her retirement. "I'm restructuring my life a little bit." Fleer plans to give a few strings lessons as well as catch up on some projects that she's been avoiding for 25 years.