Long Living Legacy of Andy Bedo
Eureka Football's Andy Bedo epitomized laughter, loyalty, leadership, love, and is celebrated with annual Homecoming award
September 29th, 1995; the Eureka fans filled the Oakville stands as the Wildcat football team flooded the field against the Tigers. Halftime changed the mood of the game as senior captain and Hit Squad member, #48, Andy Bedo was immediately rushed to the hospital after playing the first half with a severe headache and eventually collapsing. 
As soon as the game finished, coaches, teammates, family, and friends filled the hospital and awaited the news. Bedo immediately underwent surgery in order to reduce swelling in his head. The doctors also ruled that Bedo was suffering from a brain aneurysm but had to first take care of the swelling. 
Eureka community members filled the hallways and waiting rooms hoping to hear good news and begging to hear of Bedo's recovery. The next morning, September 30th, 1995, Andy Bedo passed away in the hospital, devastating the town.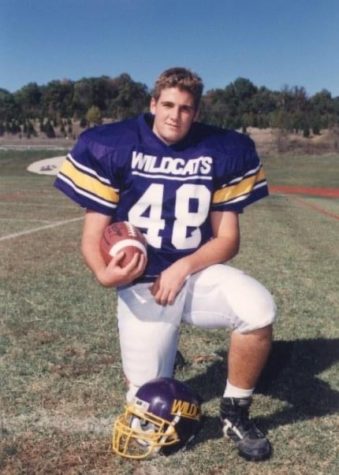 Andy Bedo was involved in virtually almost every different aspect of the community you could think of; throughout his life he was involved in football, basketball, soccer, baseball, school clubs, community service, band, and always made sure to be involved in his community. He was a natural born leader and captain of the football team. 
From a young age, Bedo loved sports, especially football.
Pat Grimshaw, football coach, said that he was a crucial member to the team. 
"He was a two way player, a big team leader. He was real physical, played both sides of the ball, and never came off the field," Grimshaw said.
Bedo's leadership led him to be an outstanding teammate and role model, especially to his younger teammates.
"He was such a fiery and intense guy, but he still took me under his wing a lot. He was always talking to me after practice and he treated me more like a little brother. He was trying to help me out and he was great with that with a lot of underclassmen," said Pete Grace, Eureka football coach and former teammate of Bedo. 
Bedo became known as a leader by example and worked diligently to better his team and those around him.
"He'd be on the sidelines and he'd be coaching from the sidelines. The team would come off and he'd tell the players 'ok now watch for this play'. He was always very interested in the growth of the team," Gretchen Bedo, Bedo's mother, said. "He was always looking for improvement, whether it was self improvement or team improvement."
Bedo wasn't just an All-Star on the football field. Teresa Yakel, Bedo's sister, said that he excelled in almost every aspect of high school.
"He played on the basketball team, he did baseball. Andy also did Student Council, he was part of community service clubs, and he was just a well-rounded kid. He was academically smart and had a well rounded character," Yakel said.
Bedo wasn't just seen on the football field, he was found in AP classes and making sure to take his school work and connections with people seriously.
"He was a scholar and an athlete; he wasn't just a jock. He worked hard and he respected other people who worked hard. It didn't matter what they worked hard in, he respected people who had passion in what they were doing" Gretchen Bedo said.
Bedo's death hit the student body and community unbelievably hard since he had been involved in almost everyone's lives. 
"Andy's death was so tragic for the students because they all knew him and loved him, he had made an impression on the whole student body. They took buses from the school to his funeral because everybody wanted to go," Yakel said. 
Bedo's tragic and sudden death caused the student body and community to be hit increasingly hard because he was a friend and teammate to so many and had affected a huge amount of people. Coping was one of the most difficult things the community had ever had to deal with. 
"The thing I specifically remember the most was being in the PE building and having many kids just gathering around sitting on the stairs, hugging and talking about their memories of Andy," said Sharon Wasson, former Eureka teacher.
The Bedo family was hit the hardest with this tragedy, but the grieving community was able to rally around the family and provide as much support for them as they could. 
"I remember the buses full of students, I remember the line of coaches at the hospital that night all waiting to hear the news, and the tears on their faces, and then not just the emotion that the community collectively felt, but how the community rallied around our family," Yakel said. "The community has used things like 'EurekaStrong' every time there's a tragedy and I felt that. I am a recipient of that community love and that is something that has left such an indelible mark on my life. That community brought me healing when I needed it."
The Bedo family showed immense strength throughout this aching time. 
"It's hard to imagine ever losing a child, yet I marveled at the strength shown by the Bedo family. They were there for the kids as much as the kids were there for them," Wasson said.
This period of grieving and pain caused the Eureka community to grow closer than ever and showed the true power of family. 
Due to the impact Bedo had on Eureka and the Eureka football program, football coaches that year created an award dedicated to and honoring Bedo and his legacy. The Andy Bedo Most Valuable Player award is awarded every year at the Homecoming football game.
Members of the Eureka program work their whole high school careers in hopes that they will be the senior(s) to receive this award on that special Friday night. This award honors Bedo's dedication, loyalty, hard work, attitude, and leadership. Those who receive this righteous award are the members of the team who stand out not only by performance on the night of the Homecoming game, but those who exhibit true leadership, as Bedo did, throughout the whole football season. 
"We don't just honor the kid that's great that night, we honor a kid that's a program kid and means everything to the team; a MVP type player but also has to be an MVP off the field as well," Grimshaw said.
The character of the athletes is just as important, if not more, as the athletic ability and output when it comes down to deciding the recipients of the award. 
"The coaches decide who gave it their all, maximum effort, did what they needed to do, showed passion, but were also a team player and showed loyalty to the team," Yakel said.
Receiving the Andy Bedo Award as a Eureka football player is one of the highest honors awarded.
"Being awarded the Andy Bedo trophy was a very humbling experience. To win an award with so much significance to this historic program, knowing how much bigger it was than me, it was humbling," Luke Gentry, Eureka football coach, and former Eureka football player, said. "To know that even when I left this school as an athlete, my name amongst a select few of Eureka greats would forever be associated with this award."
After Bedo's passing, Bill and Gretchen Bedo, Andy's parents, and his two sisters, Laura Bedo and Teresa Yakel, organized a scholarship, given each spring to a senior who possess similar qualities to those Bedo held; laughter, leadership, loyalty, and dedication to the school and community. This award is also based on academic strength, financial need, and the legacy that the student will leave.
"We look for recipients who are well rounded and leaders in a wide variety of areas. They have to be academically strong but we aren't looking for the smartest student, we are looking for students who worked really hard in a lot of different areas and that they made Eureka a better place," Yakel said. "When we look at scholarship recipients, we look for people who have left their mark on Eureka and after they leave people are still talking about the impact that they had."
Bedo left a large legacy with Eureka. His name and stories are told to every Eureka football player who passes through the program. His legacy is one left with so much pride and passion and still remembered by all.
Bedo's effect on the football program and the coaches coaching styles still holds today.
"It just put everything in perspective and set my priorities as far as what's really important out there, like building relationships," Grimshaw said. "It's bigger than a game."
Bedo's death made many of those in the community have a shift in perspective and realize how precious life is.
"It makes you grow up pretty fast, makes you learn how short life is and how important all of your relationships are, not only with your teammates but your fellow coaches, and that has carried over to being part of the family here," Grace said. "He was such a great leader and it gives you passion and makes you want to be fiery like him because you have seen the effect he had on the people around him."
The Andy Bedo MVP Award is one of the most important and heartfelt awards the Eureka holds. It continues Bedo's legacy and helps those who may not have known him know stories of the great person and athlete he was. 
"When we go to present the award every year, we're always reminded of the kind of character that Andy had, how hardworking he was, how passionate he was about football and sports in general," Yakel said. "It reminds us of his memory but also his legacy and the fact that the team continues to carry this tradition is also very meaningful for us because it keeps that memory alive, not just for us but for the community and those who knew him."
View Comments (2)