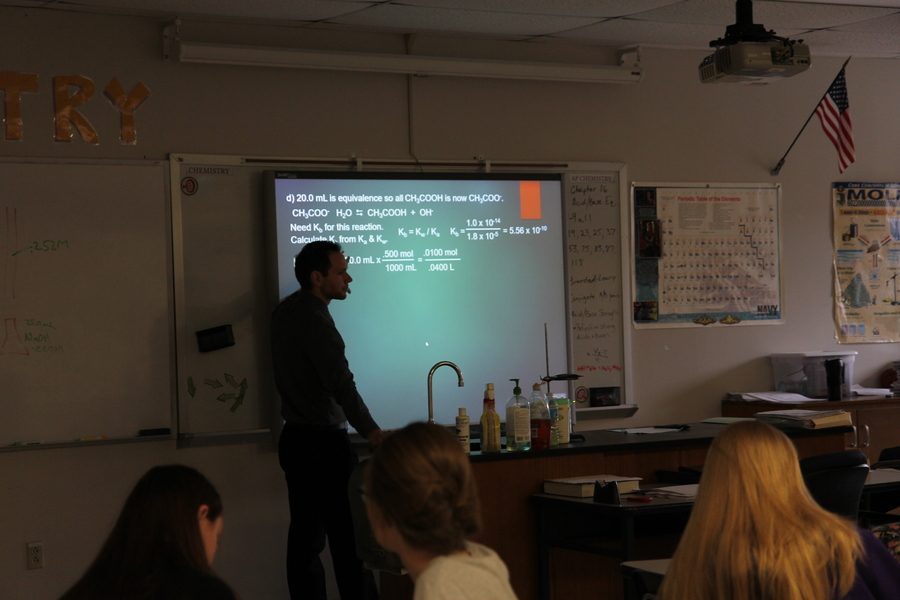 Andy Ribbing
Andy Ribbing has taught in the Science department for nine years. He's taught AP Chemistry, Applied Biochemistry, Honors Chemistry, Physical Science and standard Chemistry.
Allison Creg (11) appreciates Ribbing's approach to helping students understand the material.
"We have a lot of work time, so he'll come around and make sure we understand what we're doing,"  Creg said.
Jared Alt (11) likes Ribbing's attitude.
 "He's fun to be around," Alt said. "He always makes subtle jokes that you may take a while to get, but once you get them, it's really funny."
Favorite class to teach
"I really like all of my Chemistry classes," Ribbing said. "My degree is in Chemistry, so it's kind of a passion of mine."
Favorite part of teaching
"It's the kids. I mean, everyone here, teachers in other buildings and districts I've talked to, I just tell them how great the kids are here," Ribbing said. "Everyone is so involved. I love to see the enthusiasm. That just gets me energized to come to work every day."
Going  above and beyond for his students
"I really try to make connections with each student," Ribbing said. "Sometimes that's more difficult than others, but you really want to try and work your way around the room to try to understand how each student learns. Then, you can approach them in a way that's more personal."
Something he wants all of his students to know
"I genuinely love what I do. I do. It's a passion to me," Ribbing said. "I was talking to some friends the other day and telling them that this is my calling. I feel like I'm just in the right place."
Some of her favorite memories
"There's so many! I'd say, within my first year, just getting to know the staff, specifically the Science teachers. It's just a great group of people to be around and get to know them over the years, see new teachers over the years and being able to help send off some of the retirees has been a really neat thing," Ribbing said "The memories of the students I've had in the past and the memories I'm making with my current students, those are the ones I hold on to. I actually keep a file in my desk from everything I've received from students, any letter that's given to me, and I just cherish those."
Why he became a teacher
"I knew when I was in high school that I wanted to teach–just the dynamics of a high school experience, everything from the academics to the extra-curriculars and being able to help kids figure out what they want to do. That always intrigued me," Ribbing said. "The biggest thing was that I wanted a life-long career that would impact a good number of people in a positive way. To me there's no better way of doing that than being a teacher."