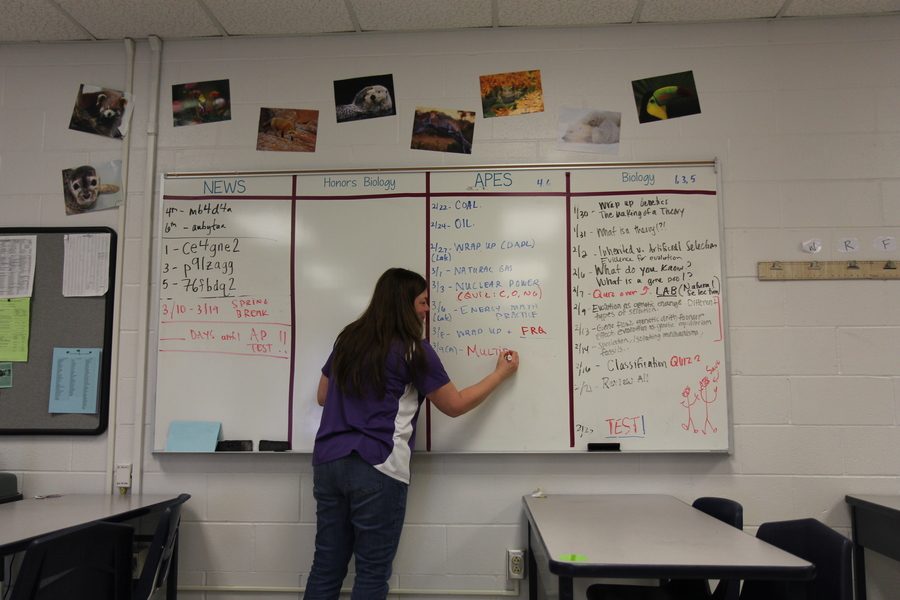 Mandy Kotraba
Mandy Kotraba has been teaching for 13 years, the most recent five of those being here. Before teaching at EHS, she taught at Lafayette High School, for which she apologizes. Kotraba teaches both AP Environmental Science and standard Biology.
Rami Ahmed (9) enjoys joking around with Kotraba in class.
"She makes jokes at us. She'll kind of roast us,"  Ahmed said. "She knows how to have fun."
Joshua Alexander (9) appreciates her approach to learning.
"Her teaching style really helps," Alexander said.  "She really just makes sure that you know and understand you are learning."
Favorite class to teach
"My favorite is definitely AP Environmental Science because it's close to my heart and you can see it on the news every single day," Kotraba said.
Favorite part of teaching
"It's interactions with kids. I love science, but it's not about science, it's talking to kids about real-life things every single day," Kotraba said. "I like when classes interact, when I have fun messing with them and they are willing to mess back with me!"
Going  above and beyond for her students
"When kids are out sick, I'm more concerned with them getting better than doing the class work. I know, for me, if I was a student, if I missed seven classes and they were AP, I don't even know what I'd be thinking at home," Kotraba said. "I definitely wouldn't be thinking about getting well. I'd be stressed out and anxious. So when students miss, I feel them. It's hard to come back, so I try to give them more time to come back from things like that."
Something she wants all of her students to know
"Sometimes I'm savage to them! I tell them all the time 'I'm only savage to you if I like you,'" Kotraba said. "I'm kind of like a second grade boy, where, if I like you, I pick on you for fun, and I know you're gonna pick on me, too."
Some of her favorite memories
"There's too many to remember! I think some of my most favorite memories here are participating in graduation," Kotraba said. "It's super corny, but it's fun to watch a student transition from being a student walking these hallways into who they're going to become. I love watching students grow up here, but I also love seeing where they end up."
Why she became a teacher
"When I was in high school and people said they wanted to be teachers I said, 'You're crazy!' So, I went to school to be a conservation agent. I wanted to be outside with animals all day long, and that was terrible. When I was done doing that, I went and worked at Washington University for a while in the lab, with the lab coat and pipette all day long," Kotraba said. "As I sat and pipetted all day, I realized how boring it was; although some people find it amazing. I realized the only thing that I've ever done that I really, really looked forward to every day was working in the Missouri Department of Conservation and giving programs to little kids. I decided I was going to back, and I got my degree for teaching six years after I graduated originally. I've never thought about anything else, so that's how I know I love it!"