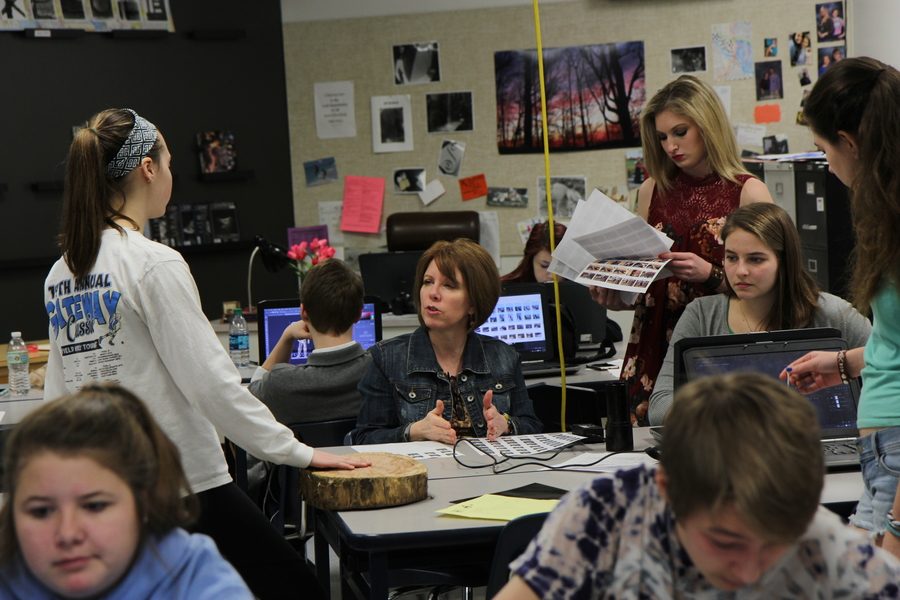 Robyn Stellhorn
Robyn Stellhorn has been teaching for 27 years, all of them here. She's been here longer than most other teachers, and she's taught a wide variety of classes. She currently teaches Photography 1 and 2 and World Art, but she's also taught Journalism and Language Arts classes.
Kennedy Fuerst (12) is grateful for Stellhorn.
"She's always really helpful and cheerful. She likes to help you with your projects, so she's always around," Fuerst said. "You know she'll help you if you need it."
Jeffrey Allmeyer (12) is also a Stellhorn fan.
"She definitely does try to help everyone," Allmeyer said. "She gives you time to figure out what you're doing and she helps you along."
 Favorite class to teach
"On my favorites list was Journalism. I was the leader of 'The Bugle' back when Yearbook and Journalism was divided into two different teachers and we had a print copy," Stellhorn said. "I also love World Art. It's a craft space, we do a lot of projects and it's all hands-on."
Favorite part of teaching
"I don't look forward to the meetings and the committees and those sorts of things, but it really gets down to helping kids. Sometimes in the Art Department, we see kids who maybe struggle emotionally or even academically with things," Stellhorn said. "But when I, as a teacher, can help that student overcome whatever it is, whether it's an academic hurdle or an emotional battle, it's really fun to see them later on graduate and be successful."
Going  above and beyond for her students
"As teachers, you have to stay on your toes as to what students need. When they are ready to move on, when something doesn't make sense, that stuff," Stellhorn said. "Just using a variety of learning styles–hands-on, lecture, visuals- just having hands-on ideas helps kids so they can really learn."
Something she wants all of her students to know
"I really care. I always want them to know that I try my best and bring my 100 percent energy level every day," Stellhorn said. "Even though I'm one of the older teachers in the building, I try to bring my game every day."
Some of her favorite memories
"Late night work nights with 'The Bugle.' We came out with the newspaper every month, and it was eight pages, so sometimes it took a lot to put it together. I remember just getting really silly, lots of food and cracking up with the kids," Stellhorn said. "I do remember that one time it was someone's birthday, and we were there late, like 9 p.m. or something crazy like that. I remember the kid saying 'This has been a crazy birthday! Why have I been at school for 13 hours?' I jumped on the table and broke out in this crazy happy birthday song and that really lightened the mood."
Why she became a teacher
"When I was in high school, I saw a girl sitting alone on the bus so I sat with her and befriended her," Stellhorn said. "Sitting with her made me take on the sort of protector role and thinking 'I'm going be a teacher.' I didn't know exactly in what, but I knew I was going to be a teacher."