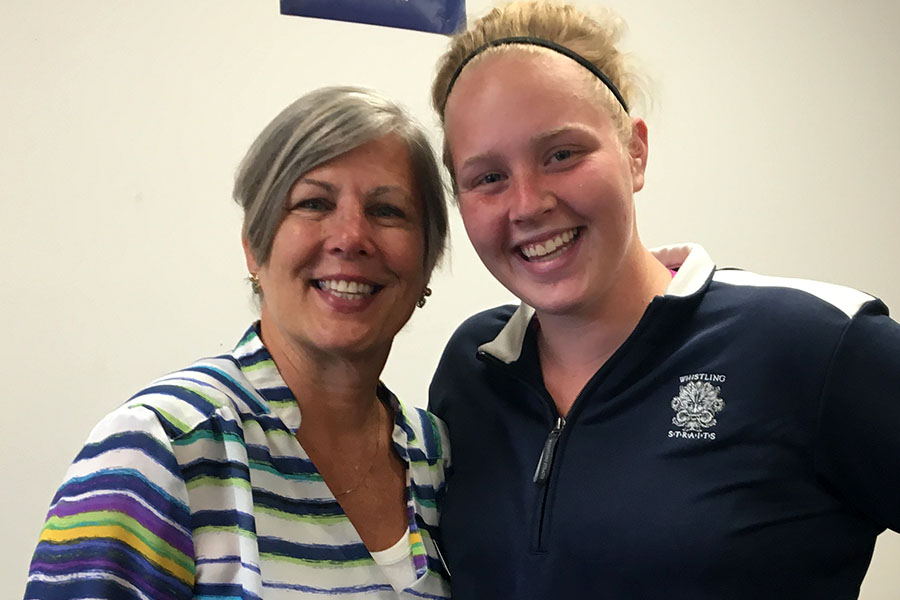 Sherree Klumb
Sheree Klumb taught for 25 years. She began teaching at Webster Groves High School and later moved to EHS where she taught for 21 years.
Klumb has taught mathematics including: Algebra 1, Pre-Algebra, Algebra 2, AP Calculus, Geometry and Honors Geometry.
"She always tries to make sure she has time for each one of her students," Sophana Holdegraver, Algebra 2 student, said.
Favorite part of teaching
"It's so different every day. I didn't start teaching until I was 32 years old or so because I kept changing jobs. I'd get bored," Klumb said. "Every day is different. You're always doing something. I never ever get bored teaching."
EHS experience
"I have been involved with head cheerleading; we took first at state one year, so that was fun. I ran a Math Club. I have been involved in a lot of leadership with my Professional Learning Community groups," Klumb said. "It's just been a great place to work because of all of that. But the students, the kids here, I love the students. They're so down to earth, so easy to work with, and they're just so respectful. I think that's made me really enjoy being here."
Favorite EHS memory
"It still has to be winning first place at state for cheerleading. That was in 2005," she said. "It was totally unexpected and it was just such a great, great time."
What she has learned
"To have patience, to listen to people because you don't know their stories, so you really have to listen before you form judgements," Klumb said.
Cierra Isaac, Algebra II student, appreciated the attention.
"She's really understanding," Isaac said. Isaac, who has missed school for being sick, said Klumb always put in time to get her caught up.
Klumbs patience didn't go unnoticed.
"She does a good job explaining the information," Nathan Clar, Algebra 2 student, said. "She does a good job of making math fun."
After retiring, Klumb plans on babysitting her grandchildren once a week and possibly volunteering. She also plans on substitute teaching. In October, she is taking a three-week long vacation to Germany.