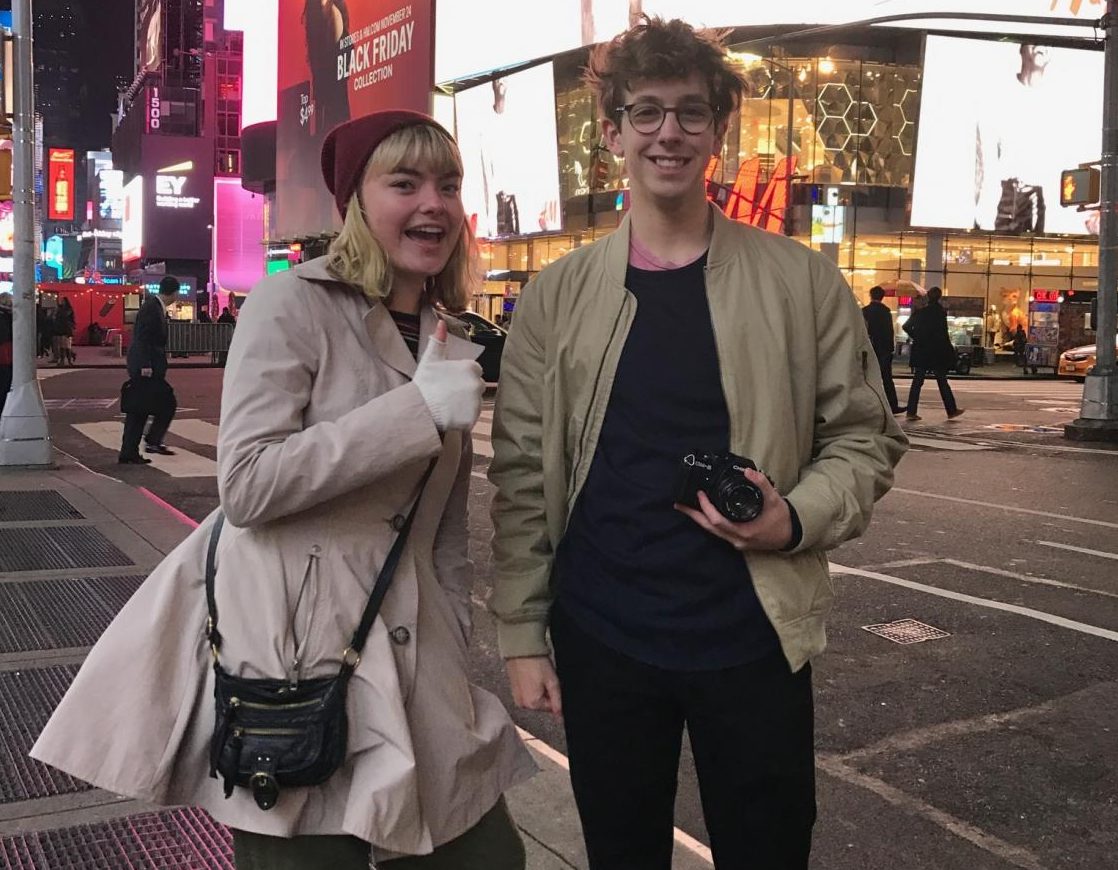 Taking on the next stage
Seniors Will Crane and Hayley Krey reflect on previous events that brought them to being accepted into New York University's Tisch School of the Arts.
Will Crane (12) and Hayley Krey (12), Eureka Theatre Company members, have recently been accepted to the prestigious Tisch School of the Arts at New York University. Crane and Krey will be attending New York University in the fall of 2018 to study drama in the hopes of one day pursuing careers in on-screen acting.
Tisch School of the Arts was founded in 1965 and has many notable alumni, such as Joel Coen ("No Country for Old Men"), Anne Hathaway ("Les Misérables") and Angelina Jolie ("Girl, Interrupted").
Tisch's website reports that "Tisch acting training teaches you to listen, it teaches you to communicate, it teaches you to be able to take an idea and share it with someone in a way they will understand," according to Richie Jackson, Tisch alumnus and producer. "The acting training was a real piece of my education and my career."
Crane and Krey stand out as exemplary theater students, not only in etc…, but also in the international pool of aspiring acting students that auditioned to be accepted to Tisch.
"I know that we've had film students go to Tisch, but in my time I do not remember an acting student getting into Tisch," Susanne Almendinger, Theater, said. "Hayley and Will's acceptance is huge. Tisch is very selective, and it kind of knocked me off my chair."
With an acceptance rate of 20 percent, 2,500 students apply to the drama department at Tisch annually and only 500 are accepted, Josh Johnwell, Tisch work study student, reported in a phone interview conducted, Feb. 13.
Crane and Krey's acceptance did not come easily. The audition process for Tisch required them to travel to New York to be evaluated.
"It was nice having Will there because we could do it together," Krey said. "I didn't want to go into it alone."
The audition process for NYU consumed Crane and Krey's attention in the months prior to their trip to New York.
"For a while, I remember, we had to go to bookstores everywhere to find the perfect monologue, and I'd just be there, at Half Price Books, waiting for them as they would comb through these books, trying to find something because they were trying to do something different to stand out," Dennis Brock (12) said. "It was a lot of stress and lot of work that they both put into it."
Krey performed a monologue from the play "Gorida" by Branden Jacob Jenkins and a monologue from the one act "Communicating through the Sunset" by Kerri Kochanski.
Crane performed a monologue from the play "Messiah on the Frigidaire" by John Culbertson and a monologue from "Asylum" by Keith Aisner.
Flexibility and the ability to network are traits that will serve Crane and Krey well both during their time at NYU and after their education as they seek acting roles.
Yearly tuition at Tisch generally costs upwards of $50,000, not counting housing and other fees relating to NYU.
Incoming students such as Crane and Krey will face the dilemma of paying for this education and pursuing a career in acting. Being successful in this field is challenging, especially if the ultimate goal is fame.
"If you can make a living doing theater with or without stardom, you're successful." Almendinger said.
Ultimately, making a living as actors and being at peace with their own spheres of influence will define success for Crane and Krey.
"I know that it's a really challenging field, whatever aspect that they enter into it, I know that it's super competitive," Gary Baumstark, Language Arts, said. "I hope that they can follow their passion and be successful doing what they love to do."
Crane and Krey's acceptance to Tisch and NYU is not only significant to each of their academic and thespian pursuits, but it also affects their futures as citizens of the world.
"They both have a lot of dreams and things that feel unfulfilled right now, and I want to see them being fulfilled," Brock said.
Crane and Krey's determination and perseverance has allowed them to make it as far as they have already as actors.
"They're both hard workers, and they can both do it," Brock said.