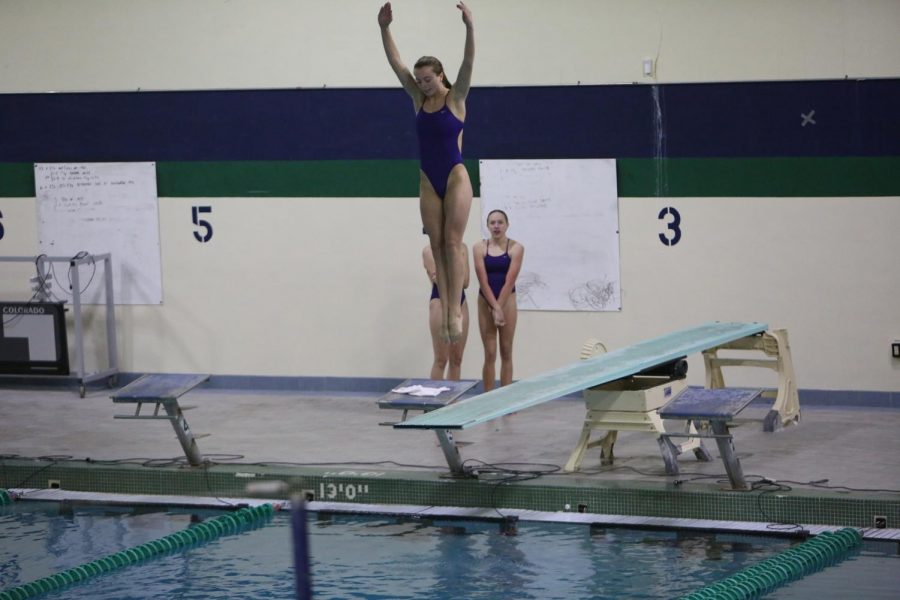 Ally Weis
Ally Weis (12) made a splash at her fourth consecutive appearance at the 43rd annual MSHSAA girls swim and dive meet at St. Peters Rec Plex, Feb. 17.
Weis has landed a spot on the podium her last three dive seasons, this season finishing in second place in the Class Two portion of the competition. She scored 451.6 points
"I felt very proud of myself for getting second," Weis said. "It felt like after four years, all of my hard work had finally paid off. I was proud of everything I did and that I performed the best that I could."
By maximizing her efforts this year in practice, she pushed herself a step up from last year.
"I worked hard at practice each day," Weis said. "I made a big effort to workout in order to get stronger so that I could perform better. I got new, harder dives. When you have harder dives and you do them just as well, you get more points when you perform them. Being able to learn and perform new dives definitely helped me this season."
On top of perfecting new dives everyday, Weis, being the only upperclassman also had to lead a team of younger divers.
"Ally was a phenomenal leader for myself and the other divers," Bailey Walka (10) said. "We all looked up to her and she motivated us to work hard and be the best that we can be. She has been such a positive role model."
Cortney Teague, head girls dive coach, has cherished the time spent coaching Weis and watching her compete.
"Ally has really matured and gown as a competitor over the last three years," Teague said. "She used to question herself and now she has grown into a much more confident competitor. I knew that at state if she could do what she is capable of that she could place very high in either first or second. Everything she did at that meet she hit-some of them even better than I've ever seen her do before so that was more exciting to me than seeing her getting second."
Weis is still deciding whether or not to take her dive career to the next level in college at either the University of Kentucky or Kansas.