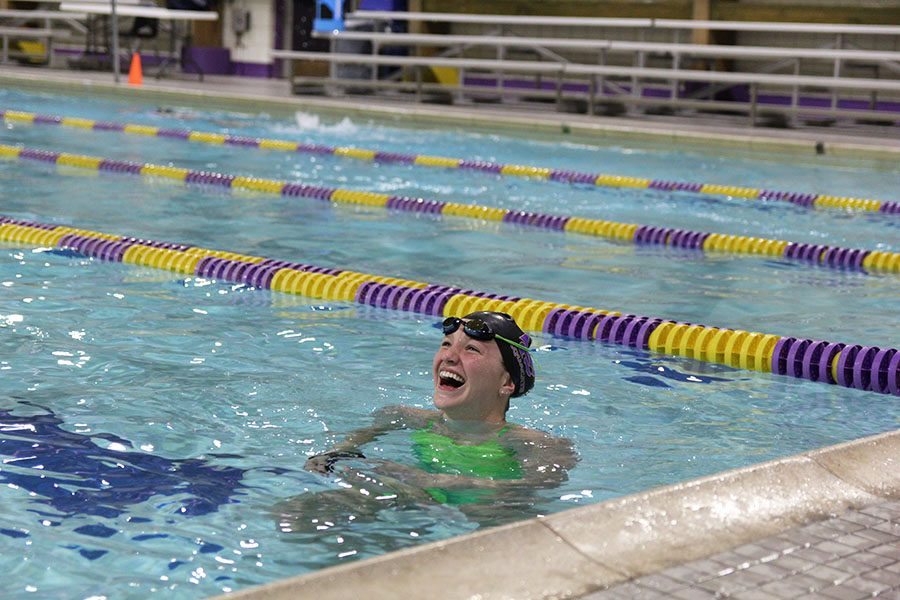 Lily Harrell
Lily Harrell (10) proudly took the podium at the Class Two portion of the 43rd annual MSHSAA Girls Swim and Dive state meet at St. Peters Rec Plex, Feb. 16-17.
Harrell competed in four events at state, but her success in the 200-yard medley individual race with a time of 2:09.5 was what granted her a fifth place spot on the state podium.
"My season was a really fun and great experience," Harrell said. "I started out with big goals in mind and an attitude to work for them. Thankfully my hard work paid off and I made all of them. It was an amazing end to the season."
She also competed in the 100m backstroke and in two team relays-the 200 medley relay team and the 400 free relay team. The outcome of all three races were third place in consolation and 11th overall.
Competing in individual events as well as team events helped Harrell create bonds with her teammates and earn their support.
"My teammates were great, they just made swimming a lot more fun and less stressful when I was nervous about my races," Harrell said. "I could not have done it without them."
Harrell's teammates shared the mutual feeling of togetherness throughout the season.
"Lily is an amazing teammate," Mckinley Munk (10) said. "She really likes to help everyone be the best that they can be. She works extremely hard which is super motivating for everyone else to see."
The Eureka girls swim team placed 13th overall.
Nate Kortuem, girls head swim coach, could not be more proud of the Lily's success at state.
"I was super excited and happy for Lily when she placed because I knew how hard she worked all year," Kortuem said. "To break her own school record she set earlier in the year and go under 2:10 at state was incredible. It was extremely fast and she did an amazing job. I am super proud of her."
With an exciting end to the season, Harrell can look forward to the next two years of swimming.