Riley Baker: A Hero's Life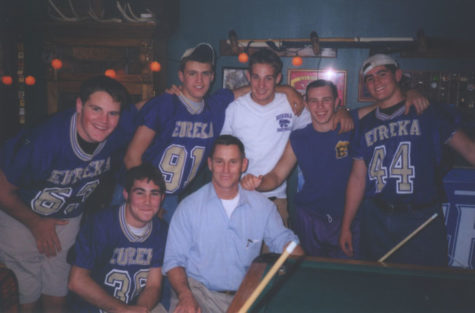 On Thursday, June 22, 2006 in Al Ramadi, Iraq, Eureka's hometown hero fell. A fire flickered out in one of the world's brightest matches. The curtain closed on the short life of Riley Baker, a beloved brother, son, and friend. But his legacy still rings true throughout the Eureka community, kept alive by the memories of those who had the honor of knowing him throughout his vivacious and unforgettable life.
Throughout his senior year at Eureka High School, Baker was awarded prom and homecoming king by his peers. Athletically, he was the school's first wrestling champion, a first team All-Conference linebacker and was awarded the Most Outstanding 3A wrestler from the St. Louis Official Association.
Baker's life is a constant reminder to the Eureka community, as he is honored through the passing of the number 28 to a deserving varsity football player each week and countless other traditions that the town has formed to keep his spirit alive. However, Baker was so much more than just the number on the back of a football jersey. Riley Baker was a strong, selfless, soft-hearted boy who impacted the lives of everyone he met, but more than anything, he was just a boy who loved his hometown.
"He loved his hometown," Grier Baker, father to Riley Baker, said. "He loved his Eureka; loved to hunt and fish and loved his sports and his teammates. They were like brothers, I mean that was their life, they did it together. They grew up together doing it. It was a brotherhood they had."
Baker's selfless sacrifice created a superhuman view of his person, making him out to be a celebrity of the highest honor. But to those who had the honor of calling themselves his friend, remember him as a teenage boy who cared deeply and stayed loyal, no matter the circumstances. 
"The best part about Riley was he was just an everyday kid just like you or me," longtime best friend and assistant football coach, Tyler Wasson said. "He turned into a kind of a marble man and he shouldn't. But I think that people, when they think about Riley, is just of what a regular down-to-earth good guy he was."
Although honored highly as prom and homecoming king, Baker never viewed himself as greater than. According to friends Wasson and Jacob Sumner, he hated the attention of the homecoming and prom crowns, and even tried to pawn them off. He always viewed others with love and respect.
"He just grew up loving everybody," Grier Baker said. "He had no enemies. Everybody liked him, he liked everybody. He would do anything to help anybody. It didn't matter who you were, a teammate or a schoolmate, if you needed help he helped him. That's what he was made of."
Those who coached Baker remember him as a hard-working, respectful, and humorous person; someone who could elicit a laugh from an entire room but knew when it was time to get serious.
"Riley was a typical teenage boy," Baker's former football coach Bryan Clar, said. "He had a great sense of humor. He was by no means an angel, but as far as a kid in class and a kid on the football field, he was exactly what you wanted out of a teammate. He was always intense; he was always involved in trying to be the best he could be and making those around him the best they could be."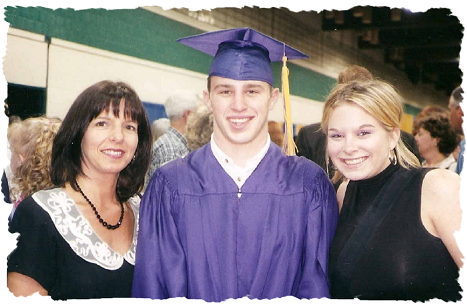 On the football field, in the wrestling room, walking the halls of the school, and serving his country in Iraq, Riley Baker was a leader. The rare ability to get crowds to follow him in his every footstep made him stand out to everyone that met him.
Wasson remembers a time when he, Sumner and Baker travelled up to an 80-foot bridge. After a while, Baker began sprinting across the bridge away from them. They screamed out at him as he lunged into the water below the bridge. But the boys followed him. Partly because of the Amtrak train that was on the bridge headed straight for them. Partly because that's what people did. They followed Riley Baker.
There was a reason why he wore the captain "C" on his football jersey. He was motivational, a pleasure to follow and a captain in every way that mattered. Whether it was calling out a player not putting in 100 percent, or running over to do up-downs with a player who had gotten in trouble, Baker was as loyal a teammate as they come.
"He was just a natural leader, everywhere he went, no matter what he did, no matter what part of his life he was in, he was a natural leader," Sumner said. "And he was a natural leader because he was so well respected because he was going to do the thing that people weren't willing to do and he was willing to have the tough conversations. And most of all he was a loyal guy. If you were on his team, he had your back through everything. So many times that rang true. It rang true in the littlest things he did." 
There was no one quite like Riley Baker; a boy so full of life but so dedicated to those around him. A true friend and leader to everyone, creating an aura that people everywhere loved to be around.
"Whether it was in the building or outside the building, he was the life of the party," Wasson said. "Everybody wanted to be around him. He had just an infectious personality. He's the toughest guy in the room but he was also the nicest, and the dichotomy of that, there's not people like that," Wasson said.
He was always all in; in everything that he did, no matter the seriousness of the situation.
"He always gives 100% in everything," Baker's mom, Katie Melies, said. "He always liked to motivate people, not because he thought he should because it's how he was."
His coaches assure that he was by no means perfect. He had fun and joked around just like any other teeanger. The difference, however, was his ability to switch that aspect off and turn into a loyal, mature, and respectful man in a second.
"Riley was a classic boy and what I mean by that is he was always having a good time," Clar said. "He was always right on the edge of having to watch out for him to make sure he wasn't doing anything wrong, but he was a good kid. You could count on him. He was hard-nosed, he was hard-working. He was a true leader in that all the boys looked up to him."
These qualities Baker possessed translated well into his military personality. His leadership, his respect, and his loyalty and love for his brothers ensured he was an asset to anyone he served with.
"When he said he was gonna go to the military, that's exactly the type of kid I want defending America," Clar said. "And even with how he died, he did that defending the country, defending his brothers, defending the people he fought with."
From a young age, Riley Baker had his mind set on the Marine Corps. Riley Baker followed in his father Grier's footsteps aspiring to the same goals.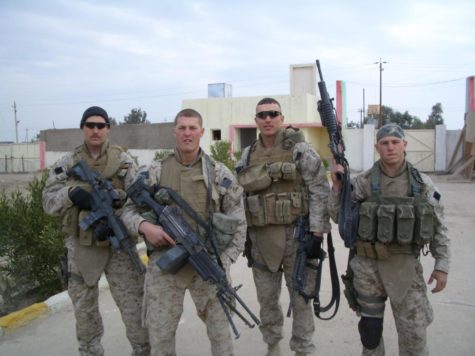 "I think he was a jarhead from when he was younger," Grier Baker said. "He had always talked about being a Marine. Always. If he fought with you on the football field or wrestling mat, he still loved you when it was done. He took that passion to the Marine Corps."
Baker enlisted in the U.S Marine Corps in 2003, earning the recognition of honor graduate of Platoon 2044 after graduating from boot camp in Parris Island, South Carolina.
Hundreds of miles from Eureka, those he met while in the Marines remember him just as those who knew him from high school did. A leader. A friend. A hero.
"He was probably the greatest person that I've had the pleasure of knowing as far as what kind of person he was," Daniel "Boo" Stanaland, a Marine that served with Baker, said. "Anywhere he went, he lit up the room. It's hard to explain, he was just the full deal, just the quintessential, an all-American boy."
His unwavering leadership and the ability he had to get everyone to stop and listen was what made him an exceptional soldier.
"He just took charge, he never asked his men or anybody else that served with him in that community to do anything that he was not willing to do himself," Stanaland said. "That basically was his demise. He was the first one off the truck when we were in Iraq, and that last one on it. His team was going to follow him, and that's basically how it boiled down to him being killed, he basically took a blast for his team."
Baker served two tours in Iraq, as a Scout Sniper and Team Leader, 3rd Battalion 8th Marines in Operation Iraqi Freedom.
June 22, 2006, in Al Ramadi, Iraq, Riley Baker took a blast from an Improvised Explosive Device and was killed. 
The breaths of his friends, his family, his community, and anyone that met him, caught in their throats as they stuttered in disbelief. On that Thursday, the world got just a little bit dimmer for the Eureka community. 
"It was one of those you couldn't believe because Riley was one of those kids that he thought and we thought was bullet proof," activities director Gregg Cleveland said. "As soon as the word started trickling out, from what I remember, everyone just kind of paused." 
Eureka wept for the loss of their hero. 
"It was just so devastating, because he was so good to everybody," Wasson said. "Everybody he came in contact with, he made them feel like they were the most important person in the room."
His brothers in arms felt the devastation and grieved with those thousands of miles away. 
"He made the ultimate sacrifice for his country, first and foremost for his God and his country and his teammates," Stanaland said. "It's hard to put into words just the caliber of man he was. I haven't figured out why him yet and I probably never will."
But in a way, to those who knew him, Baker went out in a way that represented everything he stood for.
"I hate the fact that Riley passed away, but the way he passed away and being in the Marines, that is the definition of Riley," Cleveland said. "He loved that, it was in his family and I promise you he went down making sure that other people were safe and that's Riley."
Those who completed the mission with Baker expressed their feelings of regret for what happened to his mom, Melies, during his visitation. 
"I think everyone of his team members wished it was them instead of Riley, but that's not what he would've wanted, it happened the way it was supposed to," Melies said.
On June 28, 2006, Riley Baker returned home one last time. And the citizens of Eureka came by the hundreds to honor him and show their love.
"There wasn't a person in the whole community that wasn't there," Grier Baker said. "Eureka's a family town, that's just the way it is."
In a time when his friends and family were at their lowest, when the thought of living a day without Riley Baker was too much, the community banded together to take some of their pain and help them through what would be the worst days of their lives.
"I just know people were really praying for us and lifting us up and we couldn't have gotten through without it," Melies said.
And Melies assures, that while Baker wasn't physically here, she believes he was still here in spirit to make sure of his family's safety. 
"I know people don't always believe in it, but I know he was still here for a while, making sure everybody was going to be ok," Melies said.
 And 16 years later, nothing has changed. His spirit is still alive. He is talked about frequently and remembered everyday.
"It's still surreal," Cleveland said. "His name is still synonymous with a lot of positive things in Eureka and that's awesome. As long as we are around, the people who coached him and played with him, Riley's name will continue to be talked about in a positive light, just because of the kind of person he was and the impact that he left on all of us. 
Number 28, Riley's football number, is an annual tradition throughout every football season. 
The tradition is carried out by his two best friends, Sumner and Wasson, who dedicate themselves to keeping his memory alive.
"I hand out that number 28 to a new player each week, and from my standpoint, being his best friend all these years, listening to these boys and how much it means to them, it gets your heart a little bit," Sumner said.
An honor for the players, and a connection to Riley for the coaches. Number 28 will never again be just a number. To anyone in Eureka. To his community, 28 is so much more.
"He never wanted that recognition and that honor, but for me it's a lot bigger," Sumner said. "First of all, that's my best friend. That's the first thing I see in that number 28. Second, it's family, that leadership in just everything he represented."
And every Friday night when a Eureka football player runs out with number 28 on their back, Baker's spirit is rejuvenated once again, brought back alive for those four quarters.
"I hope every Eureka football player who wears that jersey understands what it means to those of us who knew Riley, coached him and were his friends," Clar said. "It is a very very high praise, not just a number for that day." 
"Gone but never forgotten" has never rung truer than in Baker's memory. Everyone he touched remembers him a little differently, but they all agree he was one of the best people they've ever known.
"I remember him as my best friend, that's how I see him," Sumner said. "You have a lot of good friends in your life and you come across a lot of people and then there's always those guys that you can call family. And we did. We were like family."
Wasson agrees, focusing on the person he was when they were together, just two boys in high school on the football team.
"I try to not get too caught up in the marble man aspect and just remember that he was just a good human being that cared about his family and friends foremost and I still try to use those life lessons to be a better man like him," Wasson said.
And to his Marine brothers, they remember him as a hero. 
"I remember him as a person who died for his country and gave his life for his brothers, and I try to remember just the good things, the fun that we had, his personality, how he could light a room up, his smile, he was just an awesome person, there's not enough adjectives to describe him fully," Stanaland said. "Just a class act, if I've ever seen one." 
Because Riley Baker was someone no one can forget. Someone people aspired to be. An idol and a mentor and a friend.
"There's not one person, one single man alive, that met him or could have met him that would not want to emulate him. That would not leave after meeting him and just say 'Dadgum, I wanna live just like he lived' because he done good by everybody, he was a great leader, he was a selfless person," Stanaland said.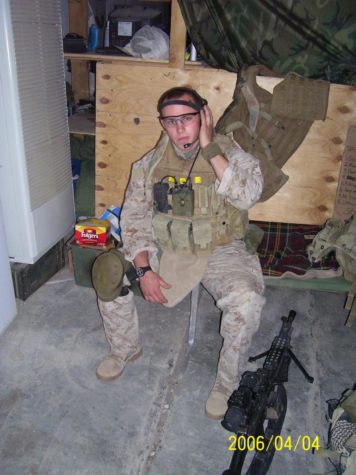 A true American hero. 
"I love Riley Baker with all of my heart. I love the Baker family, all of his family, his friends, his community," Stanaland said. "And all of America will be and should be indebted to Riley Baker because he was a true American hero."
View Comments (1)
About the Contributor
Olivia Dolan, reporter
This is Olivia's third semester on staff. Outside of The Bugle, she swims for Eureka's Varsity Swim and Dive team. Outside of EHS, she enjoys swimming,...