Opinions: Senior send-off: Stephen Erutti
Coming in my freshman year, I had no intention of working for the EHS-hub. I didn't even know what it was to be honest.
My one and only dream when coming into high school was to be part of the football team. All the way up to my senior year, football has been such a successful stress reliever in my life.
After four years of playing and progressing in school, I was introduced to the Hub.  I was offered a position on the Sports Center staff.
Since I am so into sports and needed the extra curricular activity, this job was perfect for me.
Throughout high school, I heard nothing but good things about the class, and as a bonus, a lot of my friends were already on the staff. So, I decided to take the job and make my last semester of high school a little more meaningful.
When I walked into the classroom for the very first time, the atmosphere was totally different compared to any other class I'd ever been in. Everyone was so welcoming when I first arrived; introducing themselves and thanking me for becoming part of the team.
Jon Hoeflinger, Nick Walsh and Kendra Coughlin, Sports center staff, were the people I would be working with for the rest of the semester.
Jon was the kid who I could relate to. We grew up together. I've known him since elementary school, so we already had a great bond.
Nick is the guy who always made somewhat of an effort to get all of his work done. Then again, he never did because I continuously harassed him on a day-to-day basis.
Kendra… well… Kendra is the one who had to deal with us. Other than keeping us on task (for the most part), she had become one of the guys! Or a mom that occasionally beat us.
Every day was always filled with constant laughter, and most importantly, our infamous "flaming sessions." Jon, Nick, Kendra and I would always take shots at one another, not physically but verbally. I have only improved my skills on how to mock others using similes and personification.
My main job on the Hub was to post scores from previous games played during the sports seasons. I also was assigned to create photo galleries for varsity athletics. Not the hardest job in the world, but it was a good position.
Working with Mrs. Strecker has been a joy. She was one of the most laid-back teachers I have ever met. She has taught me what it means to be a hard, dedicated worker. She has not only motivated me but continued to make an effort to coach me up in the classroom.
The Hub has been a great experience. Making the decision to join this class was both exciting and beneficial. Not only did this class help me at this very moment, but I've also learned lessons that I will take with me for the rest of my life.
I learned what it means to be part of something special outside of sports. Even though I have only been a part of this for a semester, the memories made in this class will always be cherished.
Although, I play football and know the meaning of what it means to be a part of a team, this was something different. This was a family.
Leave a Comment
About the Contributors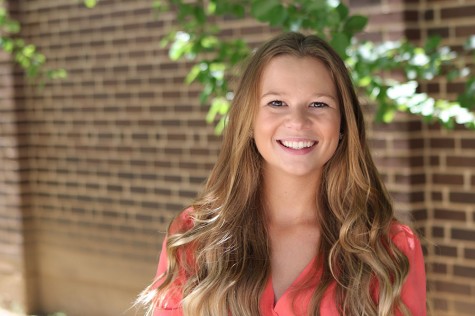 Theresa Rogers, Photo Editor
Theresa is a senior who looks forward to her final year at EHS and her first year on staff. Theresa likes ice cream, Netflix, traveling and meeting new...