Renos and Redos: Eureka needs an update
Right, left, right. We all know the pattern that every locker follows. Despite offering students lockers at Eureka High School, there is a very limited number of students who even know their locker number and combination, and even fewer actually use their lockers. So the question stands, do we even need lockers in our building? Arguably, all the giant lumps of metal do is take up space in the hallway, and serve as a barricade in the daily flow of traveling students from class to class.
"We can't use them. It was to keep people out of the halls during COVID, but now that masks are off, it seems like COVID isn't really a factor anymore," Logan Biggs, 10, said,"The hallways are pretty bad. There's no flow of traffic in the hallways. It's all packed in there, and the hallways are too small. They need to keep the lockers out of the language arts hallway, but in the business and language hallways they can stay."
The lockers each take up around two feet on each end of the hallway, compacting in the space by a total of four feet. If the lockers were removed, that would leave extra space for better student flow, therefore decreasing the number of students either late or slowed down by the mass of students. Especially if you need to walk from the S.T.E.M. building to the math hallway, getting to class on time is very difficult.
"Personally, I don't think we need lockers. I carry everything in my backpack. It would be just another step I'd have to take while I'm trying to go to class," Emmett Beeson, 9, said, "When you're trying to go to class, there's a big rush of people trying to go in and out, and then you're just trying to get in the middle of that. There's not really room."
Not only are lockers inconveniently placed, but there isn't another ideal place throughout Eureka High School to put lockers that are easily accessible to students. Most students find that keeping all of their supplies inside of their bags is more useful than any locker.
"I don't even know where I'd find my locker number. I remember sitting outside of my history classes and watching someone open them because there were no locks, and there would be stacks of history textbooks, where they're just stored," Aurora Smith, 11, said, "I think if there weren't lockers it would be less crowded. You don't have time to go to your locker. You can't even fit anything in them."
Most students aren't even aware that they have a specified locker. If nobody uses them, what other purpose do they serve besides storage for teachers? There is however the small issue of the cost. Estimated, it would cost around $25,000 just to remove the lockers from the history hallway. There would need to be possible fundraisers, and though many students want the lockers removed, not many would be willing to create a fundraiser.
"I have been late and marked tardy because of the crowded hallways. If we removed the lockers, the hallway would be wider," Ryan Cundy, 12, said, "I don't think it's even possible to stop and use your locker. If we put them [pencil supply stations] in the hallway instead of lockers, I think that would be a good idea."
A few students think that supply stations, such as notebooks, pencils, and calculators could be put in place instead of the bulky lockers. Each locker takes up about two feet of space on each side of the hallway, meaning that if we removed the lockers on both sides of the hallways, that would be an extra four feet for students to walk in the hallway.
Yet another highly talked about issue within the school is the swimming pool, and how the quality is less than what our swimmers have bargained for.
"I have been to all of the pools in the Rockwood District, and Eureka's is by far the worst," Kaitlyn Smith, 9, said, "There are only six lanes. A regular pool has eight lanes. Most pools are in yards, while Eureka's is in meters. We can't have anything besides dual meets. So many people made it to state, and nobody cares about the pool or swimmers at all."
If out of several pools within the Rockwood School District that Eureka is the worst, then we have a big issue. Our swimmers deserve nothing but excellence and care for their hard work at their sport. Having a swimming pool that has two lanes less than a standard pool and is in the wrong form of measurements would be like having a football field that is measured in feet rather than yards, and isn't the full size.
"Any of our best times at Eureka don't count at State," Smith said.
The main problem? As always, funding for sports is lacking. To put in a brand new, Olympic-Style Lap Pool, could cost anywhere between 300-500 thousand dollars. Most schools don't make that much money yearly. To accomplish the funding needed to fix the pool, there would need to be a lot of fundraisers.
"In the four years that I've been here, the pool is in really rough shape," Kelsey Guest, 12, said, "The pool deck is uneven, the lockers are falling down off the walls, the air conditioning doesn't work. We have to open the doors in the middle of winter to get cold air in. It inhibits our competition. Our pool is 25 meters long, not yards. I'd participate in fundraisers to build a new pool."
Do you think that Eureka High School should fund our swimmers with better equipment? If so, donations to the aquatic center are always an option. If you happen to be a swimmer, and this story applies to you, there are even more opportunities to speak up at board meetings.
Leave a Comment
About the Contributor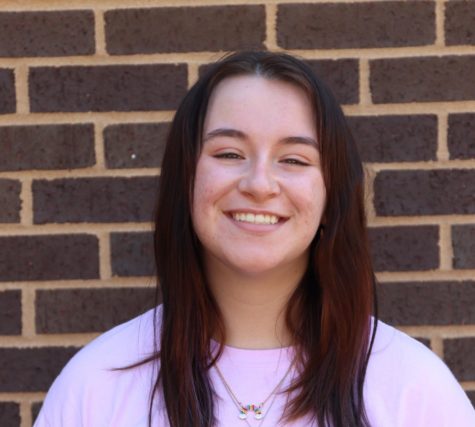 Maddie Swope, reporter
Maddie is an opinion reporter and this is her first year on staff. At Eureka, she is involved in the band. Outside of The Bugle and the band, she likes...