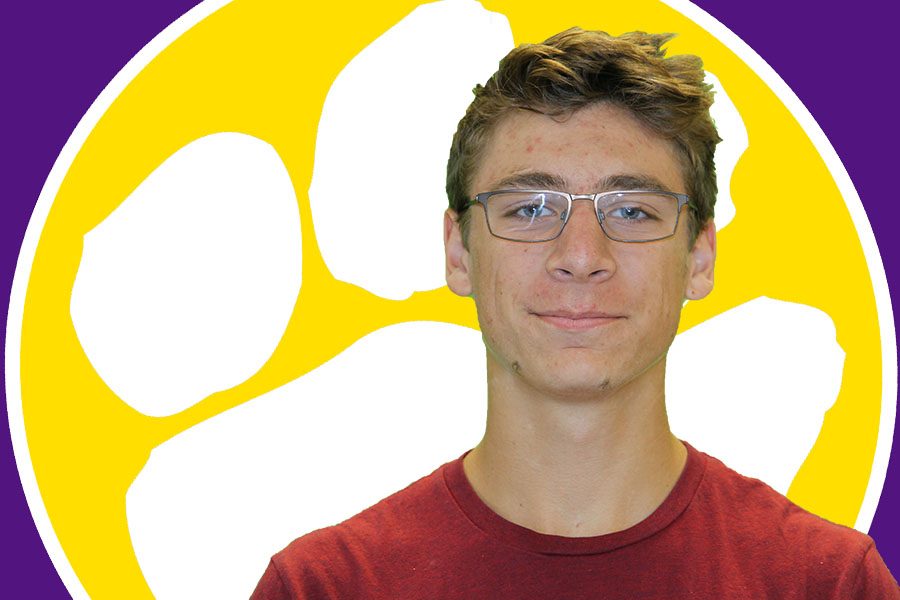 This is Caleb's second semester on the EHS-hub staff. He is sports editor. You can follow him @csigmundEHS_hub.
His hobbies include biking, making videos, running, playing lacrosse and making spaghetti. He is involved in the Mock Trial and Renaissance.
A fun fact about Caleb is that he is a lifeguard at Ballwin and he also wakes up six every morning. A question Caleb would like to ask the world is, "Why do you think God has put you on Earth?" His dream job involves being a CEO of an engineering firm.
Caleb Sigmund, EHS-hub sports editor
Dec 13, 2016

Girls basketball crumbles against the Vikings

(Story/Media)

Dec 08, 2016
Oct 25, 2016

One diaper at a time

(Story/Media)

Oct 21, 2016

Know/inform/care

(Story/Media)

Oct 19, 2016

Staff editorial: Nothing in the woods

(Media)

Oct 14, 2016

Girl's volleyball wins over Mehlville on senior night

(Story)

Sep 24, 2016

Football shuts out Parkway South

(Story)

Sep 23, 2016

Girls varsity Tennis takes a tough loss to Lindbergh

(Story/Media)

Sep 19, 2016

Eureka offense struggles at Lafayette

(Story/Media)

Sep 17, 2016

Varsity football falls to Lafeyette

(Story/Media)

Sep 12, 2016

Eureka defense steps it up against Marquette

(Story/Media)

Sep 09, 2016

Eureka varsity volleyball falls to Lafayette in two periods

(Story/Media)

Sep 09, 2016

Girls volleyball struggles at Lafayette

(Story/Media)

Sep 06, 2016

Eureka narrowly defeats Pattonville

(Story/Media)

Sep 02, 2016

JV softball wins in mercy rule against Lancers

(Story/Media)

Aug 30, 2016

Construction commotion

(Story/Media)

Aug 30, 2016

Construction commotion gallery

(Story)

Aug 29, 2016

Wildcats take down Francis Howell Vikings for another win

(Story/Media)

Jul 27, 2016

Summer construction: Week 9

(Media)

Jul 21, 2016

Summer construction: Week 8

(Story/Media)

Jul 07, 2016

Summer construction: Week 6

(Story/Media)

Jun 27, 2016

Summer construction: Week 5

(Story/Media)

Jun 21, 2016

Summer construction: Week 4

(Story/Media)

Jun 06, 2016

Summer construction: Week 2

(Story/Media)

May 30, 2016

Summer construction: Week 1

(Story/Media)

May 24, 2016

Promising future

(Story/Media)

Apr 01, 2016

Photos of the week: March 28- April 1

(Media)

Feb 04, 2016

Climbing the pyramid

(Story)