Construction commotion
More from Caleb Sigmund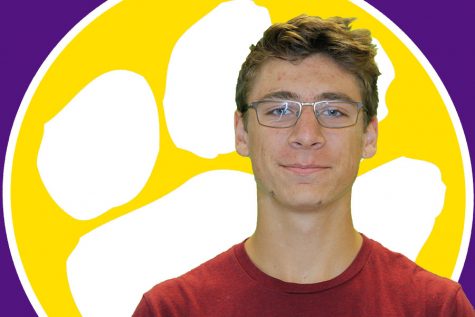 More stories from Caleb Sigmund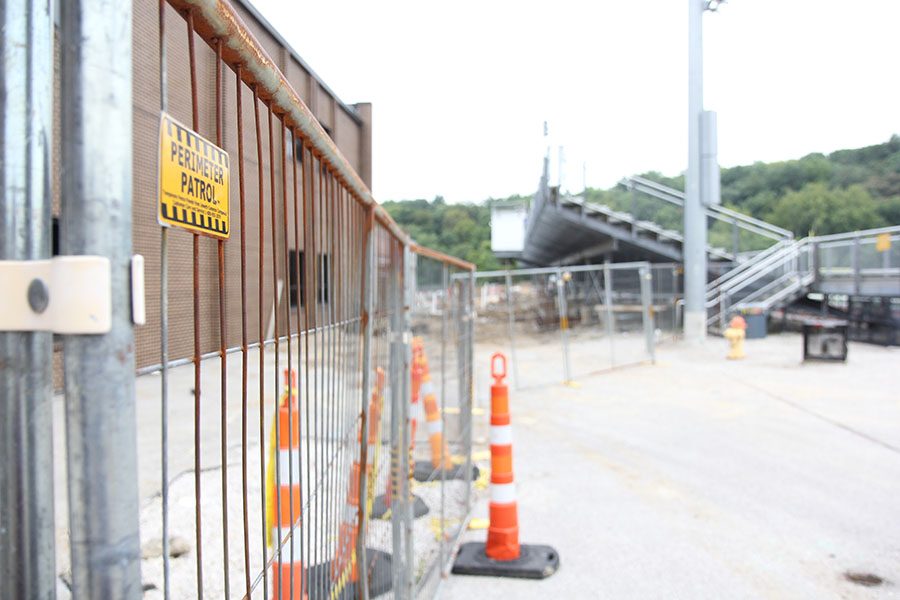 The gym B atrium greets students with a jumbled mess of tape, ladders, tools and buckets. Behind the home bleachers, temporary iron fences keep students and staff out of the construction area.
Since early March, construction crews have been at work behind the athletic complex. The old weight room, built in 1988, has been demolished to make room for the new facility.
The new building, connecting to the gym B atrium, is a two-story structure. On the lower floor, the plans include two new locker rooms with a new exercise facility is on the second floor.
The existing locker rooms and weight room were designed and built for a much smaller EHS back when the school was a senior high for sophomores, juniors and seniors for a much smaller community.
"
"You were always fighting to get to a bench or you couldn't move around very much in the old weight room. Now you'll have room for stuff on the floor, running and more. Overall you will be able to accomplish more.""
— Andrew Fessenden
"You were always fighting to get to a bench or you couldn't move around very much in the old weight room," Andrew Fessenden (11) said. "Now you'll have room for stuff on the floor, running and more. Overall you will be able to accomplish more."
"As far as the new weight room goes, we're going to have room for everything as far as space. Kids won't have to move around the room as much. Everything will be centrally located," Mr. Gregg Cleveland, principal overseeing construction, said. "And when we do need to move on and do our sprint work, it's going to be right there. We don't have to move rooms. The amount of time kids have to work out will increase."
The athletic department is anxious to open the new spaces.
"The new weight room makes it so you can go through your reps a lot smoother," Fessenden said. "The old weight room was small and crammed."
The old locker varsity rooms will be renovated into more PE locker rooms to allow more student use. The new weight room will have a capacity significantly higher than the previous weight room.
"Once it's done it will be awesome. There are hours with two PE classes, and the larger weight room will make that time more productive," Mr. Darrell Lewis, PE, said. "It's going to be a hassle getting finished, but it will be awesome once we get done."
The project also includes alterations to the bleachers and open area behind the school.
"The new weight room is going to be a lot safer, and students are also going to have more room to do conditioning," Ms. Jennifer Strauser, associate principal, said. "It's going to be very nice. It's going to look a lot like a college athletic wing."
Posters are in the gym A atrium to give students a glance at the new area.
The images display a purple and gold wall surrounding the base of the bleachers with the quote "It's hard to beat a person who never gives up" on it. The posters also show the ground between the new facility and bleachers lined with bricks instead of asphalt, as well as a new series of steps and ramps to enter the stands.
An image of the locker room shows a series of benches with a whiteboard mounted on the wall, and hundreds of brand new lockers waiting for players to use them.
"I'm really excited for the new plans to be done, especially what it's going to look like in the end," Nathan Traylor (11) said. "I'm just hoping it's going to be done soon."
The new weight training facility includes new exercise equipment as well, such as treadmills and ellipticals.
"It's going to be really nice in terms of space. It's going to be somewhere in the 5,800 square foot range," Mr. Cleveland said. "We have room for a 30 or 35 yard track, along with room for all of our racks. I'm real excited about that."
Coaches are ready to make the most of these state-of-the-art facilities.
"I am hoping to be able to take some hurdles in there during the winter time and actually do some off season hurdling," Mr Lewis, who also coaches track and field, said. "Right now we just go up to the shelves. It's that hard concrete, so you have to be really careful on how much hurdling you do so you don't beat up your shins."
The massive project, however, has not come without its roadblocks.
Crews are currently two months behind schedule. The original goal was to have the building usable by October, but at the current rate the earliest it will be finished is December.
"We have through the school and around everything just to get up to the tennis courts," Lea Khoukaz (11) said. "It also sucks for the seniors because they won't be able to use it when it's finally complete."
The unforeseen problems encountered have been crippling to progress.
"They've had issues with trying to find sewers, electric and water lines. Once they got that done, the rains came, " Mr. Cleveland said. "And unfortunately they had a problem with the home bleachers, as far as where they have to put the new wall."
The bleachers are also being closed for a small amount of time in order to update the concrete piers to current code.
"The home bleachers for the next three weeks are going to be out of commission because of all the work that they are doing. Everything will be on the visitor's side as far as seating," Mr. Cleveland said. "The good news is we don't have a home varsity football game in that time. So the game plan is that we get our home bleachers back in time for our next home football game."
Traffic for home football games will be rerouted near the tennis courts until the atrium is returned to normal use.
Despite the numerous bumps in the road, students, staff and administration have managed to keep their attitudes positive.
"It's pretty chaotic with all of the construction going on," Carson Free (9) said. "We have to walk around through the practice field on the mats to get to the track. It's not that bad, though. The new buildings look pretty cool."
Athletes continue to eagerly wait for their chance to use the new building.
"Delays happen," Traylor said. "Problems happen. You have to do new things to solve them. Hopefully it just gets done soon enough."
Leave a Comment
About the Contributor
Caleb Sigmund, EHS-hub sports editor
This is Caleb's second semester on the EHS-hub staff. He is sports editor. You can follow him @csigmundEHS_hub.

His hobbies include biking, making...