Snooze longer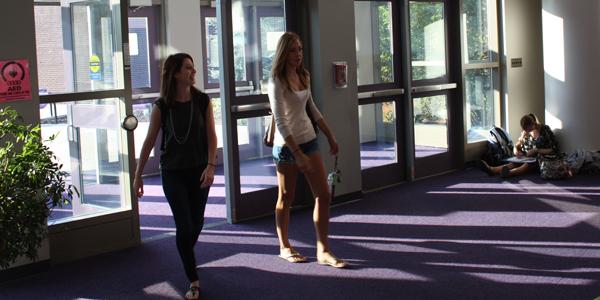 Late-start Mondays hold the promise of an extra 24 minutes of sleep for students.
Hit snooze. Hit snooze again. For most high school students, Monday mornings are spent wishing for more sleep. Students may capitalize on the opportunity for a few extra minutes of  sleep on late-start Mondays. The bell for first hour will ring at 8:40 a.m.
"I think the late start Mondays are a really good idea because we get to sleep in," Ian McSalley (12) said. "It might mess with everyone's schedule, so it might be hard to get to school on time."
Late-start Mondays, an idea created by a  district committe of teachers, administrators and parents are designed to let Professional Learning Communities meet.
"Our goal is for teachers who teach the same course to be able to sit down together on a regular basis to discuss how the students are progressing," Mrs. Deborah Asher, head principal, said. "We take a collective responsibility approach. Different teachers have different specialties, and they can rely on each other to provide their expertise.
It lets the students have more than one person that they can rely on and go to."
Teachers of common courses will meet to improve the learning environment.
"Our focus will be on student learning," Mrs. Jeanette Oberg, French teacher, said. "We will be able to specifically talk about helping those students who aren't learning, and for those students who have reached their goals, see how we can move them forward."
School-funded transportation, such as buses or cabs, will use the same routes and times. The library will be open and some clubs will be allowed to hold short meetings in the time before first hour.
Zero hour classes will not be affected because they do not meet on Mondays.
Students who arrive early may stay in the Commons where they will be supervised by administrators who are not in PLC meetings.
These late starts will minimize the time teachers are taken out of the classroom and away from students during the school day. Substitutes are required when teachers have workshops or other meetings during the school day.
"I know the teachers have to miss class sometimes for meetings," Ashley Lakey (11) said. "The late starts are good because teachers get to meet during school hours without interrupting their classes, and it's exciting because it means we get to sleep in."
All four Rockwood high schools will be implementing these late starts.
"I think collaboration pays off if it is done well," Mrs. Ellen Garner, social studies teacher, said. "We are fortunate at Eureka to have that time built into our schedule. I don't think, for Eureka, it's necesssary, but my understanding is that at the other high schools, they haven't done as good of a job scheduling to make it work for teachers."
Late-start Mondays have only been approved for the 2012-2013 school year by the school board.
"It is a short term solution, and it doesn't provide all of the time that teachers need, but it is a step in the right direction," Mrs. Asher said. "It shows that the district understands that teachers need more time to collaborate to enhance student performance."
The schedule for the late-start Mondays is as follows:
Aug. 27
Sept. 24
Oct. 29
Nov. 26
Dec. 10
Jan. 7
Jan. 28
Feb. 4
Feb. 25
For these nine mornings, hitting snooze won't be necessary because students can enjoy a little extra sleep.
Leave a Comment