A tasty night out on the town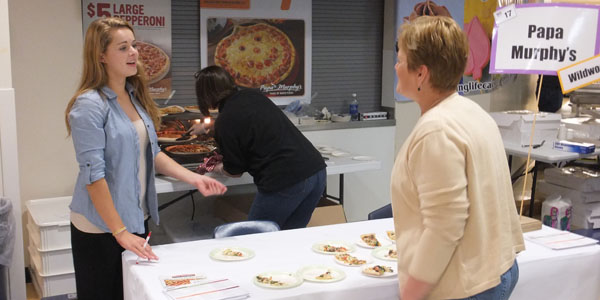 Thirty-seven restaurants, three silent auction tables and the gathering of two communities, makes one delicious, sold out event. 
Taste of the Town drew crowds from all around Eureka and Wildwood to EHS to enjoy a large assortment of food.
"I heard about Taste of the Town through NHS," Michael Allman (12) said. "I wanted to go because they had food, and it sounded pretty good. I thought it was cool that they were able to get all of those businesses to come so that people could enjoy all of them in one place."
Restaurants such as Papa Murphy's, El Nopal, Big Chief, Sunny Street Cafe and Celebrating Life Cake Bouquet all provided a stand at the event.
While students enjoyed the variety of the food at Taste of the Town, teachers enjoyed a chance to connect with other members of the community.
"I saw the signs in the hallway about Taste of the Town, and I've heard only good things about it over the past years," Mrs. Diane Lucas, FACS teacher, said. "I thoroughly enjoyed it. My whole family came so they got back in the Eureka atmosphere. I also got to see a lot of students and parents in a different environment outside the normal school setting. I thought it was a really good experience, and my kids are already talking about how we have to do it again next year."
Along with teachers, parents were able to come and socialize with friends and acquaintances, making it an enjoyable family event.
"I found out about it through the packet of information they sent home at the beginning of the year," Mrs. Michelle Hunnius, EHS parent, said. "I talked to someone who went last year and they said it was really good. My family and I had a lot of fun, and it was very well organized."
To help keep Taste of the Town organized, student volunteers from groups such as StuCo helped the different restaurants operate throughout the night.
"It was my first time volunteering for Taste of the Town," Kyle Edwards (11) said. "StuCo told me about it, and I enjoyed it. I liked how it benefited local businesses and my class's Senior Celebration. I would volunteer next year for sure."
The Senior Celebration is an drug-free event that the school hosts after graduation and recieves a substantial amount of its funding from Taste of the Town.
"Jill Hampton and I organized the event with the help of 15 chairmen," Mrs. Michelle Clausius, Class of 2012 PTO co-president, said. "We brainstormed a list of local restaurants who we then contacted and got them to come to the event. Student volunteers came from NHS, StuCo and Key Club, while parent volunteers came from the families of the Class of 2014. The event was successful, and we  raised almost half of about the $30,000 needed to put on the Senior Celebration."
The hard work from PTO and the help from about 200 volunteers made Taste of the Town a delicious and memorable experience for over 800 students, parents and teachers alike.
Leave a Comment