Out Of Eden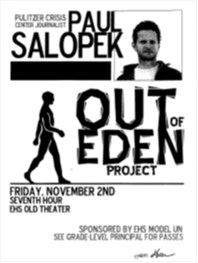 Pulitzer Prize winning journalist, Paul Salopek, gives a speech to the students.
It's not every day that students get the chance to listen to an award winning journalist let alone during a routine school day. Today, Nov. 2, Paul Salopek will be doing just that as he presents to students during 7th hour.
"He's won two Pulitzer Prizes for journalism. Right now, before he goes on his six-year journey, he is going on a speaking tour put on by the Pulitzer Center," Matt Varner, Model UN president, said.
This six-year journey is based off the the project he has been researching and writing about called the Out of Eden Project.
"The Out Of Eden Project is basically Salopek walking the human evolutionary pattern. His journey starts in Africa because that's where scientists have concluded that humanity began," Varner said. "He walks from the horn of Africa eastward through the human evolutionary pattern. He's going to be walking through Russia and Siberia and then he's going to come over to the Americas."
If students are interested in attending Salopek's speech and hearing about his planned journey students should stop by their grade level office and get a pass that needs to be signed by their 7th hour teacher. That pass will be their ticket into the event.
Leave a Comment