EHS thanks the vets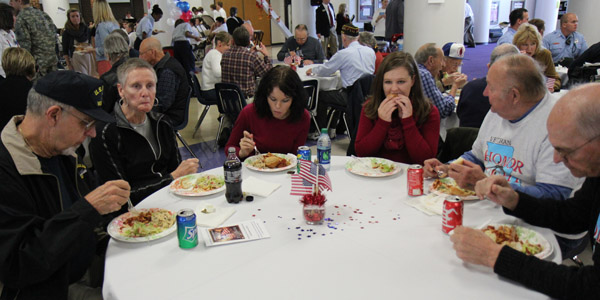 Everyday students take advantage of many freedoms given to them in our country. As they walk through the halls students take advantage of there freedoms as they chat with friends, express there opinions, and tweet their lives away.
Those freedoms that students and everyone in the counrty enjoy have been protected by those who have served in our armed services.
In order to honor those veterans who have preserved our freedoms, EHS held its tenth annual Veteran's Day assembly and luncheon, Sept. 8.
The three hour celebration was  full of different events for the veterans. The veterans love the event and keep coming back.
As the veterans walked into school they were greeted by welcoming students and the orchestra playing patriotic tunes.
"I love coming back and seeing all the other veterans, talking with them and hearing their stories," Mr. Robert Sandefur, Vietnam Navy veteran, said.
Students from EHS took initiative and advantage of the opportunity to meet veterans and volunteered to help.
"I volunteered because I have a lot of respect for veterans, and all they have done for our country," Ben Hirsch (11) said. "Also the military has run through my family so I just wanted to come and talk with the vets."
After veterans watched an assembly lead by keynote speaker, John Robertson, Army Veteran, they headed into the commons where they were greeted by a tunnel of endless students showing their respect, standing and cheering as the veterans walked through the halls.
As the veterans chatted and ate lunch, the Symphonic Band played the taps and service songs of the armed services. Also Mr. Wes Sir, First Alderman of the city of Eureka, spoke on behalf of Eureka and presented a proclamation to the veterans. The proclamation was a speech and plaque presentation to honor all who have served.
"It's important for our community to recognize the veterans and all they have done for our country by protecting our freedoms," Mr. Sir said.
Many students who volunteered to help at the event got the chance to sit and chat with veterans as they ate lunch and heard their stories.
"I had a lot of fun sitting and talking with the veterans,"  Evan Estopare (11) said. "The veterans i sat with were three marines and a navy vet. They were all hilarious, telling crazy stories about the times overseas when they weren't in war. Also the marines were always picking on the Navy guy, because they thought that the marines were tougherand that the navy didn't do anything. It was just fun to hear them tell stories."
Even as students sat and chatted with the veterans they were enjoying one of the many freedoms they have protected for our country. It's not every day that the heroes and protectors of freedom walk through the halls of EHS.
Leave a Comment