Making memories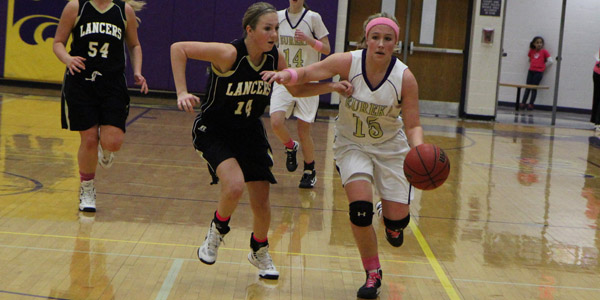 Sports are always a great way to meet new people, and in the case of the girls basketball team, the girls made more than friends, they made memories.
The girls' season ended last Thursday, Feb. 28, in a tough three-point loss to the Marquette Mustangs in the district semi-final at Marquette HIgh School. The season ended with a halt.
"I think we faced a lot of challenges," Lindsey McCoy, forward, said. "But I think we went through all the challenges and obstacles really, really well. I was proud of us."
The team didn't go as far as they hoped in the postseason, but they still achieved a lot of their goals for the season.
"We had a goal to bring a trophy home from every tournament," Gabrielle Adams, guard, said. "We had individual goals for each game, and we hoped to go far in the playoffs."
Even though not all their goals were reached, the team might have found something much greater in the memories made this season.
 "I'll remember the friendships we made forever," McCoy said. "I'm friends with these girls all year long, so I think that will be fun to have forever."
One of the girls' favorite memories came against rival Lafayette. As a preview to NightGlow, the crowd was a roaring sea of white as the ladies battled into overtime and came away with a huge win.
"The highlight of the season was probably the Lafayette game," Kelsey Tepen, guard, said. "Just because we had a ton of fans, and it was a really intense game that we won in overtime."
Their travel to Jefferson City for a weekend-long tournament added to the team unity.
"The ride to Jeff City and rooming with the girls was a really fun weekend," Tepen said. "We really bonded there and just spending time with these girls was so fun."
Their season concluded with a 10-7 record, and the same team will never be together again. The five seniors going their separate ways, and next season will bring a new group of girls. This year's team will live on though, forever, through the memories made.
Leave a Comment