A new step towards security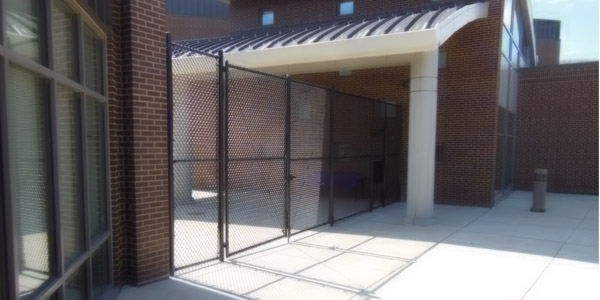 As students returned from a spring break with every sort of weather imaginable as well as travels across the country and beyond, the talk of the days that followed surprisingly had no relation to the break.
Instead the buzz around school appeared to be focused on the new addition to the courtyard: the gate.
Students chatted about the gate with mixed opinions, but the overwhelmingly popular viewpointwas one of discomfort created by the feeling of being "trapped." A poll conducted on www. EHS-Hub.info of the 153 voters showed that 82% chose "I feel like I'm in a cage!"
The district installed the gate to secure an open capus, but for some the measure has had a negative connotation from the start.
"I don't really think it was necessary; I feel pretty safe at school," Jarred Boyer (11) said. "It just kind of looks creepy and makes me feel sort of trapped."
The marjority of students appear to be against the installation of the new fence. The administration sympathizes.
"I don't want the school to look like a prison," Mrs. Deborah Asher, head principal, said. "But in reality we aren't locked in because the gate isn't locked on the inside. The gate opens if there is an emergency and people will be able to get out. Nobody likes the gate, even people who recognize it's important for security. Nobody is happy we have to do that."
The administration hope it won't be permanent.
"The gate itself is meant to be a temporary solution," Mrs. Asher said. "The bond issue does have some safety funds in it that will be used to make a more structural entrance into the inside of campus."
As the gate installation was completed this week, new security procedures related to the doors have also been put in place.
To give purpose to the gate and allow it to accomplish its task of keeping out unauthorized personnel, all exterior doors, besides the ones leading to the courtyard, will be locked during school hours. The only way for people to enter or exit school will be through the doors near the Welcome Center.
"I used to cut through the gym atrium to get to math and avoid traffic," Aja' Jackson (11) said. "But now I have to walk through all the traffic in the Commons. It's a little aggravating, but I don't think it's a major problem."
The safety of students is one of the top priorities for the administration and the hope is that EHS will continue to be a safe campus.
Leave a Comment