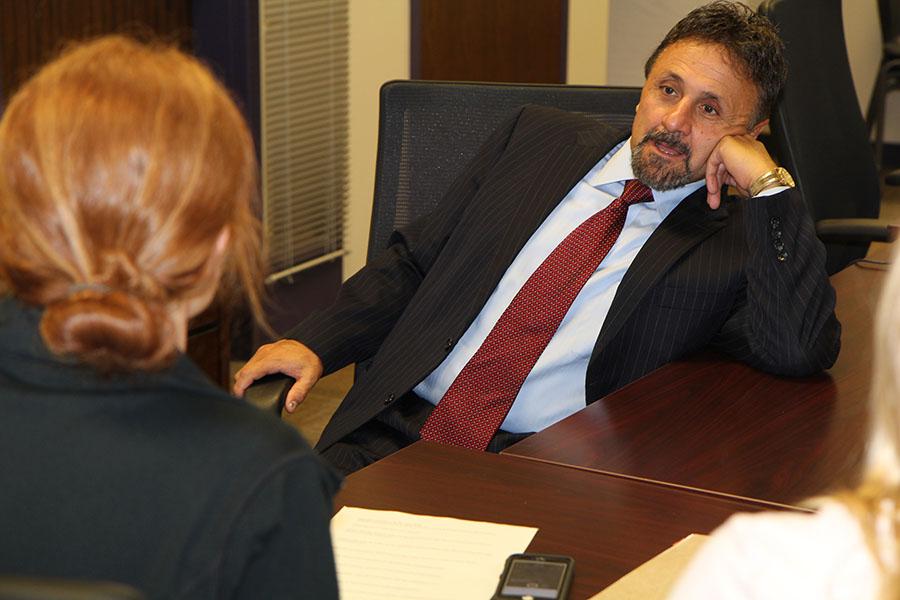 Leaning on each other
Insight into September's featured speaker, Mr. DeAngelis
October 2, 2014
"I just want to keep talking and spread the word that violence has to end not only in schools but in movie theaters or shopping malls." Mr. DeAngelis said. "Our society is a society of violent actions, and we need to change that. We have to say enough is enough."
Students and staff heard a first-hand account of the Columbine High School shooting, as well as, advice from Mr. Frank DeAngelis, retired Columbine High School head principal, Sept. 15.
"This is a great school. There's just good vibes, walking in, right away you can tell by the students and how people act," Mr. DeAngelis said. "It's interesting because you assume all schools are like this and they're not."
What the student body may not know about Mr. DeAngelis's presentation, was that EHS was his first time addressing a single school's student body. Mr. DeAngelis had spoken to his former school, Columbine, and also the National Leadership Academy but never to another high school. 
"I really enjoyed what I did today, talking with the students, because that's one of the things I miss the most about being a principal," Mr. DeAngelis said. "Not being a principal brings the fact that I don't get to interact with kids. It's good to talk to kids, and it provides energy for me."
Since the Columbine shooting happened in the 90s, many of EHS students probably don't have a firsthand memory on what happened. Mr. DeAngelis brought the pages of the past to life.
"I actually read a book about one of the girls that was in the shooting," Caitlin Helterbrand (9) said. "I was pretty excited."
Speaking about witnessing a tragedy could be traumatizing, but for Mr. DeAngelis, it's anything but.
"To speak to groups is therapeutic for me, knowing that I can make a difference. There are two things that I can do: pretend that it never happened or not deal with it. I chose to go out and try to create a better place," Mr. DeAngelis said. "I'm doing this in memory of the 13 who lost their lives and all the kids and teachers who have lost their lives to school violence."
Living with Post-traumatic Stress Disorder, Mr. DeAngelis has chosen to move forward by sharing important lessons he's learned, motivating him to speak about the details and his feelings after the shooting.
"I never learned how to deal with this during my schooling to become a principal. It made me passionate for life. I learned not to take anything for granted, you just don't give up hope," Mr. DeAngelis said. "It would've been so easy for me and others to say if we leave [Columbine] then we'll stop thinking about it. I decided to be more proactive. I felt that it was my need to try to change things."
Mrs. Jennifer Strauser, associate principal, organized and facilitated Mr. DeAngelis coming to speak. She first heard his message two years ago at the National Leadership Academy held at Columbine High School.
"I was so moved by his speech. It pretty much changed my life and how I did my job, what I said to kids and the words that I used with kids," Mrs. Strauser said. "Everything in my body shifted. I knew from that moment on that I would tell kids that I love them more and that I was going to be much more open and vulnerable to them about my feelings for them."
Mr. DeAngelis's message: make each other feel accepted in their schools.
"Students and staff need to create an environment where everyone is accepted; this is so tough in large high schools. There are kids who are actively involved, but there are also kids out there who don't have anything and those are the kids I want to reach out to," Mr. DeAngelis said. "I can't imagine going through school, dreading just walking in the building every day. We could create that environment where everybody feels welcome, a true family atmosphere."
Mrs. Strauser was pleased with the students reaction after hearing Mr. DeAngelis's presentation. She witnessed firsthand the power of Mr. DeAngelis's words.
"Several times throughout the course of the day he was stopped by numerous students," Mrs. Strauser said. "The students shook his hand, telling him how much his words meant to them, that they did hear and value the message he was saying."
Students walked away from the presentation with different ideas.

"The main point that stood out to me was to be nice to and care about other people all the time and try not to leave anyone out," Josh Landgraf (12) said. "His message to us was that we need to make other people more welcome at our school and try to make them fit in with everybody else and to make sure that everybody has a place at this school."
Helterbrand valued a different element of Mr. DeAngelis's speech.
"I took away that we should cherish the moments we have because anything could happen," Helterbrand said. "Basically you should live your life to the fullest."
Anika VanLieshout (10) felt privileged to have heard Mr. DeAngelis' presentation.
"I thought listening to him speak was really cool," VanLieshout said. "It was definitely something I won't forget."
Mr. DeAngelis has future plans on continuing to speak for school assemblies, safety conferences with school staffs and with policeman, all with the same purpose in mind.
He shared how having a strong bonds helped his community heal after the Columbine shooting.
#eurekastrong is evidence of the strong bonds the EHS community shares, a hashtag that community members use during both times of sorrow and pride, times like now when the community comes together during great loss.
Social media, a resource not available to the survivors at time of the Columbine shooting,  has offered an outlet for community members to share and remember. In the wake of senior Natalie Timm's death from a single car accident, Alex Powell, Timm's cousin, reached out to people to share their pictures and memories of Natalie using #NatGlow.
"I think for me personally just hearing Mr. DeAngelis' story helped me realize that a lot of people go through similar struggles," Ms. Julie Weitzel, Spanish teacher, said. "Everyone overcomes their struggles in their own way, and really the bottom line is community and being there for each other is what helps people through them."