Humans of EHS: Kaylie Haueisen
Meet the people who surround you every day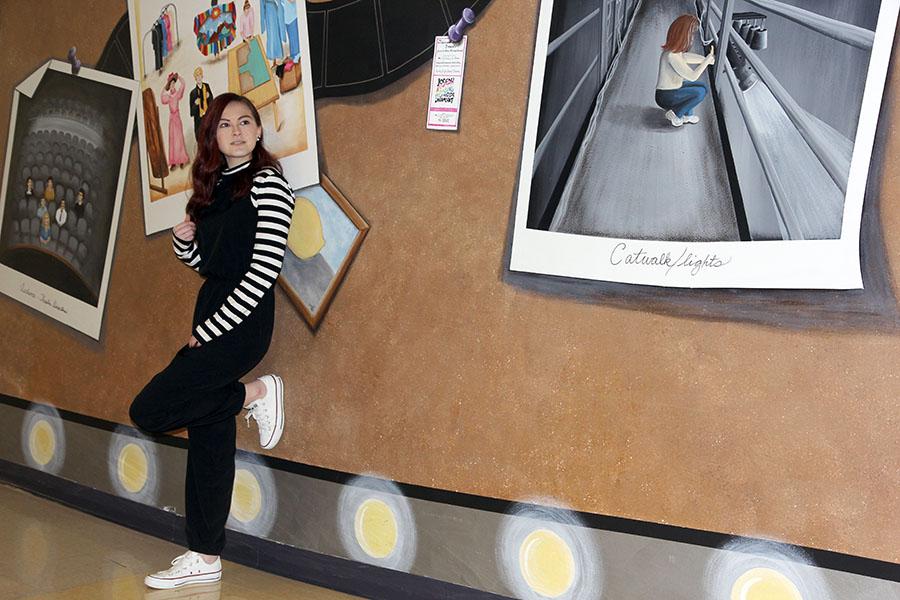 She is petite with a slim figure, has red hair and dresses like a typical New York "It Girl" every day. Most people wouldn't think someone like Kaylie Haueisen (10), who seems to have herself so together, would have to deal with struggles of low self confidence.
Kaylie aspires to design clothes one day and is considering going to a New York college to pursue her love for fashion.
For Kaylie, the very beginning of her dream to become a fashion designer started years ago.
"Self confidence was a struggle for me throughout middle school," Kaylie said. "I wasn't really confident in the way I looked, and when I got braces that really didn't help either. Plus, I was so much shorter than everyone else."
She decided to face her fears by taking acting classes in 8th grade. The classes gave her the confidence that she lacked.
Freshman year Kaylie joined etc… .
She joined the costumes crew, anxious that stage fright would hinder her performance as an actress.
Designing costumes for etc… helped her overlook the criticism directed toward her unique style.
"There's obviously going to be people that choose to think the negative," Kaylie said. "My style was really different than other kids.  The girls could be really mean about it, but I still wore what I liked. I didn't want to fit in, but at least wanted people to accept me."
Now, unlike in middle school, she chooses not to focus on those people. Freedom to do and wear what feels right comes from not caring what others think.
"I have a lot of different styles. Sometimes I wear all black. Sometimes I have a girly style. I'll wear flowers and stuff, and sometimes I wear spikes on my clothes. So I guess I'd say my style is very diverse," Kaylie said.
This particular day, she sported her more punk look, wearing distressed denim shorts over tights, black patent oxford shoes and a maroon cardigan sweater with spikes.
By going her own way instead of following other peoples' trends, Kaylie unique personality shines through her style.
Kaylie's advice for winter fashion?
"Dress warm, and just wear whatever you want," she said. "Basically, don't let anyone stop you from wearing what you like."
Leave a Comment
About the Contributor
Micah Wengler, EHS-hub Photo editor
This is Micah's second year on staff. You can follow her on twitter @mwenglerEHS_hub. Her hobbies include hiking, and camping. Outside of school she sleeps....