Sweet incentives
Eureka business' offer discounts to outstanding academic students
Renaissance has created a way for students to use their student ID for more than just signing in and out of the building.
They are teaming up with local businesses in the Eureka area to encourage students to use their IDs purchasing something.
A sticker will go on the back of student IDs for students with a 3.0 or higher GPA. They call it the "academic credit card." Students with this sticker are entitled to discounts or other privileges at specific businesses.
"The idea of implementing the sticker came from when I had it in high school.. as a Renaissance thing," Ms. Kirsten Brauch, Renaissance sponsor, said. "I've been trying for a few years to get the kids here excited about it and finally it just got to the point where it caught on."
Students with a 3.0 or higher GPA from their previous semester will be able to get a sticker for their student IDs.
Renaissance plans on handing out the stickers the week before spring breaks, Ms. Brauch said.
Members of the leadership team hope the card will reward students for their hard work in school.
"So I thought to myself, 'What could I do?' to leave that legacy," Nick Weaver, Renaissance executive leader, said. "I wanted to make sure this project would be my stamp I could leave behind as a Renaissance leader. Starting the academic credit card project was the perfect thing I thought I could leave behind."
The following businesses are participating in the academic credit card project, Ms. Brauch said:
El Nopal
Domino's offers $5.99 for a large, one-topping pizza
Kilderkins Pub offers 10% off
Wildwood Pub and Grill offers 15% off
SoHo Nails offers 10% off discount
Sylvan offers a 10% off discount for A.C.T. prep classes
Renaissance is still working to recruit more businesses to be a part of the project.
The credit card is good for local businesses because students will be frequently visiting the establishments where they get discounts, Weaver said.
"[The academic credit card is a] pretty good idea for students because they are practically getting rewarded for getting good grades," Christina Auzat (11) said. "The businesses' success rates will probably increase because more people will want to go there because they will get to use their student IDs. I think students will love the idea of potentially getting a discount at these places."
The card will not only help these places promote their business, but it helps the students save money and hopefully motivate students to work hard in school so they can earn an academic credit card to use at these businesses.
"I think it's very important when you expect anyone to produce quality work without an incentive then I think you're asking for difficulties," Mrs. AnnMarie Gilman, assistant principal, said.
"If we can provide an incentive and if the school can provide an incentive it will kind of give you a push to working with our community members. It really ties them up in the after-school effect."
Leave a Comment
About the Contributor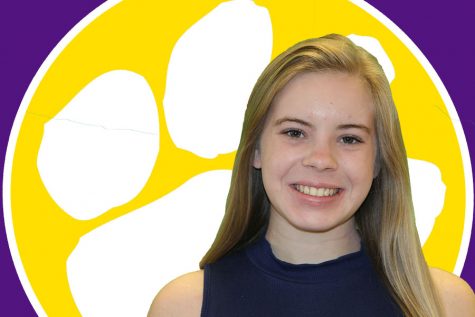 Madison Eble, EHS-hub online community editor
This is Madison's third semester on the EHS hub staff. She is the online community media Editor for the hub.

You can follow her on twitter @mebleEHS_hub....