Stepping up the game
Fundraising efforts for Puerto Rico hurricane survivors prove successful
Hurricane Relief Campaign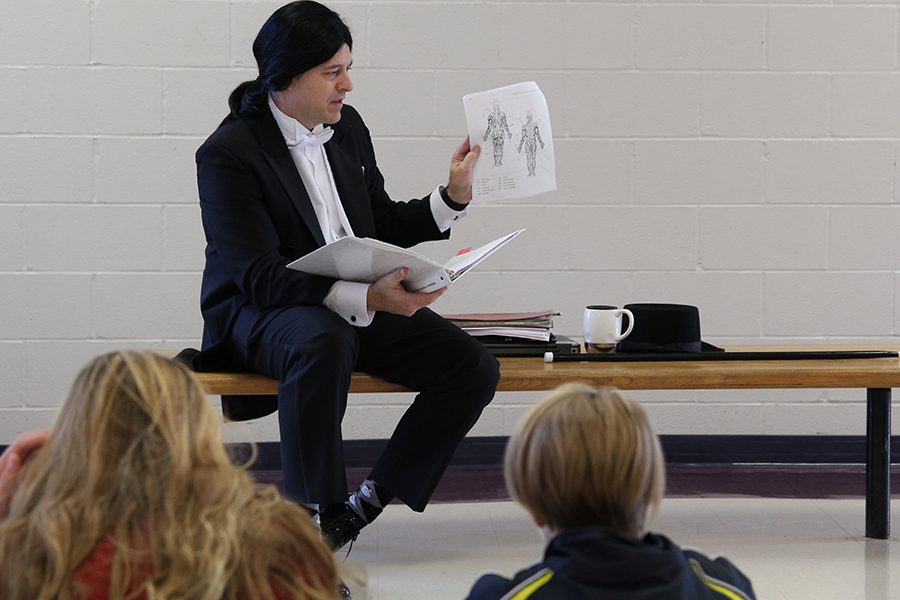 CORRECTION: The two organizations that the money is being sent to are Project HOPE and RBC Maria Relief.
One hundred fourteen days ago Hurricane Maria struck the island of Puerto Rico, Sept. 20, and residents are still struggling waiting for relief. Students and faculty stepped up their game and pitched in.
"EHS wanted to go beyond their own borders of the school and help a place that really needed it," Megan Triplett (11) said.
EHS raise $9,102 for Puerto Rico through five fundraisers:
Oct. 5: Powder Puff: $1,750

Oct. 27:

volleyball tournament:

$1,600

Oct. 27: anonymous donation: $531

Ongoing t-shirt sales: t-shirts: $675

Nov. 27-Dec. 15: Dress Like a PE Teacher: $2,200

Dec. 9: trivia night: $2,346
Organizers are sending the money to Direct Relief and Rincón Beer Company.
"It shows that we care not only about ourselves or what's happening in America but about what's happening around the world," Brock Montpetit (10).
The annual Powder Puff game raised $1,750 in ticket sales with all proceeds going to Puerto Rico. Students also sold t-shirts for Puerto Rico relief during lunch and at the fundraisers for a grand total of $675 in profit thanks in part to a discounted price from Bill Albert from EmbroidMe.
Students organized a trivia night, Dec. 9, with 11 tables, a silent auction, babysitting and a 50/50 raffle through which the students and staff raised $2,346. Dennis Brock (12) emceed, Bennett Lyday (11) ran the silent auction, and other student leaders included Erin Gwaltney (10), Kate Gwaltney (9), Megan Harty, Shelby Fischer and Jake Kiczenski (12), and many others.
Sprouting from an idea of relaxation, Dress Like a PE Teacher raised $2,200 and was so successful teachers will have the opportunity again.
At Rockwood Summit, where Michael Hanna used to work, they called it Dress Like a PE Teacher. The idea was acted upon, in which money is applied to a PE teacher and that PE teacher has to dress up.
"We had the hurricane in Puerto Rico, and Mrs. Ramirez's family was so profoundly affected by that we decided this year that was a really nice and obvious place for our money to go," Jennifer Strauser.
The Dress Like a PE Teacher had such a lasting impact that planners Kari Patterson, SSD, and Jennifer Strauser, associate principal, intend on organizing future runs for other charities.
"During Homecoming Week we had a day where teachers were dressed very comfortably, and they noted on more than one occasion how happy they were and how it was just a positive impact on their day," Patterson said. "I talked to Mrs. Strauser and made that comment, and she said we'll come up with a way to continue it."
Ralph Gianino and Chadd Lamason were the "winners."
"Winning or losing, whichever way you want to look at it, I thought it was good school spirit," Lamason said. "You come together for something good to help the people of Puerto Rico. I thought it was awesome that so many people participated.I was willing to dress up in whatever they told me I had to dress up in."
Thanks to the Men's Wearhouse in Chesterfield who donated two tuxedos measured to size, Lamason and Gianino dressed up, Dec. 15, while the teachers who donated were able to dress down in shorts and a t-shirt as the PE teachers do most days.
"Our school is a really community-based type of school so we always want to do anything we can to help others out," Ashley Poore (12).
With the success raising funds for Puerto Rico and overall increased morale, it is no surprise Dress Like a PE Teacher will return in the near future.
"It's a win-win for everybody. [The teachers] win because they get to dress down, and–of course–the people in need win because they're receiving needed money that will help them," Cole Huntley (10) said. "It boosts the morale around the school because everybody gets the feeling that they're able to help someone, and students are excited to see a PE teacher have to dress up in a full tuxedo."
No matter how big or small the donation, the community came together for something greater.
Leave a Comment
About the Contributor
Josh Margherita, EHS_hub opinions writer
This is Margherita's fifth semester on staff where he serves as an opinions writer for the EHS_hub. Marghertia enjoys discovering new music, traveling...