The wait is over
EHS Publications photos now available for purchase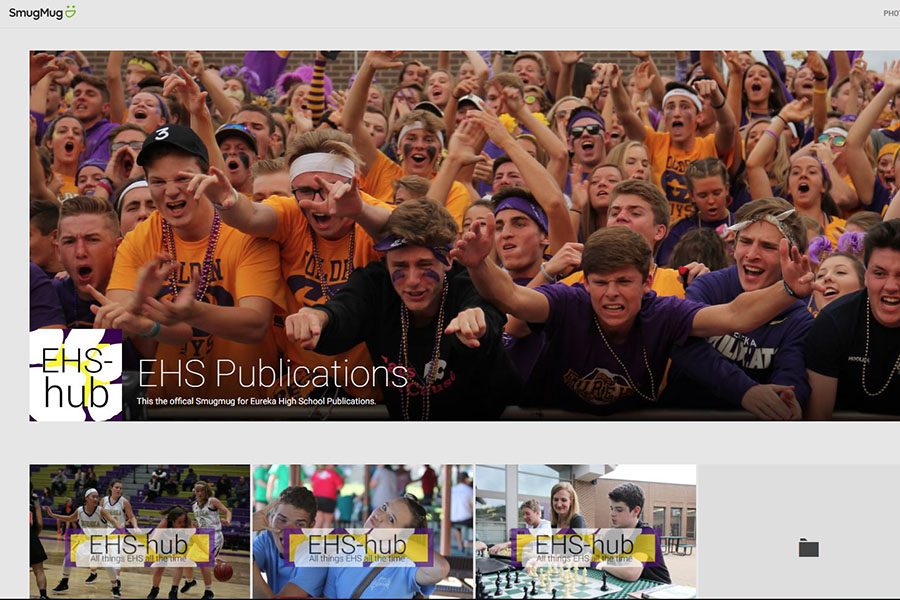 EHS publications staff members typically spend 24-30 hours a week outside of the school day documenting clubs, organizations, sports and student life. That statistic doesn't include the hours spent covering academics.
They spend the time covering those events so they can provide the award-winning coverage that is the Eurekana yearbook and EHS-hub.
Unfortunately, there was no way for community to access these photos other than visit the Hub and wait until next August for yearbook distribution until now.
Regan Peterson, photo editor, had an idea.
"Whenever I would go take pictures at events, people would always ask me for the photos because the photos are their memories," Peterson said. "I wanted to give people the opportunity to have these photos. If it was me and there were awesome pictures of my friends and I up there, I would definitely want them. I thought that using SmugMug could be a way to generate revenue and give back to the community."
Peterson found a way to manage the sharing of those images and protect the intellectual property rights to them. She spent six months researching pricing, identifying images to sell and establishing procedures.
"We didn't share photos to deprive people," Elisha Strecker, adviser, said. "Fulfilling all the requests we receive would have been a full-time job for someone. I already teach six out of seven periods and the publications staff members never have enough time to get their existing jobs done in the 49 minutes they have each day."
The publications launched that service, Jan. 5.
Publications staff members covering events will have cards they distribute while at the event to notify patrons that the photos will be available. Follow the EHS-hub twitter account for updates on when staff members will be covering an event and when photos are made available.
After each event it should take five days for the photos to be available to purchase online.
The link will take you to the home page with three categories consisting of sports, student life and clubs where students can go shop for their favorite photos. Each picture can be purchased in various sizes starting at $5 per photo. The EHS-hub watermark will not be printed on the purchased photo.
The profit from the purchased photos will go to the publication. The district only provides $500 for each publication, which doesn't begin to cover the cost of operating three student publications. The program has purchased the vast majority of the camera equipment itself, for example.
"We have over $50,000 of camera equipment that publications staff members use between the three programs and the introductory classes," Strecker said. "We try to be good custodians of our money, but the programs require way more than the district provides. Hopefully this will be one of those ways that we can generate revenue so that we can invest in equipment, education opportunities and training. Obviously there is a lot of great technology out there, and we want to try a lot of those things and the district does not magically provide them for us."
The yearbook editors will be tracking sales and training staff to shoot for this new service.
"We realize the images people want to purchase aren't necessarily the photos we use to capture the stories of the school year, so we are exploring how to train the staff for this service," Sarah Myers, Eurekana and Ehs-hub Broadcast News editor-in-chief, said.
Balance will be key.
"We have more work than we have time and people to do it," Strecker said. "While we are happy to offer this option to the community, I want to make sure this doesn't overwhelm the staff."
So students and their families no longer have to wait for that nationally-award winning yearbook to arrive to relive some of those memories that make the community Eureka strong.
Leave a Comment
About the Contributor
Lauren Glascock, EHS-Hub staff
Glascock is a news reporter for the EHS-hub. This is her second semester on staff. Her hobbies include travelling, writing, hanging out with friends, going...