A bridge to the future
EHS will begin construction on a new S.T.E.M. facility in August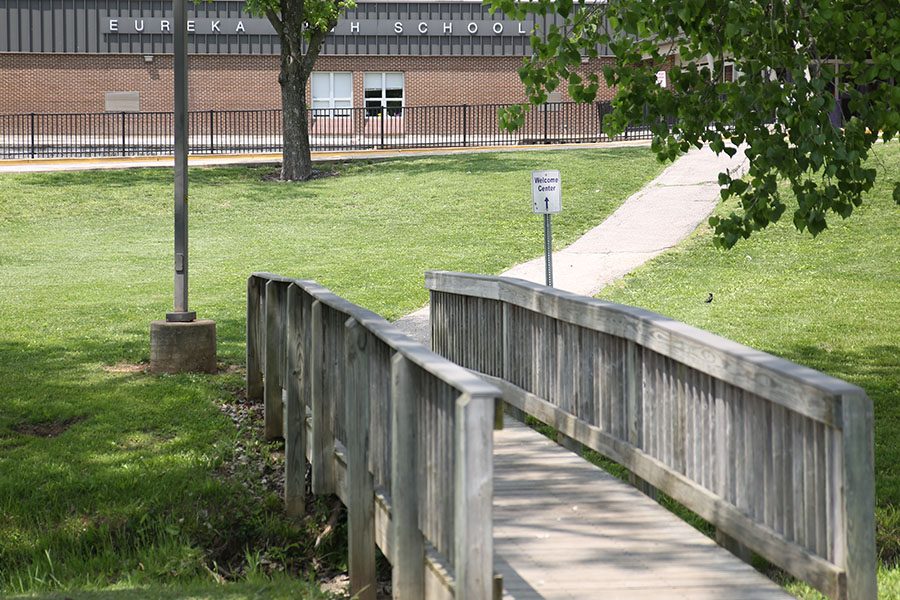 The parking lot is going to be even more hectic come next January as construction for a new science, technology, engineering and math building picks up. A tight parking lot will become even tighter.
RSD residents passed Prop T (Thrive), April 4, 2017. Prop T is a $95.5 million bond issue. School districts use bond issues for capital improvements (construction) that are beyond the scope of the school's operating budget.
Prop T affords the Eureka quadrant a new elementary school, new classrooms at Geggie elementary and the new S.T.E.M. lab at EHS.
"It's nice that we are building this," Susie Allmendinger, Theatre, said. "In the meantime, I have peeling molding walls in my classroom that no one addresses."
While new S.T.E.M. labs are a way to advance education, some would argue that the addition isn't the best use of district funds.
"Science and engineering are the most important subjects in our society," Ikaika Fouts (11) said. "Science is a broad subject and relates to a lot of the innovations and development we have."
The S.T.E.M. lab will be a two-story, 87,000 square-foot building. The new building will house all current science classes and Project Lead the Way classes, according to AnnMarie Gilman, sophomore principal, who is overseeing the interior of the space.
"It will represent the EHS of the 21st century," Charlie Crouther, principal, said. "It will be as good as, if not better, than any S.T.E.M. facility in the city of St. Louis."
Each classroom will be 1,600 square feet and feature its own lab.
"The classes will be way more interesting," Ashley Lingle (11) said. "I am a hands-on learner and I feel like that's the whole point of the S.T.E.M. building."
The new lab will allow each teacher their own classroom to customize and modify, providing the most effective learning for students.
"I use four different classrooms for storage," Keith Baremore, PLTW Science, said. "With this new building, I can fit all in the same room, and I'll be running a lab all in one room. It will give us everything we need."
Between 2010-2020, the field for biomedical engineering jobs will increase by 62 percent, medical scientist jobs will increase by 36 percent and systems software developer jobs will increase by 32 percent, according to the U.S. Department of Education.
"It was an intention of our building to always reflect S.T.E.M.," Gilman said. "We've worked really hard to get the engineering and sciences together."
RSD has taken a focus to S.T.E.M. to prepare students for the business world, especially with the rapid increase of the S.T.E.M. workforce.
"It's a great step forward and a great opportunity," Atharva Bhagwat (10) said. "The fact that Eureka can have that is a pretty big deal. I think it's a great idea."
Construction will begin in August and will be complete by the 2020-2021 school year. Initially, a section of the parking lot will be blocked off spanning from the circle drive toward the tennis courts to create room for construction machinery and vehicles. This block will eliminate 77 parking spaces.
The trees in front of the school will be chopped down and the creek will be redirected. The area will later be paved over to create additional parking.
During the first stage, only faculty parking will be affected. Staff will park in the new area of the main lot.
"I'm affected most by the fact that I'm going to lose my parking spot for a year," Allmendinger said. "I'm going to have to hike across campus, which I'm not happy about."
Starting second semester in January 2019, EHS will begin feeling the effects of the construction.
"You should start feeling some of those growing pains that come with construction," Gilman said. "It's going to disrupt life around here a little bit."
EHS has yet to officially inform students of the addition. Unless students have heard it through the grapevine, they have no knowledge of the S.T.E.M. lab.
"I know that it's happening, but I don't know anything else about it," Shane Lockwood (11) said.
S.T.E.M. jobs made up 8.6 million American jobs (6.2 percent) in 2015, according to the U.S. Bureau of Labor Statistics. Still, this is 817,260 more jobs than the field had in 2009.
"It's really cool," Grace Wichmann (11) said. "We are going to have better science classes that'll help people who want to go into that field."
With every new technological or scientific advance, more and more S.T.E.M. jobs are created.
"Our future is going to be tech-heavy and science-heavy," Baremore said. "I think most of the jobs in the future are going to be in the tech and science fields."
The new S.T.E.M. lab will assist RSD's goal of preparing students for the workplace.
"I hope a facility like this will spark interest and encourage more students to go into those fields," Brad DeMattei, Tech Ed., said.
Despite the inconvenience in the parking lot, what students will gain should be more impressive than an additional 150 spots; they should get a leg up on their S.T.E.M. education.
Leave a Comment
About the Contributors
Ethan Fine, Editor-in-Chief
This is Ethan's seventh semester on the News Production staff. In his free time, he enjoys taking photos, going to concerts and hanging out with his friends....
Lily Dean, Eurekana yearbook production editor
This is Dean's fourth year on staff where she serves as the production editor for Eurekana. Word that describes her: Distinctive.  Conversation she wants...