Eureka students will return to in-person learning in less than a week: Here's what has changed.
With high school students set to return back to the building on November 12, new procedures and routines have been set by the Rockwood School District and Eureka High School administration to help keep students safe and schools open. 
Eureka currently has 82% of its students set to return, making it the largest population of in-person students in the district. With over 80% of students returning, mitigation strategies have changed the structure of what is required of students and their daily routines. 
"We will have a number of mitigation strategies to promote the health of staff and students. Anyone who enters the building will be asked to wear a mask, we will be washing our hands frequently, and have hand sanitizer throughout the building. There will be social distancing to whatever extent possible. When you look at the size of our high schools and middle schools, that makes that much more challenging," Mark Myles, Rockwood School District Superintendent, said. 
These mitigating measures will start with masks, as all students and those entering the building will be asked to wear a cloth or surgical mask, excluding neck gaiters, above their nose and below the chin. 
Mask requirements will be matched with social distancing, which will take place in hallways and classrooms. 
"Classrooms are set up to social distance. Every class will have a seating chart and teachers have been working on getting desks as separated as possible, and podding students together," Corey Sink, Eureka High School principal, said. "The days of getting up and mixing around the room, partnering with people, we aren't going to be doing that. The collaborative work that you've become accustomed to in classrooms, we aren't going to be able to do that. You're really only going to be able to talk to a shoulder partner, but that partner will be more than 3 feet away."
In the hallways and the commons, students will be discouraged from congregating in large groups, rather encouraged to walk in small groups for short periods of time. 
One measure taken to prevent students from crowding in one area at a time is the change in the building times this year. The doors to the school will now open at 8 am, and students will be directed to go to their second hour class. 
"You could be walking with someone shoulder to shoulder down the hallway and if it's less than 15 minutes it's going to be perfectly fine, and you'll both be masked. It's that congregating of students in groups for long periods of time that is the issue. Absolutely, meet up with your friends in the hallway, just get to class. Walk and talk. If you are doing that, you are safe," Sink said. 
Students are going to be asked to keep 6 feet apart when possible, but 3 feet when the room doesn't allow for more distance. 
Breakfast and lunch have been other changes made to cut down on the congregation of students. Breakfast will be served at the beginning of the day in a grab-and-go format and lunch will be served during dismissal, in the same grab-and-go format. 
"If students are moving, they can pull their mask down and eat something and they will be perfectly safe. There's that 6 feet with no more than 15 minutes, which is kind of that danger zone. Our passing periods are so short that there isn't that 15 minutes," Sink said. 
Additionally, there will be snacks available to students throughout the day.
"Between the second and fourth periods, we are going to have a second chance breakfast. We will have satellite locations where students can grab Pop-Tarts or a granola bar, those types of items that you can just pick up and eat on your way to class," Sink said. "We will have three different locations around the building where students can grab that and walk to class because I know it's a long day without food or without lunch. We're going to do that same thing between the fourth and sixth periods. All snacks, breakfast, and lunch items are free for students this year so they can just pick it up and go."
At the end of the day, students will have a staggered dismissal time so they have the opportunity to grab lunch and then head out of the building. 
Seniors are the first to be dismissed, then followed by the freshman, sophomores, and then juniors.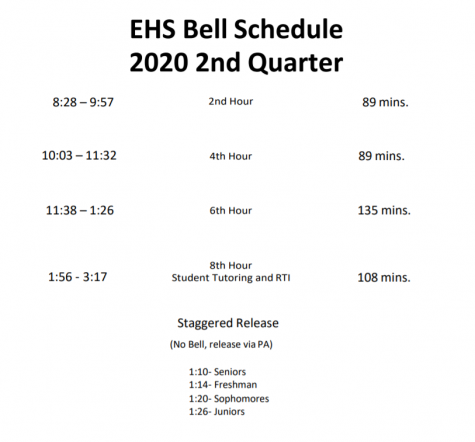 Bus transportation will also look different this year in terms of expectations and procedures.
"There are more parking spots this year so that will reduce the number of kids on the buses. They're going to ask siblings to sit together in the same bus seats and try to keep a seat between each student. Looking at how crowded our buses are, that's going to be hard, so again wearing your mask when on the bus is the safest thing you could possibly do to mitigate the spread of the virus if there were a contact situation."
Despite the precautions set in place, students are still at risk. If there were to be a case of COVID-19 on campus, or a set of cases in a classroom, the district is prepared to handle it on an individual basis.
"We will work with representatives from the St. Louis County Department of Public Health to monitor the number of positive cases within a specific classroom, which we would then quarantine that entire class, and the number of positive cases within a school, which we may then close the school for a short period of time and resume remote learning for a short period of time," Myles said. "We have the opportunity to quarantine just a few individuals, a classroom, or an individual school. We are hopeful that we won't have to go remote as an entire district, but we'll look at our schools as individual learning centers and monitor those internal health indicators, really on a daily basis."
Guardians will be asked to monitor their student's health, and if a student is feeling sick, they will be asked to stay home. 
As for supporting students in their transition back to school, there are some student support systems in place as resources for students struggling during this time.
"If students are needing some support that they, by all means, should be reaching out to counselors, social workers, and teachers to let us know that they need some additional support," Myles said. "It has been a long time since our students have been in school so they'll be getting used to new routines and procedures within the school as well. We certainly will partner with a number of agencies in the community, Alive and Well, for example, is an organization with whom we will partner to help students be socially and emotionally well."
Other changes being made is the opportunity for students to schedule time after school to meet with teachers, whether it's in person or over Zoom, after 2 o'clock. Students can make these appointments through their grade-level offices based on their needs. 
Eureka has also undergone a change in room numbers. While the locations of the rooms are the same, they now have new numbers and a new layout. 
Despite all of the changes and adjustments, administrators are staying hopeful.
"Everything we're doing is designed purposefully to keep students safe, healthy, and in school," Sink said. 
About the Contributors
Grace Walton, Editor-in-Chief
This is Grace's third semester on staff. Outside of The Bugle, she is involved in Speech and Debate, NHS and E!Crew. Outside of school, she enjoys reading,...
Tess Summers, reporter
This is Tess's third semester on staff. Outside of The Bugle, she is involved in STUCO and E!Crew, and is Varsity Cheer captain. Outside of school, she...