A long road to recovery: Carter Davis makes a comeback for his senior year
On a November night in Jackson Missouri, the Eureka Wildcats were set to play Jackson High School.  On a drive past the 50, Carter Davis, Eureka High School's quarterback, was pulled down awkwardly. While his ankle got stuck in the turf and remained upright, the rest of his body was pulled down. In other words, his body went one way, while his ankle went the other.
Davis could hear the gut-wrenching sound of his bone breaking; he could see the awkward position of his foot. Although he didn't feel much pain, he knew something was very wrong.
"Next thing I know, I have everybody on the field surrounding me. My coaches were right there, right by me telling me to calm down," Davis said. 
For those up in the stands, it was terrifying as well. Especially for Andrea Davis, Carter Davis's mom, not knowing exactly what had happened or if her son was going to be okay.
"As soon as I saw him down and not moving, I just knew it was bad. I was devastated. I was scared as my friends led me to the field. Of course, I was crying, but as I approached him, my friends encouraged me to stay calm. I knelt down next to him and told him it would be ok and that I loved him. It was surreal," Andera Davis said.
Shortly after stabilizing Davis on the field, he was brought in an ambulance to the Jackson ER.  While Davis doesn't recall much of his hospital visit, his mom remembers the experience.
"I was somewhat relieved once we were at the hospital because we would get some answers as to what happened. The staff at the hospital was wonderful and gave us reassurance everything would be okay. Carter was sedated but was talking and was so funny. It helped to have some laughter in such a time," Andrea Davis said.
Shortly after arriving at Jackson hospital, Davis was sent home with a dislocated ankle and a broken fibula. Although the night was over, Davis still had a long and difficult road of recovery ahead of him.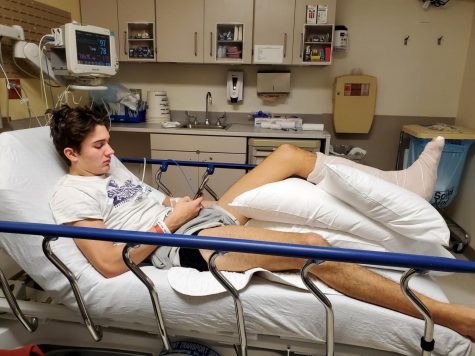 "I didn't start physical therapy until after surgery. The surgery was probably three weeks to a month after the injury. I got 9 screws, a plate, and a tightrope. When I started going to physical therapy, I was going twice a week all the way through the summer," Davis said.
As an athlete, Davis didn't feel as though the working out part of physical therapy was difficult, instead, he faced other challenges in his recovery.
"It was the mental side that was the toughest," Davis said. "It was difficult, especially being an athlete, getting through the mindset of 'I can't do that anymore', especially walking. As a person, I don't really sit around and don't do anything for very long. And that was the hardest part of the whole injury, being off my feet and losing the social aspect of everything. That was the main thing. The working out part of physical therapy, I've been doing that my whole life, that was easy."
The recovery wasn't just difficult for Davis, but seeing such an active and key player unable to play the game he loved was difficult for his teammates and coaches as well.
"It was very difficult seeing Carter during his recovery because I know how much being active and playing ball meant to him, so seeing him have to be cooped up in a chair for weeks was hard," Nate Daniels (12), a teammate and close friend of Davis said.
Davis wasn't alone, however. He had the support of his friends, family, and coaches throughout his entire recovery process as well.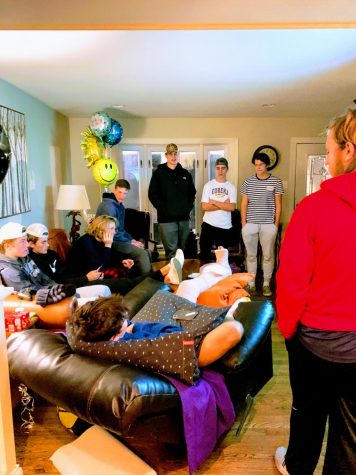 "I just tried to be as supportive as possible in any way. I tried to keep him as positive as one can be," Tyler Wasson, Eureka Football Coach, said. "I tried to just keep his mind sharp about football through zooms and texts. He is one of the most mentally strong young men I've been around. He probably helped me mentally more than I did him."
As Davis was surrounded by support throughout his recovery, his athletic mentality as well as his determination were ultimately what got him in the position to come back this season. 
"I knew that I was going to play again, especially if I kept going to physical therapy and did all the stuff they told me, I was gonna play. But was I gonna be as fast or as athletic as I was, I didn't know. That's what really pushed me to go through physical therapy and do my best every day, was really just trying to get back to where I was," Davis said.
Despite Davis's tremendous efforts off the field and the time he put into his recovery, he still faced the reality of not having a senior season due to COVID-19. 
"From the moment we heard we weren't gonna have a summer, because we do a lot of stuff in the summer, like working out as a team and scrimmages with other teams, that was really frustrating especially because I had been going through so much with the injury that I just wanted to be out there. I was frustrated for sure," Davis said.
Finally, after several months of time and effort put into physical therapy and several obstacles that he overcame, Davis was able to rejoin his teammates on the field this season.
"When he told me he was gonna be able to return I was ecstatic because I know how much he loves the game and I knew we needed his leadership for our last year," Daniels said.   
His coaches were just as excited as his teammates and family.
"I was extremely excited for him, his family and our program. I tried to make him take it slow but that was an impossibility.  Carter goes a million miles an hour so I just had to let him be him," Wasson said.
The moment Davis stepped on the field was an emotional one for many of his supporters watching from the stands.
"I was filled with so many emotions as he stepped up to play his first game since the injury. I was so proud of him for how hard he worked to get back out there. I was very emotional as I watched him play as well, if not better than before. I was amazed. I was a little nervous about how he would respond to the game. But, he didn't seem to be phased. In fact, he ran the ball more this season than ever, and did it well," Andrea Davis said.
For Davis, the excitement of being back on the field took priority over thoughts of his injury.  Despite his long hiatus from the game, he was in full gear and ready to be back the second he stepped onto the field.
"I think I was just so ready to play I wasn't thinking about it. There were a couple of times where I'd get my ankle hit and I would think 'Oh, is my ankle okay?' and I would look down and it's fine, but besides that stepping onto the field, the last thing on my mind was 'Is my ankle gonna hold up?' Especially football, with how physical it is, if you go into it thinking 'Oh could I get hurt', it's not gonna be good for you," Davis said.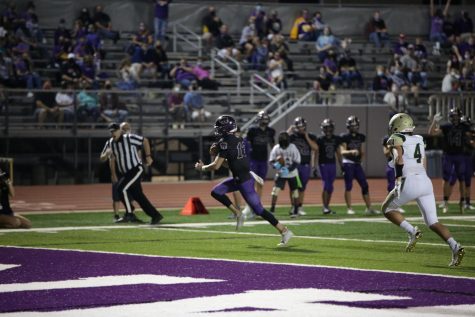 His recovery was a long one, however, Davis is better than ever. With only four games this season, Carter ended his senior year with a quarterback rating of 81.280. Although his high school career has ended, he and his family are looking forward to his college career.
"He has shown perseverance through adversity. He has proved that dedication and hard work pays off. I am sad that his high school football career has come to an end, but I look forward to seeing him back out there in college," Andrea Davis said.
About the Contributors
Olivia Dolan, reporter
This is Olivia's third semester on staff. Outside of The Bugle, she swims for Eureka's Varsity Swim and Dive team. Outside of EHS, she enjoys swimming,...
Kevin Ward, reporter
This is Kevin's second semester on Digital Media Production. In his free time, he likes to take photos, swim and play lacrosse. At EHS, he is involved...