Winter sports startup
Eureka's winter sports including boys basketball, girls basketball, girls swim and dive, as well as wrestling began in early November. Because of COVID, much of the sports schedules are up in the air, but all coaches and athletes are preparing for a full season.
Boy's Basketball
Boy's basketball, facing many COVID related challenges, started their season in early November. Head basketball Coach Austin Kirby understands that this season presents many challenges for his athletes, and his season a day at a time.
"Through 2 weeks, I've already figured out this season will provide different challenges than my previous 6 years. We will have to take the year, one day at a time," Kirby said.
They are taking all the necessary precautions to prevent a COVID outbreak and possible cancellations.
"We are following the same guidelines that our school and St. Louis county have put in place. One change that we as a program have made is to practice in masks. I have told the boys that we will do whatever it takes to help your chances to play a season," Kirby said.
With the challenges COVID presents, the team is uncertain of their future, however, they continue to practice and prepare for it.
"I am going to prepare our team to play districts and state like a normal season. I think keeping our kids focused on achieving our goal of winning a district championship and advancing to the state tournament can be positive during a year that has been pretty negative." Kirby said.
Kirby has high expectations for his athletes this year, with lots of talent on the current roster.
"New players that we expect to contribute will be Caiden Roellig (11), Carson Smith (11) and Alex Wangerin (11). Our team will be led by experienced seniors, Luke Laudel, Nate Parker and Trace Ruckman. 
Kirby is excited about this season and is looking forward to seeing his talented roster play.
"Overall, I like our team this year and I have beefed up our schedule to reflect that. This year we are playing in the top pool in the suburban conference while also adding top 10 teams in the non-conference schedule. Our schedule is listed on Arbiter. Our schedule is set; however, everything this year is subject to change," Kirby said.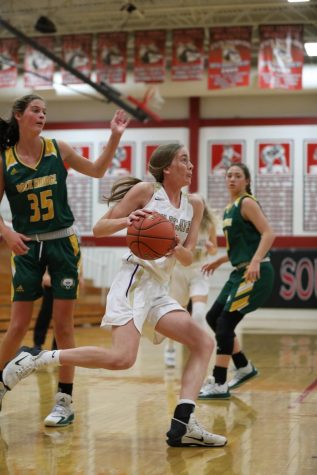 Girl's Basketball 
Girl's basketball, currently facing several challenges due to COVID-19, began in early November. Head basketball Coach James Alsup has high hopes for this season, as far as growing as a team.
"This season we expect to grow together as a team and go to work every day. We will get better and better as the year goes on," Alsup said.
However, this season has already proved to be difficult for the girl's basketball team. Within the first couple of days of practicing, the team had to shut down due to a positive test and contact tracing. 
"We are still working through the challenges of being shut down and trying to get back together. This is all uncharted territory for all of us." Alsup said.
Despite the challenges, the team is still hoping and training for a state tournament, considering it occurred for fall sports. Alsup is expecting great things for this season, with a roster full of talent.
"Kate Hillyer (12) has a chance to end up as the school's all-time leading scorer if we get to play enough games. Sydney Dennis (12) is a dynamic defender. Haley Higgins (12), Lexus Luedtke (12) and Peyton Hallemann (12) are looking to contribute. Katie Stolz (11), Haley Ritchie (11) and Bri Ludwig (11) want to contribute as well. Megan McCune (10), Natalie Harty (10) and Jordan Knight (10) want to play. Rounding out the roster are a couple of talented Freshman Bailey Boulay and Maison Smith," Alsup said. 
Girl's Swim and Dive
Girl's Swim and Dive began on November 9th. Swim and dive coach Nate Korteum, spoke on his expectations for the girl's team this season.
"I think that with hard work and the dedication this team has, there's no reason we can't win state," Korteum said.
With the new COVID restrictions, the schedule and the future of the team are uncertain, but the athletes are training hard regardless. To prevent any cancellations in the future, Korteum is doing everything in his ability to make sure the girls are being cautious and safe.
"Splitting the team into two groups and limiting exposure amongst the team is gonna be key to be successful this year. If we do everything we can control and the team is really responsible outside of the pool, and we are responsible inside the pool, then I think we'll be fine," Korteum said.
While the question of  state still remains, Korteum believes there is no reason why the girls can't have one, especially considering the recent success of the boy's swim and dive state meet.
The expectations for the girl's swim and dive team is high, with new talent joining the team this year. Freshman Emma Kaemmer and Haiden Schoessel are expected to make a big impact. Some state scorers coming off of last year include Sidney Durbin (12), Emma Harris (12), Mackenzie Swope (12), Peyton Wells (10), and Marin Lashley (10). They are also expected to make a big impact this year. With all the talent on the team this year, Korteum is looking forward to this season. 
"The sky is the limit for this group in general," Korteum said.
Wrestling
Boy and Girls wrestling started in early November. This season brings lots of changes to typical wrestling practices with new COVID regulations. Wrestling Coach Jesse Zeguin is training his athletes regardless of the uncertain future.
"We are preparing like COVID won't shut us down. But it is a big possibility. There are a lot of uncertainties," Zeguin said.
The coaches as well as the athletes are doing their best to prevent cancellations and spread of COVID, taking all necessary precautions in masks and social distancing when they can.
"We work hard everyday within our guidelines. We wear masks all the time except while wrestling and use the same partners all year. No coaches wrestling with the guys. It makes it hard to run a program," Zeguin said.
Because of COVID, their schedule is uncertain, but the wrestling team is hoping for a state meet and preparing for one regardless. They expect to have a good roster this year, which will hopefully put them high in the state rankings.
"I expect Eureka to be representing well in Columbia," Zeugin said. "The roster looks good. Numbers are down a little bit but nothing major. New members such as freshman that I think might make an impact are Drew Stubblefield and Ryan Thornhill"
Some previous athletes that are expected to make an impact this year are Shane Sweat (12), Kyle Hurst (12), Will Nelson(11), Zach Mcquerry (12), Brady Bachert (12), and Ben Harell (11).
Leave a Comment
About the Contributors
Olivia Dolan, sports editor
Olivia is a sports editor and this is her third year on staff. When she isn't working on the paper, she is swimming for Eureka's swim and dive team....
Ali Pate, photo editor
Ali is photo editor and this is her second year on staff. She plays Eureka golf, runs track, and is involved in StuCo, Best Buddies, FCA and E!CREW. Her...