Mr. Matt Doell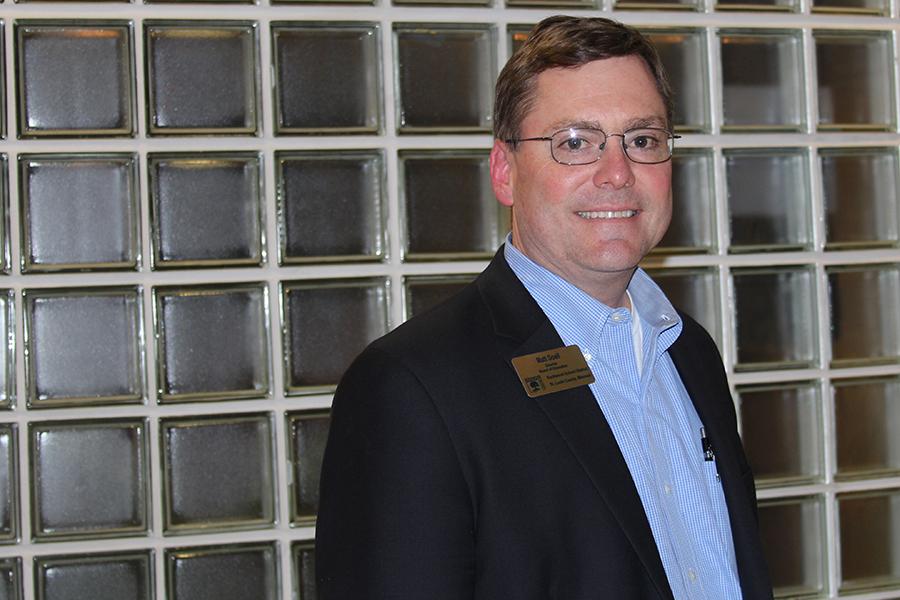 While some BOE members have backgrounds in education, Mr. Matt Doell, current BOE director and 2014 candidate, is the opposite. 
Professionally, Mr. Doell is an engineer and vice president of Sachs Electric, a business located within Rockwood. Mr. Doell has a degree in electrical engineering and a Masters of Business Administration.
At Sachs Electric, Mr. Doell negotiates with the International Brotherhood of Electrical Workers, the electrical workers union.
Completing his first BOE term and father of Michael Doell, Class of 2013, and David Doell (11), Mr. Doell is no stranger to the Rockwood Community. He is a member of the Eureka-Pacific Elks Club and the EHS Band Patrons Association as well as the Unit Commissioner for Cub Scout Pack 322 and Boy Scout Troop 322.
"About three and a half years ago, the schools decided that the Boys Scouts would have to pay to use the facilities, which hadn't been true in the past," Mr. Doell said. "I understand the reasons why they did what they did, but some of the Cub Scout groups did not have the financial abilities to rent out the facilities. So, a lot of them moved out of the schools. I felt that was a disservice to that program. So that was my trigger. That's what made me say 'Okay, I'll get more involved.'"
A candidate for the BOE must have experience in governance, be educated on district affairs and be an effective leader, according to Mr. Doell.
"I think that those are the things that bring me out from the others," Mr. Doell said. "My background in engineering and business brings a different perspective from the others. Being an effective board member means that you build consensus. I think that I can bring that to the board. I've been doing that already."
Role of the BOE
The most important role of the BOE is to hire and oversee the superintendent, according to Mr. Doell.
"There's nothing that even compares; that's our job," Mr. Doell said. "I feel an obligation to help that person get started for the good of the schools."
Dr. Eric Knost, incoming Superintendent, was hired at a BOE meeting, March 27. Since his election to the BOE in 2011, Mr. Doell has served under Dr. Bruce Borchers, former Superintendent,  and interim Superintendent Terry Adams. Mr. Doell has actively participated in the most recent superintendent search along with the rest of the BOE members.
"It's very important the new Superintendent hits the ground running and has a successful chance," Mr. Doell said. "I think that an experienced board member can help with that."
In addition to the selection of the superintendent, a responsibility of the BOE is to respond to any RSD citizen inquiries. Keeping visible and accessible is essential, according to Mr. Doell.
"I get emails and phone calls all the time," Mr. Doell said. "I try to never tell anybody 'no.' If anybody calls and says, 'I'd like to meet with you,' even if that person is someone who has a negative voice, I still always try to meet with them. Most of the time, they just want to know what's going on."
Funding and finances
"I have been a part of ongoing budget plans and a strong advocate for what I believe to be the best school district in Missouri," Mr. Doell wrote in a Hub candidate survey, March 4.
A handle on the commercial aspect of finances isn't a hindrance to understanding the intricacies of RSD finances, according to Mr. Doell.
"Some of the fiscal constraints we are facing are similar to a business, and some of them are different," Mr. Doell said. "As far as myself with three years of experience on the board, I've seen the cycles. I've seen what comes up at various times in the year and what comes up on an annual basis, [like contracts, etc.]"
Mr. Doell expanded on the various revenue sources of the district including property taxes, the Voluntary Interdistrict Choice Corporation and commercial tax revenue.
For several years, the state funding sources have not fully met the state's monetary obligations to public schools, but there is some talk to actually fulfilling the promised amount, according to Mr. Doell.
"That will help our finances, but beyond that we are going to have to move towards a balanced budget in the next year or so," Mr. Doell said. "A zero-based budgeting process is where we know we are going to have this much coming in, and that's all you can use."
With a comprehensive view of the district moving towards a balanced budget, Mr. Doell advocates accountability for spending versus income. Mr. Doell emphasizes the importance of spending less than what the district is bringing in.
"We've built the fund balances, so we can do some things right now without cutting programs," Mr. Doell said. "Then maybe the revenue stream will come up, or maybe we'll have to whittle that down. We have to live within our budget."
Common Core and Curriculum
"Common Core Standards were written to ensure that all students are achieving at least a minimum proficiency in core subject matters," Mr. Doell said. "Rockwood exceeds these standards in every category."
Mr. Doell emphasized that RSD does an excellent job of preparing kids for life after high school, whether it be a career or a college setting in terms of rigor. There is help for students who are struggling and need special attention, while AP or Honors courses are available to those who desire a more demanding education.
"In terms of what we are going to be teaching at what grade level, I don't think it's going to affect us very much at all," Mr. Doell said. "We are not going to lower our standards to the Common Core. Generally we would have taught [concepts] sooner [than the Common Core]. We're more rigorous, more aggressive in our standards."
There may have to be adjustments with the students and teachers in terms of assessing where most of the public concern lies.
"Where Common Core can be more controversial and difficult to implement is the assessment process," Mr. Doell said. "It's all going to be technology driven, so other districts are going to have a harder time complying with that than we are. But we're not finding that change to be a no-brainer, easy thing to do."
That change in the classrooms in the source of anxiety.
"Change is seldom embraced," Mr. Doell said. "In a certain system of how things are being assessed, nobody is looking forward to the tests, but they understand the system. So any change is going to come with trepidation. That doesn't mean it's bad. It just means we have to make a path."
First Amendment
The freedoms guaranteed by the First Amendment, free speech, press, religion, assembly and the right to petition, do not leave students when they enter school. Students are encouraged to utilize these rights within RSD, according to Mr. Doell.
"Students are free to assemble with other students for almost any reason they can think of, and they can use school facilities for that," Mr. Doell said. "They should be able to do it anywhere, any time they want, unless they cross a line."
The limit comes in when a student's expression might agitate the school environment for everyone else.
"Your freedom to express yourself anywhere you like ends where it harms somebody else," Mr. Doell said. "You don't want political purposes inside the schools. You don't want anything that would cause harm to another person or that would disrupt what the school is doing."
Using the right to question authority and the truthful spread of information trains students to have faith in governance, according to Mr. Doell.
"Students are as free as anybody else to say or write anything within the bounds of honesty and disruption," Mr. Doell said.
Responsibility is assumes by the students when discretion in terms of the spread of information is provided to students.

"Whether they go directly into careers or into a college setting, students need to understand that democracy is based upon free exchange of ideas," Mr. Doell said. "Democracy is based upon everybody having their opinion whether you agree with it or not. It's very important to embrace these ideas, so students can become good citizens."
Leave a Comment