Mrs. Eileen Tyrrell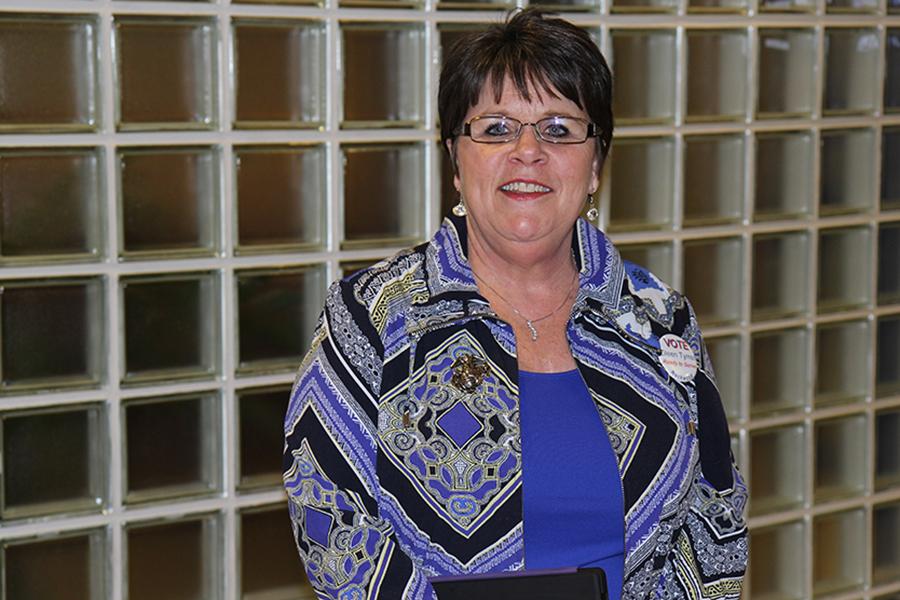 Mrs. Eileen Tyrrell has been a resident of RSD for seven years. She has lived in four different states and experienced the traditions of four different school districts, two rural and two suburban. Mrs. Tyrrell declined to comment on the names of the other districts her family has lived in.
Her oldest child, Will, graduated from EHS in 2012 and is now serving as a United States Marine. Her daughter, Haley, is currently a sophomore at EHS.
Mrs. Tyrrell began her involvement in the district in 2011 through attendance at RSD board meetings and co-founded a citizen's coalition Rockwood Stakeholders for Real Solutions (RS for RS) in Summer 2011 with Ms. Lisa Hunt Earls.
The coalition includes 391 followers who receive weekly newsletters through email as well as 275 likes on facebook. RS for RS boasts the slogan, "Helping Rockwood Schools Live within OUR means."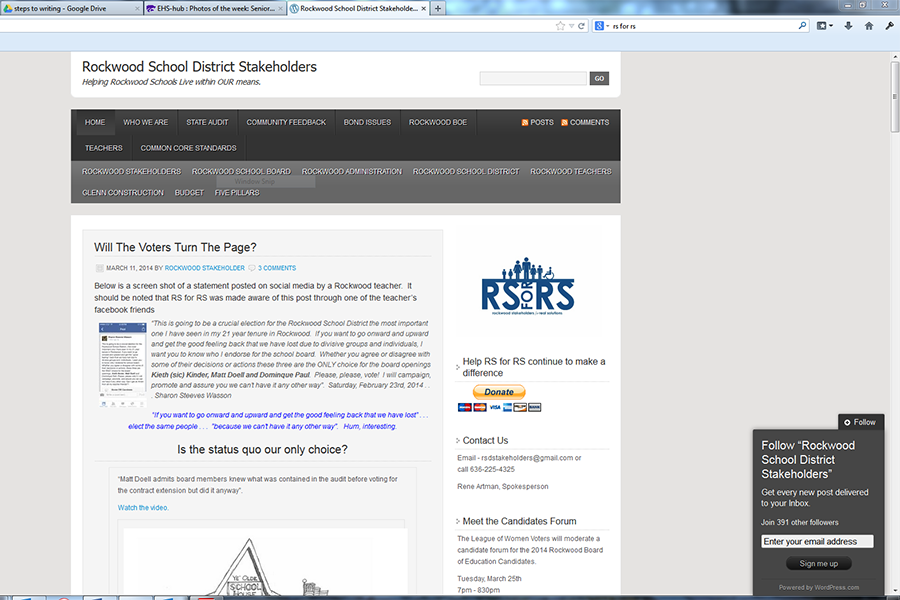 "I would not be putting in the time, the effort and the passion that I have the last three years into running for an office that's for free if I did not care about the teachers and staff of Rockwood," Mrs. Tyrrell said.
Mrs. Tyrrell started getting involved in the issues of the district when her children enrolled in RSD schools; her coalition has led her to become an outspoken member of the RSD community.
"We are not going to solve the problems of this district unless we all come together," Mrs. Tyrrell said. "The major problem, the one thing I'm going to bring over anyone else is that I know what it's going to take to win back the trust of the community."
The failed bond issue, Prop S, from April 2013 is, in her opinion, concrete evidence of this loss of trust.
"It's time to move forward," Mrs. Tyrrell said. "It's time for me to stand up to that community that I've been engaging in for the last three years and say to them, 'Guys, I'm here, but we all need to work together.'"
Role of the BOE
"The board is oversight: they hire a superintendent, and they supervise him," Mrs. Tyrrell said. "That superintendent hires or directs the cabinet, so the board has to know the questions to ask and they have to ask the tough questions."
Having been in attendance at the BOE meetings of the last three years, she feels she has an understanding of how the BOE works and her possible role on the board.
"There are not enough questions being asked," Mrs. Tyrrell said. "We have to stand up and say to the community, with no buts, 'We are sorry. We screwed up, and we are trying.'"
Trust and communication between the BOE and the community are a top priority for Mrs. Tyrrell and how she feels the district will be able to make progress into the future.
"You lie to your parents; your parents need that time to trust you again," Mrs. Tyrrell said. "That's all this community is asking."
The district administration and BOE was not altogether forthcoming with the stakeholders over the findings in the 2013 audit and was unjustified in putting up a bond issue around the same time, according to Mrs. Tyrrell.
Her solution to as to how to move forward is simply stated:
"The Board of Education most effectively influences students by setting a good example," Mrs. Tyrrell said.
Resolving district stakeholders' confusion over fiscal and curricular issues is the basis for Mrs. Tyrrell's platforms.
Funding and finances
As the a co-founder of a citizen's coalition in the district, Mrs. Tyrrell has already been involved in advocating what she feels to be necessary to keep the administration honest.
"Because my group is responsible for getting the audit, the administrators got raises, the teachers got raises, the sports staff got raises and we got Tim Rooney," Mrs. Tyrrell said. "So we got fiscally more responsible."
Although Mrs. Tyrrell stated that RS for RS was responsible for bringing the audit, Missouri Auditor Mr. Spence Jackson went on record with the EHS Bugle in the April 27, 2012 issue stating that the audit was a routine operation and that RSD was randomly selected. Read that article here.
Missouri Auditor Tom Schweich went on record with the St. Louis Post Dispatch on March 5, 2013 stating that RS for RS did play a role in the audit along with other factors.
Regardless of whether RS for RS can take credit for the audit, her opinion on the district's finances is clear.
"Do we have to do with less?" Mrs. Tyrrell said. "Yes. Yes we do. But honestly, I think we're underestimating our students to think that they can't do with less."
Because of a lack of trust and responsibility, bond issues have no chance of passing in the district, according to Mrs. Tyrrell.
"What you're doing is putting out this scathing audit to the district, and then you have the audacity to stand up to the community and say, 'But it's for the kids,'" Mrs. Tyrrell said. "Really? No, you should have done it right because you messed with the kids."
The future seems bleak, but she is ready to face the next three years as a decisive member of the BOE.
"Tough choices are ahead of us with declining enrollment, diminishing reserve, no tax increase or bond issue viable," Mrs. Tyrrell said.
Common Core and curriculum 
Mrs. Tyrrell's research throughout the process of the implementation of Common Core Standards in Missouri reveals a decided naysayer.
"I agree with the national president of the NEA in that we better look it all over and that's what my statement is," Mrs. Tyrrell said. "Here's the simplest way for me to explain what concerns me about common core: you want them [K-2 students] to be abstract thinkers before they're concrete thinkers."
The BOE is not responsible for selecting and implementing curriculum changes, but they do still play a role in the oversight and approval process.
"The board should be allowed to ask the necessary questions for oversight," Mrs. Tyrrell said. "I would like to see more of the teachers coming back and saying, 'How does it work? How is it working in your classroom?'"
Common Core Standards are just that, standards whereas curriculum is guide for the actual instruction, another facet of the Board's oversight.
"The job of public education is to provide the best education experience for all students who do not wish to fund a private school education," Mrs. Tyrrell said.
An important part of that educational experience is that students leave high school equipped with the skills they need to make it in an outside world, something that Mrs. Tyrrell doesn't feel RSD does for everyone.
"I have a student that if he went to elementary and middle school in Rockwood, would not have been that successful in Eureka," Mrs. Tyrrell said. "But he learned a work ethic where he went to elementary school and where he went to middle school."
In order to make RSD a place that all learners can be successful, she feels resources for curriculum should become a higher priority in the creation of the budget.
"You don't take the budget and say, 'We need additional money for curriculum,'" Mrs. Tyrrell said. "You're zero-based budgeting; you put that curriculum in first!"
Mrs. Tyrrell declined to comment about which programs in the district should be adjusted in order to allocate the proper resources to curriculum.
First Amendment
"What role it [First Amendment] plays that I know it plays in Rockwood right now is the newspaper," Mrs. Tyrrell said. "You can run our ads. That I like."
But she doesn't want student publications to be the only outlet for students to get their ideas to the public.
"You know what else I think?" Mrs. Tyrrell said. "I don't think we hear from you guys enough. I don't see students at board meetings."
Mrs. Tyrrell also tries to engage students in the goings on of the district.
"I wanted to hear more from students so when I went to the blood drive one day it was kind of slow so, what do we spend too much money on? So what would you improve? Kids are so willing to say that, they are, but they need a venue to do that," Mrs. Tyrrell said.
She believes each stakeholder of the district should be heard and understood.
Leave a Comment