Production Team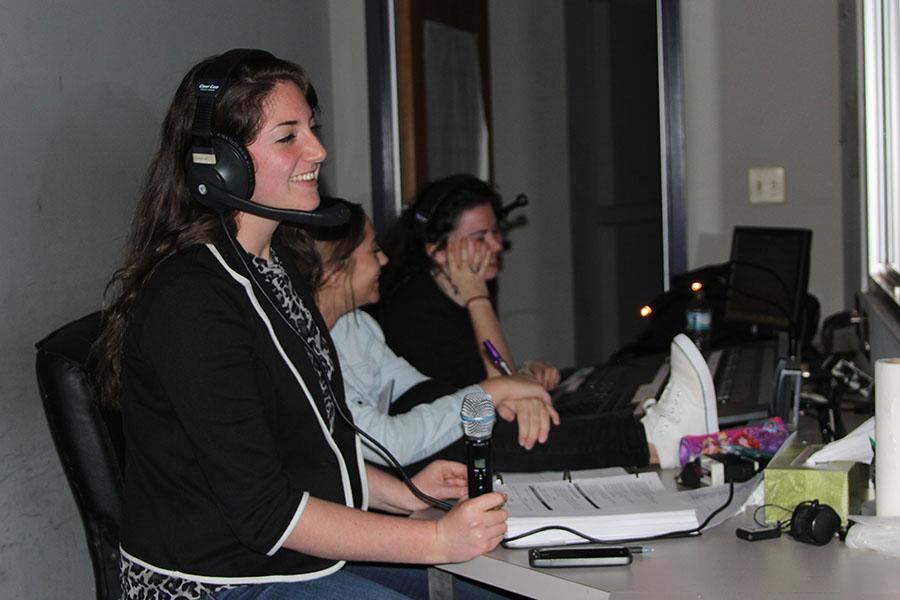 The most responsibility any member of etc… can have is holding a position on the Production Team.
Responsibility is much higher on this crew because their job is overseeing and leading everyone else below them.
Mrs. Allmendinger couldn't direct the entire etc… staff without those in charge of their crews and especially the production members in charge of the direct crew leaders.
Members: The stage manager for the "Oklahoma!" production was Peyton Ogle (12).  She had to help set up during show and give the cues to the lighting, sound and pit through the Clear-Com headphone sets, which the other leaders have, too. During practice, she holds a microphone and tells the actors how they should move around the set. She also helps Ms. Allmendinger when ever she needs it.
"I really like the belonging feeling with the other etc… members and making memories," Ogle said. "As stage manager I like exercising authority, not being bossy perse, but in the fact that I want the show to be good and I like helping to make it the best that it can be."
The assistant stage manager was Katie Westermeyer (11). Her job kept her mainly down on the stage during practice rather than up with Ogle in the booth even though she does what Ogle needs her to do. During show, Westermeyer assisted the pit by initiating music cues from headset communication with Ogle.
Assistant director for the "Oklahoma!" production was Emily Hoffmann (12). If Ms. Allmendinger was distracted or away for a while, Hoffmann's job was to take her spot, directing the actors and actresses as to what to do. Once the show came about, Hoffmann was in charge of the section of backstage meaning making sure everything went smoothly, checking to see if everyone, actors and technicians, were ready for scene changes. If ever there was a problem, she was there to fix them.
"I really loved this job. I liked being able to make decisions. I liked being in leadership and being in charge. I thought that that was fantastic," Hoffman said. "I would definitely want to do it again. It was a great experience."
The technical directors for the "Oklahoma!" production were Arden Short and Samantha Whitaker (11). They made sure everyone in the tech crews were on time and where they need to be. They also made sure everyone's was behaving correctly and doing their jobs. If ever a crew member didn't have something to work on, the tech directors could find something for them to do (even if that was sorting nails). The tech directors were basically the ones that run rehearsals day-in and day-out before the actors came in for dress rehearsal.
"Samantha Whitaker's cousins all have done been in etc… in the past, so she wanted to do it," Short said. "She brought me in as just a friend to do it with her freshman year, and we both fell in love with etc…"
Leave a Comment
About the Writer
Tiffany Skaggs, Feature writer
Tiffany is entering her second year on the EHS-hub staff and is serving in the position of feature editor for the 2014-2015 school year. Tiffany's likes...