Costumes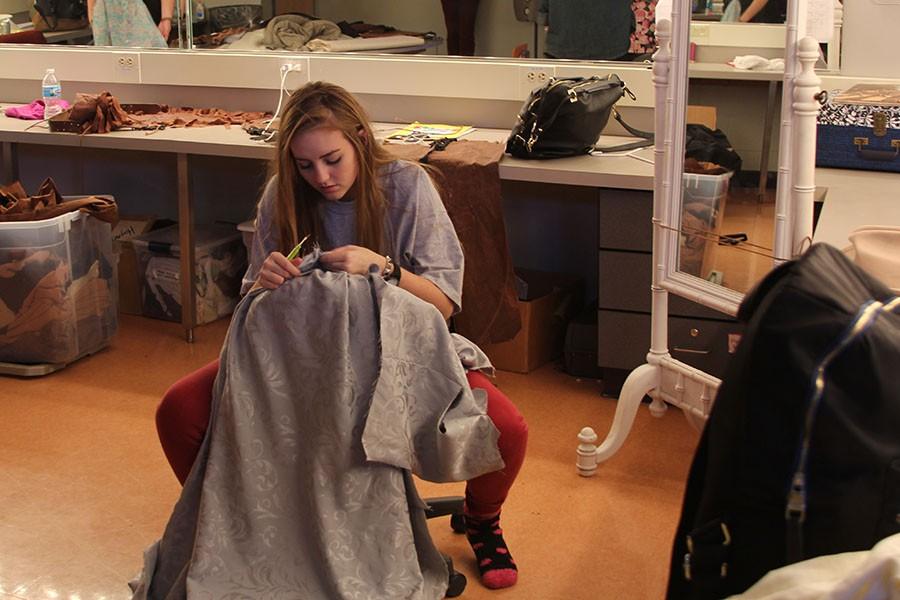 Any piece of clothing, may it be a shirt or a simple top hat, that is seen on stage is thoroughly thought out by the Costumes Crew.
Every production has a specific costume design that has to be followed, for every show has demanding ensemble needs.
Up until show night, Costumes Crew is busy stitching and sewing since they try to make as many of the garments as they can. Examples of handmade costume pieces made by the Costume Crew were the boys' chaps and vests in the "Oklahoma!" production.
Although the majority of the costumes were rented from a shop downtown, the crew had to make alterations to them so they would fit accordingly to each actor/actress.
When it comes to a budget, Ms. Allmendinger is in charge of paying for any material needed for sewing or the renting of costumes.
When it comes time to have dress rehearsals, the Costumes Crew then organizes all the costumes for the actors/actresses ease, putting names on specific hangers to minimize confusion.
Members: The costume designer for the "Oklahoma!" production was Sarah Lockwood (11). 
The job of a costume designer is a little different than that of any other crew leader. Before tech interviews, those who are wanting this job have to read through the script and come up with a costume vision/plan to give to Ms. Allmendinger. The creator of the plan that best embodies the vision of the production is chosen as the costume designer.
Once Lockwood's plan was chosen, she went straight into action working leading the crew. In a specific notebook, Lockwood records alterations and costume complaints so she and her fellow crew members can work on them.
The costume designer is also in charge of quick changes in between scenes. Quick changes are when an actor/actress has to make a speedy transition into a different costume for the next scene back stage.
The costume technicians also included: Michaela Beaver (11), Riley Bestgen (10), Rachael Copeland (10), Thalia Dimitriou (12), Elisabeth Globe (10) and Maddie Schatz (11).
"I liked the Costumes Crew a lot. It was kind of like a little family. We all talked about life and felt really comfortable around each other," Goble said. "I like clothes and also the idea of how costumes add to a character to show their personality a little."
Leave a Comment
About the Contributor
Tiffany Skaggs, Feature writer
Tiffany is entering her second year on the EHS-hub staff and is serving in the position of feature editor for the 2014-2015 school year. Tiffany's likes...