Trio App Review
A new form of social media has arrived!

Note: The EHS-hub rating of this app is solely based on the writer's opinion. 
Silicon Valley recently launched the Trio app, which is a new, creative way to be social with friends by making media mash ups called trios, March 4.
What is Trio:
For each post, the user can choose to use videos, photos or animated GIFs (a brief animation of images) to create a 30 second trio. 
Interestingly, in addition to using photos and videos from the users personal gallery, they can choose to use movie clips that Trio already has uploaded, video clips from Vine, photos from Instagram and then an arrangement of GIFs and photos available upon searching.
So to recap, trios use files that aren't necessarily the user's originally but rather are from Vine, Instagram, Giphy or the Trio app. After posting, those viewing the trio on the Trio app can click the post to see a list of what files were used and information about those files, a way to give credit to the original owners.
When making a trio the user can add text to the clips, gifs and pictures as well as insert a voice recording over them and choose a background song.
If the users need inspiration for their trio, they can look at a list of challenges or hashtags, which are like themes.
When viewing other peoples' trio creations, the user can comment, like or pass the trio.
With the background songs, there is a list of top hits that you can choose or search for a non-listed song. After posting, other users can see which song you used by clicking the circle music note button which opens up the song in iTunes. This music feature made it really easy to figure out cool songs used in Trios that I didn't already know.
What I like/dislike about Trio:
What is really cool about the app is that after making a trio, users don't have to post it right away to their Trio account, unlike Instagram. It can instead be saved to the photo gallery on the device, shared to facebook or Twitter, sent to others in a text or email or messaged in the WhatsApp. 
Users can make a really cool media mashup with Trio and post it to their Instagram account since trios are easily saved to a device's photo gallery.
Some drawbacks of the app are that users can't make their accounts private, and because it's a new app, there aren't a lot of users compared to social media apps like Vine, Instagram and Facebook.
Those curious about becoming more creative with their social media posts and social communication should definitely consider downloading this app.
I highly suggest it for those who are familiar with Instagram or are tech savvy as it would be easier to utilize the app and get the most out of this new creation that way.
Check out Trio in the App Store today!
Leave a Comment
About the Contributor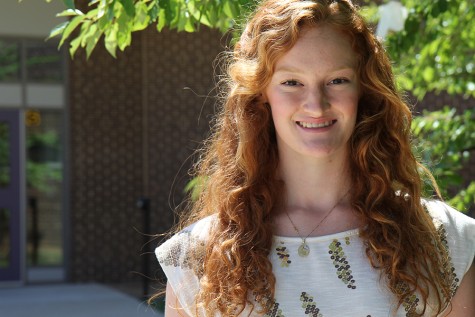 Tiffany Skaggs, Feature writer
Tiffany is entering her second year on the EHS-hub staff and is serving in the position of feature editor for the 2014-2015 school year. Tiffany's likes...