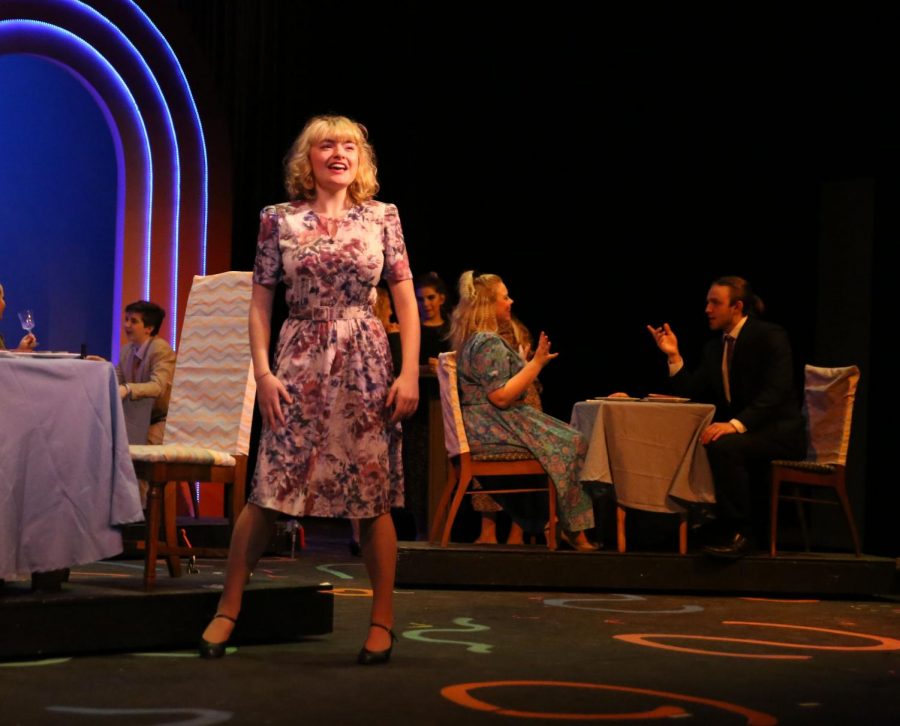 Hayley Krey
Krey's involvement in etc… began her freshman year when she was on props crew for "The Glass Menagerie."
Aside from one acts, Krey's roles include:
Chorus, "Beauty and the Beast"

Carol Melkett, "Black Comedy"

Julia Sullivan, "The Wedding Singer"
Krey will also be playing the part of Helga ten Dorp in the upcoming spring play "Deathtrap."
Krey not only pours her time into acting but also focuses on her mindfulness and recognition of social issues. She is involved in E2, an equity group composed of students, faculty and administrators.
"Before I became involved in E2, I was ignorant to a lot of things that were going on around me," Krey said. "I was just lucky to be able to be a part of a group like that because it really opened my eyes and made me realize how much I care about social issues. I try to be cognisant about every issue, whether or not it personally affects me based on who I am. We do a lot of dialogue in the club about race, religion, gender and sexuality."
Krey's involvement in E2 is demonstrated in every aspect of her life, including in the classroom.
"I am really impressed by her social awareness around issues and things going on like Black Lives Matter and issues surrounding things like food processing and white privilege," Baumstark said.
Awareness is important in the field of equity, but Krey strives to share her understanding with others as well as educating herself.
"One of the biggest things that I do to help make a difference as much as I can for now is to use my social media," Krey said.  "I try to promote ideas and beliefs that I believe and that I've learned through E2."
Krey's ambition is a key character trait; her passion drives everything that she does.
"Ever since I was little, I've always wanted to be an actress," Krey said. "I remember when I was in maybe like third to fifth grade and around that time, I was obsessed with "Harry Potter."
Krey's interest in the "Harry Potter" films led her to idolize Emma Watson, who played the character Hermione in the series.
"When I think about when I first wanted to pursue acting, I always think of Emma Watson because everyone loved her," Krey said. "She is such a great actress and she is also so down to earth. I still look up to her because she uses her acting as a platform now for women's rights and she has definitely been a big influence on me."
Krey hopes to become an onscreen actress and to perform in independent films. Acceptance to Tisch makes this dream tangible.
"I think that her confidence, tenacity and dedication and wanting to prove everyone wrong is what has made this all happen," Lorinda Krey, mother of Hayley, said. "Her dad and I are just beside ourselves proud."
While many consider acting a hobby, Krey dedicated the majority of her time and energy into her passion and it appears to have paid off.  
"She just wants to be remembered," Brock said. "She wants to do a lot of things and go everywhere. She has a lot of hopes and a lot of dreams."
Her philosophy of spreading positivity and sparking social change is what drives Krey to pursue her dream of acting professionally and using her passion to impact the world.
"I want to make people feel things and help to spread positive messages through acting because that's what I like to do," Krey said.  "My goal definitely would be to secure some kind of a role that has a good impact. In the future if I'm successful, I would love to use my platform of acting like Emma Watson and Viola Davis do, as they use the popularity of their role or their project to promote positive changes."
Krey's acceptance to Tisch at NYU also came to her as a bit of a surprise, especially since she was initially indecisive about auditioning at all.
"At first, I was not going to audition for NYU, because I was thinking 'I'll never make it in, it's a long shot,'" Krey said. "But then I was finally like, 'Okay whatever, I'll just do it.' I ended up auditioning, and I'm still surprised that I got in."
Peers have also been supporters of Krey, sharing her positive outlook on her admission to Tisch.
"She's really accepting," Sarah Guardia (12) said, "So I'm glad that she got accepted into the school that she wanted."
Krey's future is bright and her training at Tisch will solidify her skillset as an actress.  
"I'm definitely more focused on on-screen acting, so my goal would be to get some roles after college," Krey said. "I'll take what I can get, but my plan is to probably stay in New York and just audition all I can."
A positive outlook makes for a positive life, and Krey's bright personality paired with her acting prowess will lead her well as she attends Tisch and pursues her career as an actress.