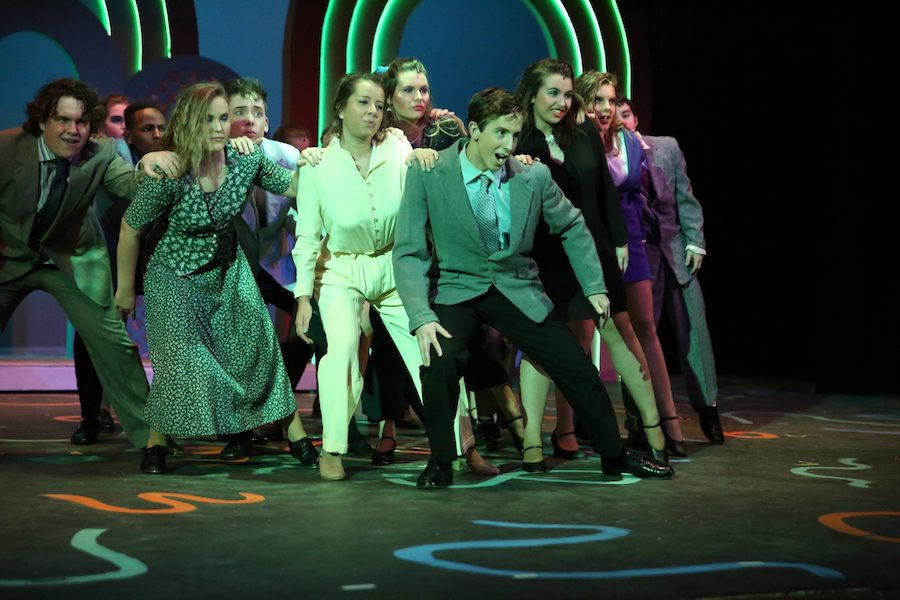 Will Crane
Crane's involvement in etc… began his freshman year when he did sound for "Oklahoma."
Aside from One Acts, Crane's roles include:
Lefou, "Beauty and the Beast"

Dogberry, "Much Ado About Nothing"

Beadle Bamford, "Sweeney Todd"

Brindsley Miller, "Black Comedy"

Glen Guglia, "The Wedding Singer"
Crane will also be playing the part of Sidney Brule in the upcoming spring play, "Deathtrap."
"He's very experimental," Brock said. "He's trying to make sure that he can be noticed that he can stand out."
Crane's choice of monologues, which both center around complex characters struggling with controversial topics such as spirituality, philosophy, and sexuality exemplifies his desire to differentiate from the typical.
"We're so grateful that he has gotten so many opportunities at EHS to cultivate that passion for theatre," Sara Crane, mother of Will, said. "Ms. A and etc… have just been a great family and support for him."
Despite his involvement in theater, Crane's sphere of influence extends beyond his acting. His academic pursuits also display his character.
"He is a deep thinker; he always seemed to be pondering what we were talking about," Baumstark said.
Missouri State Thespians awarded Crane the Missouri Thespian Performance Scholarship, 2017, which is annually awarded to four students in Missouri.
"I got this scholarship based off of two two-minute monologues. And so the struggle for those was trying to get into character for such a short amount of time," Crane said. "I performed them back to back, so I had to switch characters as I performed them."
Crane played the character Dwayne Hightower in his monologue from "Messiah on the Frigidaire" and the character Gary Numan in his monologue from "Asylum."
Despite facing a challenging situation, Crane impressed the judges with his performance and won the scholarship.
This recognition will assist him in his future, as the scholarship consists of a one-time grant of $1,000 to be applied to tuition and fees associated with full-time enrollment at an accredited college or university.
Although Crane is already accomplished in the field of drama, his acceptance to Tisch came as a bit of a surprise.
"At one point, it was just kind of a pipe dream for me," Crane said. "I almost just applied because it was fun to apply not really expecting to get in. So the fact that I did get in is just a dream come true."
Acceptance to Tisch is only the beginning for Crane, as he plans to pursue a career in on-screen acting.
"The plan after college is to just see what happens," Crane said. "The thing about going into this field is that there are no guarantees, and having a plan is almost counterintuitive because things come at you when you least expect it."
Crane's perspective of flexibility and dedication to his art are the skills that will support him as he continues his training as an actor and pursues a career in the field of film and drama.