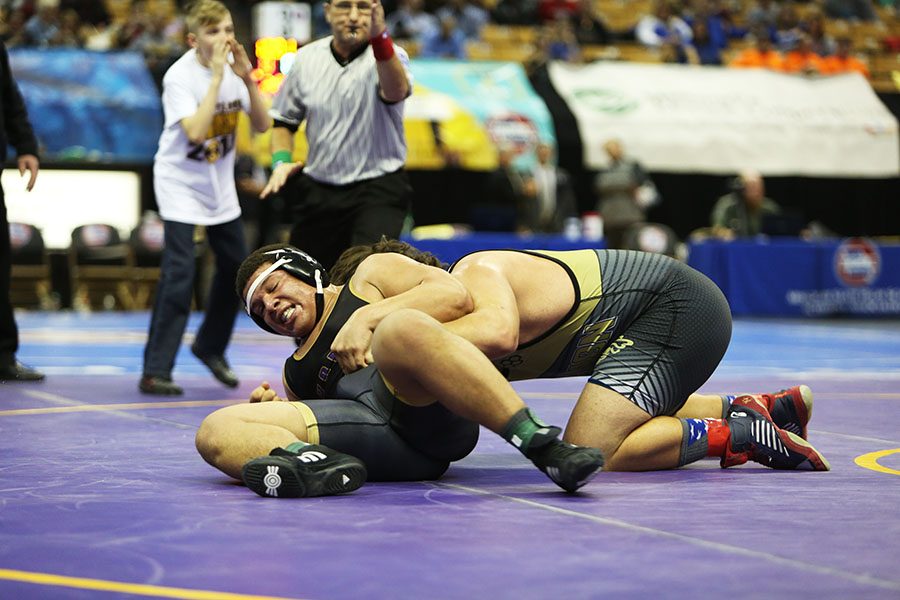 Brendan Carter
The state wrestling championship ended in a third place finish for Brendan Carter (285) but it didn't come without trouble along the way. Injuries kept Carter from competing early on in the season.
"It was a difficult season," Carter said. "I wasn't able to wrestle at the beginning of the season because I had an injury from football. I missed a good three weeks because of that injury."
As if that wasn't difficult enough, Carter had another injury.
"I got injured again," Carter said. "I lost hope because I didn't think I would wrestle again, but I was very lucky to come back."
After coming back to competition, Carter worked his way into the state tournament.
"Because of my coaches and all of the support I got, I was very excited and happy that I did what I was able to do." Carter said.
Overcoming injuries and advancing to not only the state tournament but also to a third place finish was a humbling experience.
"It was amazing," Carter said. "I was so excited to be able to wrestle up in a weight class and be there to do something that not a lot of people have done."
Adding that onto the fact that he was one of the smallest wrestlers in the heavyweight class makes his feat even more impressive.
"He was a 220 pounder that we moved up to 285," Mark Gentry, head coach, said. "The fact that he took third in the heavyweight class is really amazing. This is one of the more athletic heavyweight classes we've seen."
Although his matches were usually among the last of each meet, Carter's teammates always came to support him as he made his journey through the season.
"We called him 'The Giant Killer,'" Jack Sauter (145) said. "He was giving up 70 to 80 pounds and he was throwing big guys. He was really cool."