Opinion | Fine Tuned | Sept. 25
Each Friday, new music swarms streaming platforms across the world. As millions of artists push to have their music heard, very few are able to stand out among the masses. Here are my takes on three upcoming artists to watch out for: 
Sueco the Child
Sueco the Child first became famous when his song "fast" started making its way around TikTok, the music-video-making app. Migos' Offset and A Boogie Wit Da Hoodie remixed Sueco's track and the California-based rapper's life was never the same. 
Sueco the Child released his debut album, "MISCREANT," Sept. 20. The album is just eight songs long and clocks in at under 25 minutes, but Sueco fulfills the time. His sound is hard to pinpoint, as if he is still working to find his voice. He is clearly influenced by pop-icon Post Malone, as his music is based in rap but ties in other elements. 
The album switches back and forth between SoundCloud mumble-rapping Lil Peep-ish tracks and muffled indie-rock tracks. My personal favorite, "novacane :)" is simple, but seems to be Sueco at his best. The track is nothing but him singing over a muffled, bass-heavy guitar. It's a change in pace compared to the rest of the album, but could almost certainly be a radio-hit if Sueco the Child didn't pick up screaming by the end of the song. 
Overall, Sueco the Child seems to be living the modern-music story: Get famous through the internet, release some more lo-fi tracks and just ride it out as long as possible. 
JPEGMAFIA
JPEGMAFIA is an artist in every sense of the word. He's strange and hard to understand. At 29 years old, JPEGMAFIA is finally picking up traction in the music world, four years after he began releasing music.
JPEGMAFIA released his latest album "All My Heroes Are Cornballs," Sept. 13. Pitchfork gave the album a 7.6 rating, quite a feat for an upcoming artist. Although he is just gaining attention now, JPEGMAFIA has been on music nerds' radars for awhile. Complex named him one of the Best New Artists of the Month back in March of 2018 alongside Latino bedroom-pop star Cuco and frequent-festival rapper Tierra Whack. 
Complex describes JPEGMAFIA the best anyone can: "A tornado of sound." His standout track, "Jesus Forgive Me, I Am A Thot," goes back and forth between singing and rapping, but he somehow blends the verses and choruses together, despite them being polar opposites. The beat sounds like a 1970 R&B record that Lil Uzi Vert and Marvin Gaye both hopped on. 
JPEGMAFIA's music carries the theatrics of a Childish Gambino track with the lyricism of a less-than Kendrick Lamar. His music is, literally, imperfect, with strange cuts and awkward fades. It is evident that with his bizarre image, which ranges from his comical song titles to his demonic, fashionable album art, that JPEGMAFIA doesn't care what anyone thinks about him. He is true to himself in his art, allowing him to create to the best of his ability. 
As I mentioned, JPEGMAFIA is at his peak through songs like "Jesus Forgive Me, I Am A Thot" and "DOTS FREESTYLE REMIX." If you're open-minded and enjoy a weird mash of imperfection rooted in rap with hints of punk rock and everything in between, you'll enjoy JPEGMAFIA. 
Scott Helman
Scott Helman has spent all 23 years of his life working on becoming a rock star and it looks like it's finally paying off. Helman is currently on tour opening up for Dean Lewis, playing an acoustic solo set of his work. He wasn't even scheduled to be on the tour until just a few days before it began, when James TW dropped off the tour. 
The tour has been phenomenal for Helman. He is playing to larger crowds than he would typically play to and he is picking up attention from all over the country. He isn't a radio star, nor a household name, but it feels like maybe these aren't just pipe dreams anymore. 
Helman released his debut album, "Hôtel de Ville" (translating to "city hall" in French) in 2017. It's 12 songs, each one around three minutes. The album even earned the Canadian artist a Juno award nomination. 
The key tracks on the album are "Gaslight" and "Chinese Restaurant." During his live performance, Helman tells an anecdote of how he wrote "Gaslight," explaining that he had surrounded himself with some negative people and didn't even realize it until an old friend pointed it out. 
Helman's biggest hit is "Hang Ups," which is his show opener and has been remixed, helping garner some attention. The biggest flaw in his music, however, is that it all sounds the same. Each song seamlessly blends together, but not in a good way. It's hard to tell the songs apart because of the similar vibes each has.
The music falls into the mysterious category of indie rock, but is best described as an Oasis-meets Harry Styles genre. It's obvious that his influences are all over the place, but there seems to be an emphasis on the modern-rockstar image. 
Helman is another one of these artists still searching for his voice, but the future looks bright for him. He is wrapping up his tour with Dean Lewis and will hit St. Louis on his solo tour, November 1. 
Leave a Comment
About the Writer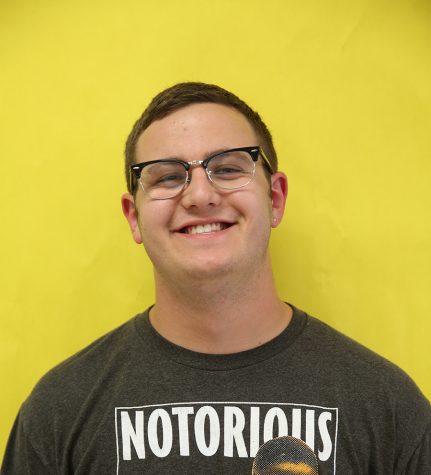 Ethan Fine, Editor-in-Chief
This is Ethan's seventh semester on the News Production staff. In his free time, he enjoys taking photos, going to concerts and hanging out with his friends....