9/11 commemorations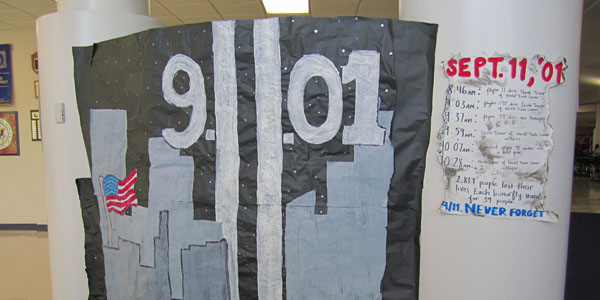 Eleven years and one month later… not forgotten.
As commemorations fade from memory, reflecting on this year's anniversary can make next year's efforts even more powerful.
Remembering 9/11 at EHS has become a large effort taken on by a small group of students who act on the behalf of the entire student body.
This year, the moment of silence became similar to how some people attempt to obtain a good grade: everyone wants it, but some don't put in effort to get it.
"The moment of silence is an opportunity for the school to remember the tragedy and respect the victims lost on that day," Montana Miller (11) said.
The moment of silence is not a standard part of commemorations of the day, but students and faculty noticed its absence.
"We have had a moment of silence in the past," Mrs. Deborah Asher, head principal, said. "We had it particularly in the first few years, but I don't believe we had it in the more recent years prior to the tenth anniversary. It ties in with our character education program and initiatives. We make sure something is being done. StuCo takes the lead. Every year they plan something different, but if they didn't then we would step up and do something.""
StuCo organizes the event, but records are not kept and passed down to future committee chairs. So each year the committee has the freedom to design the day as they see fit.
With the tenth anniversary last year, there was a moment of silence.
"We didn't realize that the moment of silence was through the students," Danielle Kronmiller, StuCo 9/11 Committee chair, said. "Had we known we probably would have done it."
Any student at Eureka could have asked for a moment of silence, although StuCo usually takes on the job of leading commemorations. The task is headed by a special committee.
"StuCo agrees that we would like to do something for 9/11," Kylie Ruprecht, StuCo president, said. "Then the StuCo advisers and the executives appoint committee chairs who then decide on how they are going to commemorate it." Mr. Gensler, StuCo advisor, confirmed this information.
The committee is comprised of two chairs, and other willing StuCo representatives.
"We were in charge of coming up with ideas that would be appropriate for commemorating 9/11, and we wanted to do it artistically," Kronmiller said. "It was just Maddie Cocos and I who came up with the overall commemoration, but we had around 20 StuCo representatives who signed up that were willing to help us put it up."
The 9/11 Commemoration Committee although small, remembered 9/11 thoughtfully with murals, posters and symbolistic decorations.
This date holds memory and meaning for every American. With over 2,000 students, EHS should be able to collectively filled the anniversary of that date with meaning. Just as when a student seeks help from a teacher to get a good grade, the students have to take the first step.
Leave a Comment