The future of RSD is in new hands
Dr. Eric Knost will serve as superintendent
Beginning July 1st, Dr. Eric Knost, current Mehlville School District Superintendent, will become the district's new Superintendent.
Dr. Knost will be replacing Dr. Terry Adams who took the position as an interim.
The superintendent provided "lots of snow days, and he liked publicity. He liked when we chanted for him at the Renaissance Assembly!" Kaitlyn Duncan (11) said.
Although people know the superintendent control whether or not there is a snow day, not many know exactly what a superintendent does.
"He kind of like keeps everyone in check with what their doing, supports the school and comes to events," Abby Dohogne (10) said.
The superintendent is the ultimate authority in the district outside of the Board of Education.
"The snow days are kind of a big deal. But, in addition to that, the general operations of the school are my responsibility," Dr. Adams said."Almost anything that happens would be my responsibility. A school this size, there are a number of people that are assigned to do things. That they do it at a certain quality level is in my field. The districts finances, public relations, human resources. All of those things are areas I am either directly or indirectly responsible for."
Dr. Adams has confidence in the BOE 's choice.
"The Board of Education chose him," Dr. Adams said. "I would tell you I think they did a nice job. I know him, and  he's a nice man, and  I think the districts fortunate to have him."
According to Dr. Adams, Dr. Knost is definitely fit for the job of becoming the RSD Superintendent.
"The board looks for someone that will care about the district, care about the children, care about the adults in the district, try to provide good leadership, and have some vision as to where the district ought to go," Dr. Adams said. "Someone that they think will fit with the people that are here, and get along with students, faculty and community."
Dr. Knost's focus is on bringing the community together.
"I have an interest in getting more unity between the Rockwood School District and the community," Dr. Knost said in a phone interview conducted, May 1. "There's been some unrest that's been apparent in reading newspaper articles and such, and so my goal is going to build relationships. I want everyone to know me as the superintendent."
Mrs. Theresa Esslinger, RSD patron hopes he is true to his word.
"I hope that he will listen to the parents and the members of the community that are citizens, that are paying taxes for the Rockwood School District," Mrs. Esslinger said.
In the meantime, one student's priorities are clear.
Grant Eickel (9) said he hoped Dr. Knost would "honor Terry by continuing his snow days."
Leave a Comment
About the Writer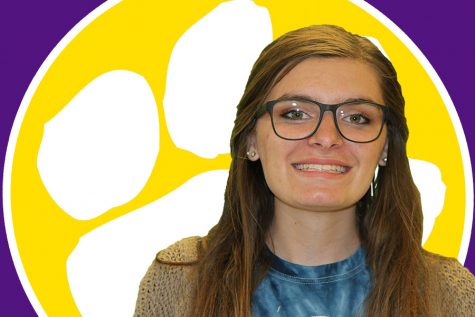 Emily Grossnicklaus, EHS-hub staff
This is Emily's sixth semester on the EHS-hub staff and her first semester on Digital Media Production.

She is a reporter. You can follow her on Twitter...