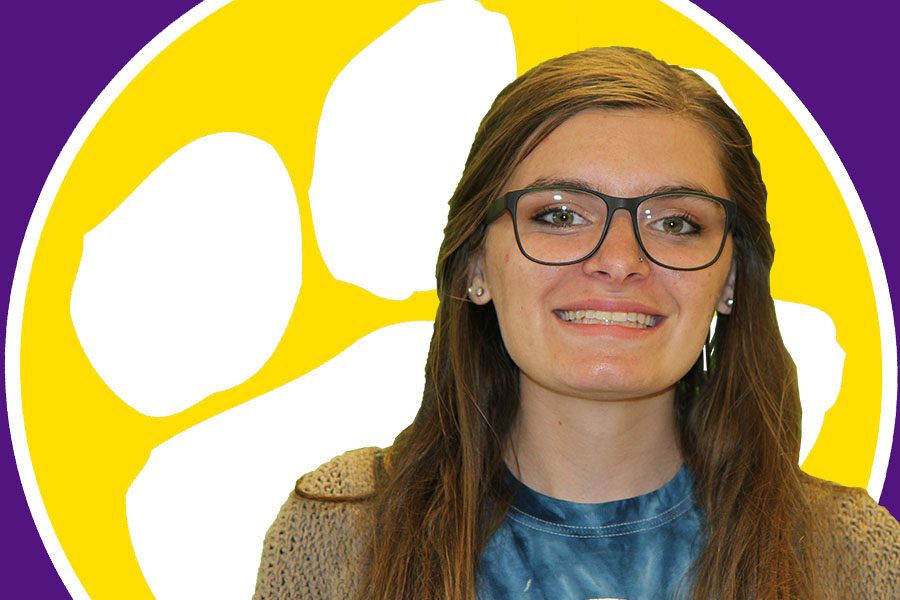 This is Emily's sixth semester on the EHS-hub staff and her first semester on Digital Media Production.
She is a reporter. You can follow her on Twitter @egrossEHS_hub. Some of Emily's hobbies include hiking, swimming, traveling, going to concerts and hanging with friends and family.
She also volunteers at Equine Assisted Therapy. An interesting fact about her is that she is left-handed.
Emily wants the world to learn about her through what she creates.
Her dream job would consist of working on a film set in LA or NY or traveling for a living.
Emily Grossnicklaus, EHS-hub staff
Dec 20, 2016

2017 senior column: We are wildcats: Emily Grossnicklaus

(Story)

Dec 08, 2016
Dec 01, 2016
Nov 29, 2016

Reaching out and standing still

(Media)

Nov 15, 2016

Playing for the police

(Story)

Nov 14, 2016

Fall sports signings

(Story/Media)

Nov 11, 2016

Photos of the week Nov. 7-Nov. 11

(Media)

Oct 20, 2016

Daily dose of patriotism

(Story/Media)

Oct 19, 2016

Opinions: From the desk: We the press

(Media)

Oct 11, 2016

EBN: Sweet treats

(Media)

Sep 30, 2016

Photos of the week: Sept. 23-30

(Media)

Sep 22, 2016
Sep 21, 2016

Opinions: From the desk: Let's talk

(Media)

Sep 15, 2016
Sep 09, 2016

Photos of the week: Sept. 5- 9

(Story)

Sep 08, 2016

Last ten: Ms. Melissa Menchella

(Story/Media)

Sep 06, 2016

Photos of the week: Aug. 29-Sept. 2

(Media)

Aug 26, 2016

Photos of the week: Aug. 22- 26

(Story)

Aug 25, 2016

Last ten: Mrs. Renee Seppa

(Story/Media)

Aug 19, 2016
May 09, 2016

A sparkling future

(Story/Media)

Apr 08, 2016

Photos of the week: April 4-8

(Media)

Apr 05, 2016
Mar 23, 2016

Know/inform/care

(Story/Media)

Mar 22, 2016

EBN: Out with the old

(Story)

Mar 21, 2016
Mar 04, 2016

Photos of the week: Feb. 29-March 4

(Media)

Mar 03, 2016

Play Preview: Much Ado About Nothing

(Story)

Feb 23, 2016

Overcoming disaster

(Story)

Feb 11, 2016
Dec 17, 2015

Fresh faces: Lydia Sepe (10)

(Story/Media)

Oct 13, 2015

Fall into music

(Story/Media)

Oct 02, 2015

Follow the Hub for pep assembly coverage

(Story)

Oct 01, 2015

A different take on Friday night lights

(Story)

Sep 17, 2015

Retired and hired

(Story)

May 14, 2015

Taking a look: a new format for an old practice

(Media)

Apr 23, 2015

EBN: Talking for a change

(Story)

Mar 26, 2015
Mar 25, 2015

Documenting the year

(Story)

Feb 24, 2015

Window of opportunity to glow

(Story/Media)

Feb 03, 2015

"Turning the page"

(Story)

Jan 20, 2015

Pointing fingers

(Story/Media)

Nov 11, 2014
Nov 06, 2014

Only a screen away

(Story/Media)

Sep 25, 2014

Friday night lights

(Story)

Sep 23, 2014

Fields of dispute

(Story/Media)

May 19, 2014

The future of RSD is in new hands

(Story)