Overcoming disaster
Historic flooding hits communtiy
Highway 109 once packed with cars and trucks–empty. Downtown Eureka, usually filled with people–abandoned and boarded up.
The EHS community ended 2015 and started 2016 waterlogged. A historic flood put the city of Eureka in a dangerous state.
Jay Nixon, Missouri Governor declared a Missouri state of emergency after heavy rainfall and flooding, Dec. 27.
Over 11 inches of rainfall caused areas around EHS, downtown Eureka, Highway W and many more locations to flood. Water along the Mississippi River crested as high as 42.58 feet. The Meramec River crested nearly three feet over the historic amount set in 1993.
Residents of Augustine Heights, Elk Trails, Emerald Forest, Mirasol and other neighborhoods found themselves flooded in for over two days.
"The police came to our house and told us the entrance to my subdivision was going to be flooded," Ben Zerler (10) said. "I got out and went to my friends house for three days. My parents stayed home. I was happy because I was at my friends house, but my parents were bored."
In St. Louis County, there were 1095 parcels affected by the flood in St. Louis County: 883 residential and 212 commercial. In Eureka there were 167 residential parcels and 12 commercial parcels, Mr. Mark Diedrich, Director of office of emergency management, said in a phone interview, Jan. 25.
Of these parcels in Eureka, Eureka had 79 homes affected by the flood. Twenty-one of those 79 had major damage and are now uninhabitable. Forty-one businesses were damaged. Thirty-four of those had major damage,Mr. Michael Wiegand, Eureka police chief, said in a phone interview, Jan. 19.
Since the water rose so high, a lot has to be done in order for homes and businesses to safely be repaired.
In homes insulation, which serves as wick and absorbs the contaminated flood water, has to be taken out of the walls and replaced. The walls themselves have to be thoroughly dried and often drywall has to be replaced. The electrical systems have to be inspected. Everything also needs to be cleaned and disinfected or replaced, Chief Wiegand said.
Restaurants were considered majorly damaged if the first floor was flooded because that is the main operating floor. Restaurants such as Odell's Irish Pub and Chick-N-Elly's are still in the process of fixing the damage to their establishments. These owners did not return repeated phone calls.
Businesses have additional health inspections clear before reopening. Sometimes the repairs are beyond the business owner's control, especially if those owners rent their locations.
"I don't own my building so therefore I can't go in there and repair it as quickly as possible so basically I'm out of work, and I just got a temporary location I'll be moving into this week, Mr. Justin Smith, Eureka Screen Printing owner, said. "The landlord, the person who owns the building, has to redo all the electrical, plumbing, and put up drywall. He also has to raise up the floor about three inches. That doesn't cost me anything, but I lost about $10,000 in machines and inventory and equipment.This flood makes me feel helpless."
Those hit hard by the flood found they weren't in it alone. Mrs. Ginni Hartke, Executive director of Equine Assisted Therapy, appreciated the members of the community who stepped up and fixed the damage at her therapeutic horse riding facility.
Hartke had to tear out all the drywall, insulation, bathrooms, furnace, fireplace, doors and the cabinets. Once the water went down they went in and threw almost everything away.
"It's going to take a lot of money," Hartke said. "But we are finding out how many nice people there are that have come to help.The hardest part isn't letting the kids ride."
Equine Assisted Therapy was prepared for the damage to come. Over 26 people came out to help the two weeks leading up to the flood; they moved smaller supplies to higher points, stored larger expensive equipment elsewhere and relocated the horses to safer locations, Mrs. Hartke said.
However, many citizens were unprepared for the severity of the flood. Emily Wos (11) and her family came home from vacation to find their basement fooded with two-feet of water. Their sump pump couldn't handle the volume.
"We had to bucket out all the water and clean all the carpets and after that we got flooded in," Wos said. "I didn't really enjoy the flood because I had to stay in my house for two days and I felt imprisoned."
The water interrupted lives.
"My family was affected by the flood. My mom was unable to get to work because she works in downtown Eureka," Makayla Jackson (11) said. "She had to help all the family businesses down there, which some were even a part of my family."
President Barack Obama declared the flood a major disaster for Missouri including St. Louis.
"With any disaster, for the people who were not affected, it should be a good wake up call that they are prepared to know what to do at the event of any disaster," Mr. Diedrich said. "Also, to let people know that were affected that there is help available. FEMA has declared a disaster; individuals can get assistance."
Flood clean-up is a much longer process than anticipated. Fast forward two months later and cleanup and repair efforts continue.
"It's already been a month or so [since the flood], the repair will probably be another three months," Mr. Smith said. "That's what I'm being told."
While much has been done to restore Eureka, but there is still a lot more to do.
"If nothing else, this flood is bringing us closer together," Mrs. Hartke said. "We are all thinking of each other."
In times of disaster, the Eureka community still stands strong.
"Our community has been through so much," Jackson said. "The flood really brings a whole new meaning to #EurekaStrong."
Leave a Comment
About the Contributor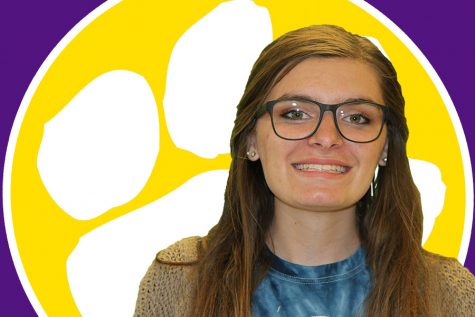 Emily Grossnicklaus, EHS-hub staff
This is Emily's sixth semester on the EHS-hub staff and her first semester on Digital Media Production.

She is a reporter. You can follow her on Twitter...