Moving forward and leaving high school behind
New program turns high school juniors into college freshmen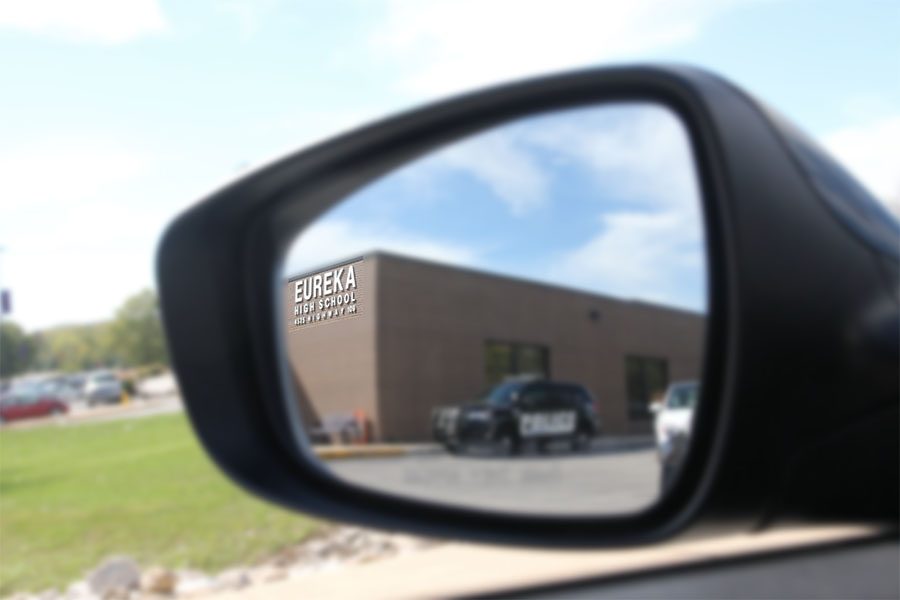 Repetitive. Routine. Structured. High school can be predictable.
A partnership between Rockwood and St. Louis Community College Wildwood gives juniors and seniors the opportunity to obtain their associate's degree at the same time as their high school diploma. Students leave their home high school to go to St. Louis Community College Wildwood to take college courses.
"Even though I'm still a high school student, I'm treated the same as any other college student," Cameron Richardson, EHS ECP participant, said. "I enjoy the ECP program more than high school because you get so much more freedom and responsibility."
Groups in Rockwood such as the High School Program Design Committee research new ways in which Rockwood can improve the high school experience for all of its students and try to engage members of the community into their evaluation process.
Though the ECP program is different from a traditional high school experience that may involve spirit weeks, a bell schedule, a seven hour day and having classes with friends, there are students who enjoy an alternative experience.
The program currently has 30 students enrolled and looks to expand to 60 next year. Fourteen of the students attended EHS for their first two years of high school. Twelve of the EHS students are juniors and two are seniors.
"We want a good choice for all of our students," Todd Minichiello, RSD coordinator of prevention and guidance services, said. "Traditional high school is a perfect option for some of our kids but not for everyone. I want to give those students a place where they would love to come to school every day and love to learn."
Minichiello realized that the typical classroom setting is not ideal for every student. After looking at other high schools in St. Louis, he found the Early College Partnership and brought it to Rockwood. The ECP program is an alternative to high school where students can earn their associate's Degree at the same time as their high school diploma.
St. Louis Public Schools adopted this program in partnership with St. Louis Community College Forest Park last school year. Minichiello cited the program's success and eventually, Rockwood adopted the program and partnered with St. Louis Community College Wildwood. A team of administrators from both Rockwood and SLCC, including Minichiello, assembled and planned for Rockwood's ECP program.
Instead of adjusting their own high schools, Rockwood deployed their students elsewhere in hopes of renewing their interest in education.
"It's really going well," Sharon Strollo, RSD coordinator of prevention and guidance services secretary, said. "Fixing the problem at the high school would be a lot harder. There is no problem at the community college."
Despite Strollo's job title she spends most of her time at the community college, addressing any concerns the students may have and assisting in whatever way she can.
"Rockwood is always looking to be at the forefront of new and innovative ideas," Minichiello said. "We are looking for anything non-traditional that would help students. Anything that'll give kids a better chance."
"The maturity aspect drew me to the program," Maddy Clark, EHS ECP participant, said. "It's right for me because I get to multitask and the grading is a lot better for me personally because professors give out extra credit."
Ten percent of all high schoolers are enrolled in a college course. Clearly, Rockwood is not the only school to offer high school alternatives in hopes of appealing to more students.
"It was a number of things," Addi Bussen, EHS ECP participant, said. "Money was a big aspect in me joining the program. I'm still able to be in band, so that's another bonus.The biggest decider was actually that a bunch of drama happened with my friend group, and I just wanted to leave that drama."
The program is individualized allowing students to take their own classes and organize their own schedule. Students can also become involved at the college by joining clubs and activities while remaining in MHSAA activities at their high school.
"The structure is different from high school. The ECP students are not tied down seven hours a day, five days a week," Jeff Buckman, college admissions specialist, said.

Flexibility opens up new doors for students that they may not have had if they remained in a classroom all day every day, but it also leaves behind many other opportunities. For example, students cannot participate in clubs that meet during the school day, as they are not present.
"I wasn't going to be able to do A+ at the high school, but now since I have so much free time, I go to LaSalle," Bussen said. "I like all the free time."
The ECP program is an alternative to the A+ program. Both provide two years of free community college, but A+ requires volunteer work in the district. Some ECP participants choose to do volunteer work, although it is not required.
"It's a really good idea to help mitigate the cost of college and try to not burden people with too much debt when they're leaving school," Ryan Zieg, SSD, said.
The average student owes $32,731 in student loan debt upon graduation. When two years of college are offered completely free, that number decreases drastically.
"It saves a lot of money for the first two years of college," Richardson said. "It also saves a lot of time because you get a two-year head start."
The partnership also works as a transition from the high school to a college. Although it is often compared to the A+ Program, ECP participants are two years ahead of their peers at the time of high school graduation, whereas A+ participants leave high school with just a diploma.
"For some kids, it could definitely be a good avenue to get their associate's Degree done quickly. For other kids, it might be a little too much," Michael Hanna, Math, said. "The high school experience is a good one for the majority of students to go through."
Although the ECP program might be a great program for some, it is not ideal for everyone.
"Students are very individual," Zieg said. "There might be some students that perform similarly in many ways but still have completely different motivations, interests or ways in which they would function."
The ECP program seems to be already beginning to adapt to the individualism of its students.
"I get to sleep in until 11 a.m. every day," Clark said. "I only have class for about three hours and during the classes we are allowed to leave or come at anytime. Professors are a lot more understanding."
Even if a participant decides later on that the ECP program is not right for them, their college credit remains with them.
"It is really designed for the student who does well in school, tests well and is ready to move on from high school earlier than most kids," Strollo said.
It may not be a coveted bachelor's, master's or doctorate's degree, but an associate's degree can result in a career. Registered nurses, nuclear technicians, dental hygienists and cardiovascular technologists are all careers that only require an associate's degree.
"It's a springboard for whatever I want to do next," Bussen said.
If school districts continue to send their students away with programs like the ECP and dual enrollment, they will quickly put themselves out of business, leaving teachers without students to teach.
Either way, schools are transforming rapidly, whether students like it or not. RSD and EHS are making a big push to prepare students for the workplace, a change from the current traditional model of high school.
Loading ...
Leave a Comment
About the Contributors
Ethan Fine, Editor-in-Chief
This is Ethan's seventh semester on the News Production staff. In his free time, he enjoys taking photos, going to concerts and hanging out with his friends....
Maria Perez, EHS-Hub staff
@mperezEHS_hub

This is Perez's third year on staff where she serves as a reporter for the Hub. One word to describe her: independent. Perez is involved...