Up Close and Personal: Lily Dean
Meet Lily Dean, Eurekana production editor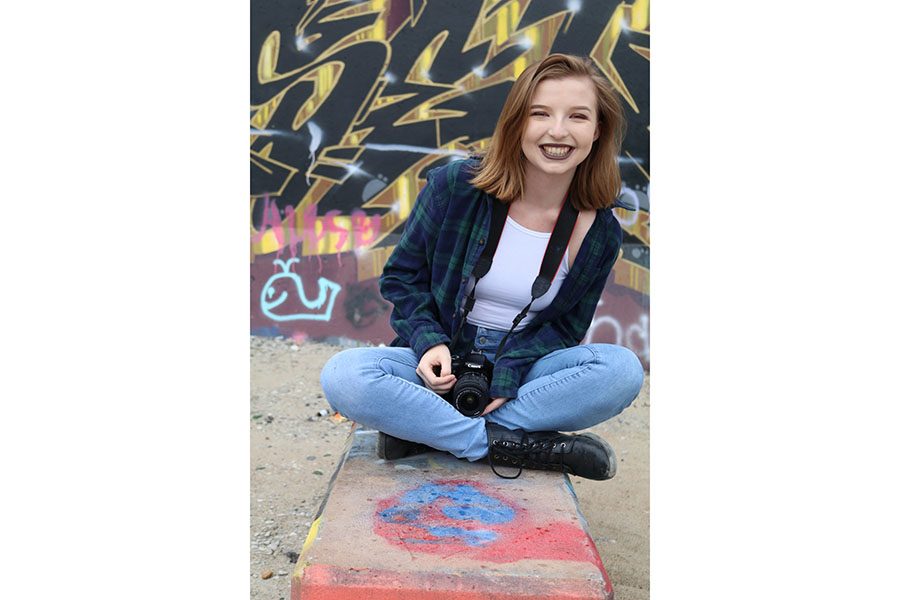 "I couldn't believe Lily [Dean] signed up for Yearbook Production. I had no idea how we were going to make that work," Elisha Strecker, publications adviser, said. "Interacting with people petrified her. And that's all we do in yearbook."
Lily Dean, Eurekana production editor, was originally too shy to take photos when she started her first journalism class Design and Desktop Publishing her freshman year.
Students in DDP venture out into classrooms to document the school year. The expectation is to shoot one great photo for every 36 frames. During her freshman and sophomore years, she only took about 10 photos when she went out to shoot classes.
"I did really love the concept of yearbook, and I did love photography," Dean said. "It was just getting myself out there. The issue was the people outside of this room."
She found that taking photos of Catpound or a pep rally didn't make her as nervous as creeping into a quiet classroom. She began going to school events to shoot pictures for the yearbook.
"With Catpound they weren't paying attention to me," Dean said. "I was not the most exciting thing at that event."
Dean gained experience and confidence. Slowly, she started to take more pictures until getting enough content for the yearbook was no longer a problem.
At the 2017 Homecoming Pep Assembly, Dean took 4,718 photos, a massive leap from her former self.
"Strecker got a little mad because I took about 4,000 or 5,000 pictures," Dean said. "It was a lot of pictures, and it took forever to upload. It took forever for me to go through and pick out my best photos."
Her junior year, Dean set her sights on becoming production editor. Editor meant having more control over what she contributed.
"I am not power hungry," she said. "I just like being in control I can just basically go wild. I can put all my ideas in there."
Dean became production editor for the 2017-2018 school year, her passion for design and photography paying off.
"It's a real testimony to Lily's character because she was willing to face her fear and keep on taking photos so she could become more successful," Strecker said.
From being afraid to take photos to Eurekana editor, Dean transformed herself over the course of her high school career.
"It's insane," she said. "I don't relate to myself freshman or sophomore year at all anymore."
Dean aspires to pursue a career involving art or design in the future.
View Comments (1)
About the Contributors
Audrey Brown, EHS-hub reporter
This is Brown's first semester on staff where she serves as a reporter for the EHS-hub. Brown enjoys playing soccer, hanging out with friends, and...
Becca Newton, Eurekana yearbook managing editor
This is Newton's fourth year on staff where she serves as the managing editor on the 2018 Eurekana staff. One word to describe her: eccentric. Conversation...