Welcoming change
Prop E $.05 sales tax measure could make all the difference in Eureka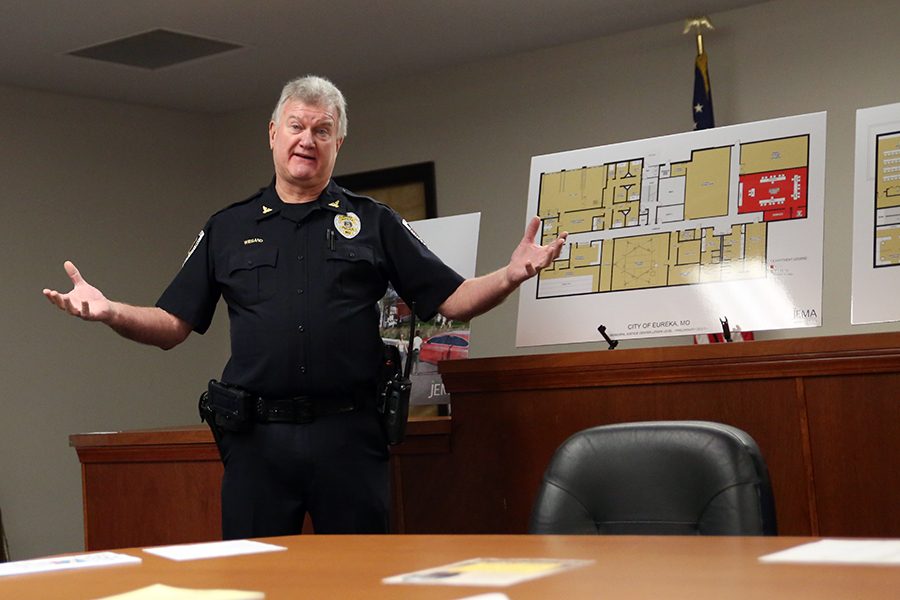 Updated March 2.
In 1981, city employees built a new Eureka police station to save money but did so without contractors. The new building did not meet any commercial construction grades, designs, rules or codes.
In the 20 years from 1960-1981, Eureka's population almost tripled from 1,134 to 3,862 people.
Thirty seven years later, the city has grown to a population of 10,534–a number that easily doubles when Six Flags is open–and the building is still the current workplace for the Eureka police.
Just one close look at the building can confirm the hazardous conditions in which these first responders are working. The outside foundation is cracked all around and rusty nails hang out of gutters that are routinely affixed. Walking through the halls, musty mold and cracked ceilings are inescapable.
These are only some of the minor problems that the Eureka police work with daily. The solution for the Eureka police rests in voters hands when they vote on Proposition E, April 3.
"The community could not have gotten through the flood without the help of the Eureka police," Lauren Jeffress (11) said. "The drastic measures they took in order to make sure that everyone was safe and taken care of were incredible."
This impressive crisis management is in spite of the questionable state of their facilities.
Prop E is a half-cent increase on sales tax that will go toward police facility and equipment costs, flood control measures and roadway infrastructure and bridge improvements.
"I really respect the Eureka Police Department and everything they do because I feel like if you are going to be a police officer you are joining because you actually want to help the community," Jeffress said. "They are dedicating their lives to our safety, so I feel very appreciative. If we as a community can give something back to them such as a new police station, then I feel like we should because they definitely deserve it."
While the community may appreciate the police department's work, they can't appreciate how impressive that work is considering the environment in which they are working daily.
The lack of a sally port, a secured entryway to a prison to escort prisoners in and out of, poses a major risk with a school full of children feet away.
The building also lacks a fire suppression system to prevent or extinguish fires within the building, enough offices for all of the officers and the garage was turned into a storage area because it lacked a vapor drop.
The locker rooms only allow enough space for one officer to fully get dressed at a time. With 25 male and two female officers in the police station, this lack of space affects their ability to do their jobs.
"Right now we are operating out of a very small space," Brett Grittini, student resource officer, said. "There is not much room for growth."
Over the last 37 years, the city has spent $308,000 on maintenance repairs and an additional $50,000 on roof repairs, according to Michael Wiegand, Chief of police.
Those dollars will continue to increase as the building ages.
"It's hard having to put and invest so much money into a building that we will constantly have to repair," Julie Woods, City of Eureka public information officer, said. "It becomes an issue of is that the best use of taxpayers money? We want to make sure that we are good stewards of that. We hired firms, and we did all of our due diligence to find that out.The recommendation is that throwing money into the current buildings that we have just doesn't make sense."
Designs and plans for a new justice center including police headquarters, court and emergency operations center that are up to code will be underway if Proposition E passes.
In a town that has faced two historic floods within months from each other, an updated emergency operations center is a matter of civic safety. The damages from the 2015 flood reached $1.5 million with the leadership and support of the Eureka Police Department, damages were down to $300,000 last May.
The new buildings could either be built in the same plot, closer to Geggie on a four-acre plot that the city owns or on a 10-acre plot behind the Timbers.
The justice center would directly serve community members as well by providing a 40-seat meeting space available to the public.
The money generated by the half-cent sales tax would also fund flood prevention measures recommended by the Army Corps of Engineers who started an 18-month study of the area, Feb. 7. The city is currently funding the $100,000 survey.
The Army Corps of Engineers will report back to the city and the police, August 2019, with possible solutions to prevent or stop future flooding.
Although the city planners and first responders mitigated much of the damage from the flood of 2017, the Eureka police are searching for ways to prevent another 100-year flood from devastating the community again.
"I spent 15 days total just sandbagging, so the flood definitely affected me," Brendan Schlittler (12) said. "A couple people I know their houses got flooded, so it affected me in that way, as well. Just a little increase in the tax could help prevent bills of thousands and thousands of dollars. It is a very important thing to look into."
The money will also be put into the Allenton bridge project. The hazardous bridge sits across from the Six Flags area with its steep hill and cracked foundation.
The Allenton bridge would be demolished and a new, safer bridge would be built in a different location.
The proposed sales tax is a limited opportunity for the community. It will expire at midnight, Dec. 31, 2038.
The sooner Eureka passes the tax, the more money the tax will generate. Those funds provide vital options for the city since the federal government often provides matching grants for projects, but the city can only take advantage of those grants if it can provide matching dollars.
Eureka residents will not be the only people paying for this sales tax. Two million people a year come to Eureka for tourism who will help pay for the tax. Anyone who enters the community and purchases gas, food, clothing, etc. will contribute to these projects.
"The tourists are going to help pay for this because it's a sales tax not only on our citizens but the tourism that comes here and helps pay for that half cent," Wiegands said. "Everybody is going to have to end up paying. Every hotel, motel, Santa's Magical Kingdom ticket, Six Flags season pass, or any purchase is going to help pay for this."
For an additional $.03 on a $6 Culvers order, $.15 for a $30 camo vest from Dickey Bub or $1 on a $200 run to Schnucks's, voters can determine the fate of the police department.
"I am all for the half cent sales tax because it is going to improve our community," James Daffron, Eureka resident, said. "The money has to come from somewhere. It is going to make the community a lot nicer by providing us with better infrastructure, bridges, a safer environment and will help with the flood conditions. The sales tax will help keep our buildings dry, which costs a lot of money to repair so the sales tax could save everyone a lot of money in the long run."
This river railroad town could find the answer to looming issues from this fractional sales tax increase.
"The Eureka police does a lot for the community," Schlittler said. "A lot of it is behind the scenes, but they do a phenomenal job at what they do in keeping us safe-especially with the flooding."
Every vote counts. Cast yours on April 3.
View Comments (1)
About the Contributors
Lauren Glascock, EHS-Hub staff
Glascock is a news reporter for the EHS-hub. This is her second semester on staff. Her hobbies include travelling, writing, hanging out with friends, going...
Becca Newton, Eurekana yearbook managing editor
This is Newton's fourth year on staff where she serves as the managing editor on the 2018 Eurekana staff. One word to describe her: eccentric. Conversation...