Tiny and mighty
Geometry in Construction hosts an open house to take a look inside their tiny house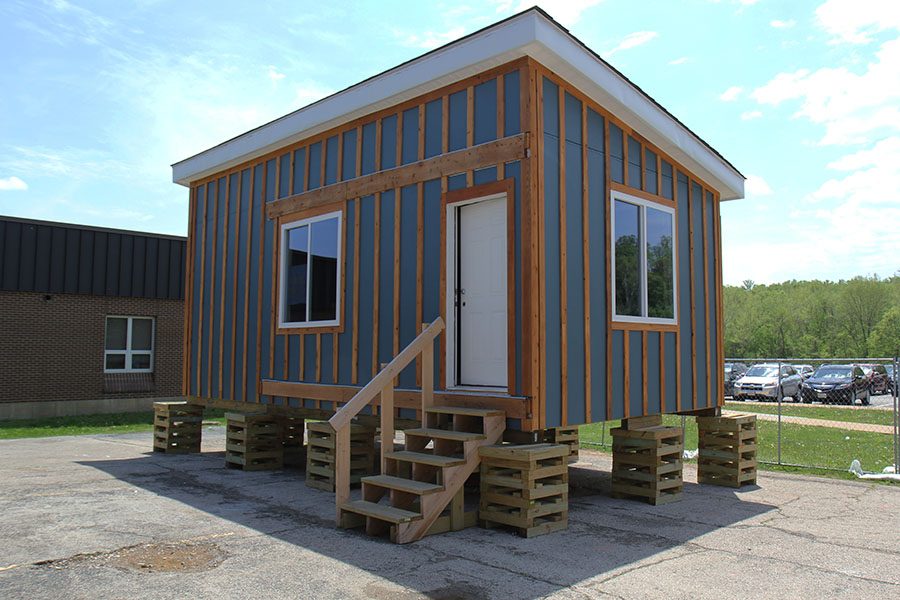 The buzzing of saws and the pounding of hammers striking nails. The outdoor classroom of Geometry in Construction is unlike any other at EHS.
The Geometry in Construction class will be having an open house to present the tiny house that the students have been building and constructing, April 9.
The 25 students enrolled in Geometry in Construction have been applying geometry principles to construct a tiny house under the guidance of Michael Hanna, Math, and David Luecke, Tech Ed.
Staff members, students and parents are all invited to attend an open house to see the project.
"It's beyond just the geometry," Hanna said. "It's opened students' eyes up to what goes into a house and different fields of engineering and construction."
Students will walk through the house with their parents and explain what the class has been doing and how the class has benefited them.
"I didn't know a lot of geometry until I took construction," Ethan Timm (10) said. "We take what we learn from the classroom and do it outside."
Rather than take notes and tests like a typical Geometry class, students enrolled in Geometry in Construction have spent their time outside, applying their knowledge of geometry to build a tiny house.
"The class gives a hands-on approach, and since I'm a tactile learner it makes it a lot easier," Tucker Burt (9) said. "It gives you a break from the actual math and it gives you a chance to learn with your hands instead of just boring lectures all day."
A University of Chicago study shows there are tremendous differences in brain function by students who have physically experienced math and science concepts. These studies prove students who have physically experienced scientific and math concepts perform better on tests.
"Its helped me a lot with construction," Casey Baker (10) said. "We learn everything in a different way that's helped a lot of people."
Being outside and working hands-on with the students' math concepts is a change of environment for students in the class. Instead of being inside, students are seeing what they're learning in the real world.
"We actually get to see the math that we are learning in the real world," Morgan Beatty (10) said. 'Its benefited me a lot."
Sponsors of the tiny house including North Grand Neighborhood Services Association and 84 Lumber are also invited to attend the open house. The sponsors are being thanked for their participation and cooperation during the construction of the tiny house.
"We want to invite the vendors,' Hanna said. "They've donated materials and helped get the project off the ground and going as well as the district that have had a hand in it."
The tiny house will be utilized as a transitional home for a homeless shelter. The tiny house is being funded by the Social Justice For All non-profit organization and is being donated to the NGNS.
All are welcome to check out the Geometry in Construction students' work, May 9, 4-7 p.m.
Leave a Comment
About the Contributor
Sarah Bellamy, EHS-hub reporter
Bellamy is a reporter for the EHS-Hub. This is her second semester on staff. Her hobbies include painting and hanging out with her friends. Word that describes...