Thinking outside of the box or breaking into it
Teachers learn about a tool to break from the routine and help students problem solve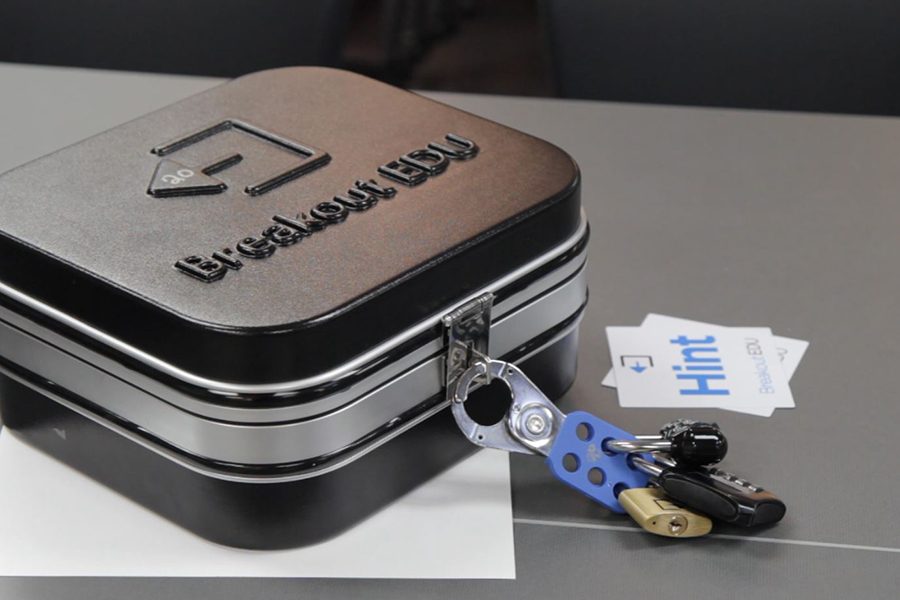 It's the day after the Mr. EHS pageant. You were at school until midnight last night. Once you finally get home, you can barely keep your eyes open. You realize that you have two tests tomorrow, a quiz and an essay due. How do you solve this problem?
Life is navigating problem after problem.
Teachers learned, Jan. 24 and 25, about a tool that engages students in the life skill of problem solving during Professional Learning opportunity. Hands-on, group activities that teach teamwork prove beneficial later in life. Soft skills like teamwork that are crucial for workplace success.  
"It helped me learn the best because you work together and collaborate,"  Jordyn Johnson (10) said.  "You had to use your outside knowledge, which was what made it more of a real-life situation." Johnson participated in her first Breakout Box activity in Julia McIntrye's sixth hour Language Arts 10 class.
EHS and the district have shifted teacher focus to critical thinking and problem-solving. Each year the district and buildings choose goals for teacher evaluations.
Teachers then choose how they will address those goals. This year, Standard 4: Critical Thinking is the focus of all EHS teachers for their evaluations. It's language: "The teacher uses a variety of instructional strategies and resources to encourage students' critical thinking, problem-solving, and performance skills."
Engaging students in critical thinking has lead some teachers to thinking outside of the box or–more accurately–inside a particular box.
Each hour, teachers could spend their planning periods learning about Breakout Boxes and how to incorporate them in learning. Jennifer Strauser, associate principal, and Brian Reed, instructional technology specialist, facilitated the sessions.
Breakout Boxes are a hands-on teaching tool by Breakout EDU. Similar to a breakout or escape room, the boxes are a game meant to bring problem solving and teamwork to classrooms of all ages.
Teachers place students into small groups. Each group has a sealed box with four different locks. Students then use clues, technology and the room around them to open each lock and ultimately the box.
Breakout Boxes are also themed so they can be incorporated in any class. The breakout box that the teachers participated in was "Back to the Future"-themed, Jan. 24.
Facilitators give each group two hint-cards.The game includes a few false clues meant to throw players off track.
Proceedings of the National Academy of Sciences of the United States of America published a study showing the effectiveness of hands-on and active learning. Participating in projects creates much more engagement in the classroom and increases success.
"I love the idea," Reed said. "It is a highly valuable resource and should be used as another tool in the educational arsenal."
Breakout EDU designs each game around their 4 Cs: Critical thinking, collaboration, creativity and communication.
"You had to interact with others and give your ideas," Johnson said.
Breakout Boxes are another way the district is retooling. With the addition of hands-on classes such as Geometry-in-Construction and Algebra, Manufacturing, Production, Entrepreneurship and Design, RSD hopes to ignite a spark in the classroom.
"It mixes it up with the kids," Patrice Willard, A.M.P.E.D. co-teacher. said. "It's doing something a little different."
A.M.P.E.D. is one of the few classes at EHS to have employed Breakout Boxes so far, along with two Language Arts 10 classes.
A.M.P.ED. is a math-business combination class that applies Algebra 1 to the business world. Students create a business and press t-shirts while utilizing math principals.
"It's all about teamwork," Drew Dunaway, A.M.P.E.D. student, said. "It definitely helped me because that is the main priority of the class."
Departing from the routine of lecture and notes, this activity requires students to exercise skills that often are theoretical.
"The breakout boxes are effective by allowing for the practical application of the skills that are needed to be successful," Reed said. "They allow the users to explore creative approaches to solve a challenge."
RSD purchased kits from Breakout EDU, which teachers can check out. The site sells kits for $150. There are also online packages and games to bring to the classroom.
"The kids really liked it," Crystal Tullock, A.M.P.E.D. co-teacher, said. "The concept of our program is very hands-on. The biggest part of our first semester was to create the culture of the classroom and work with a variety of different people."
Inspired by the ePLO, teachers are already planning to bring the Breakout Boxes to their classrooms. A.M.P.E.D. students can expect one in the next two weeks as well as Language Arts students.
"I thought the boxes were a good idea," Dominic Facenda, another LA 10 student of McIntrye's, said. "It was a fun and different way to blow off steam."
Five students hover over a black box. The clock ticks away. Twenty-five minutes left. Three locks remain sealing the box shut. With a laptop, two hints and the room around them, these students race to unlock the box and win the ultimate prize. The prize: The ability to solve one's problems.
Leave a Comment
About the Contributors
Ethan Fine, Editor-in-Chief
This is Ethan's seventh semester on the News Production staff. In his free time, he enjoys taking photos, going to concerts and hanging out with his friends....
Brandon Shipley, EBN staff member
This is Shipley's third semester on staff where he serves as a staff member for EHS-hub Broadcast News (Digital Media Production.) Shipley enjoys...