A historic statue, war hero's funeral and potential Syrian takeover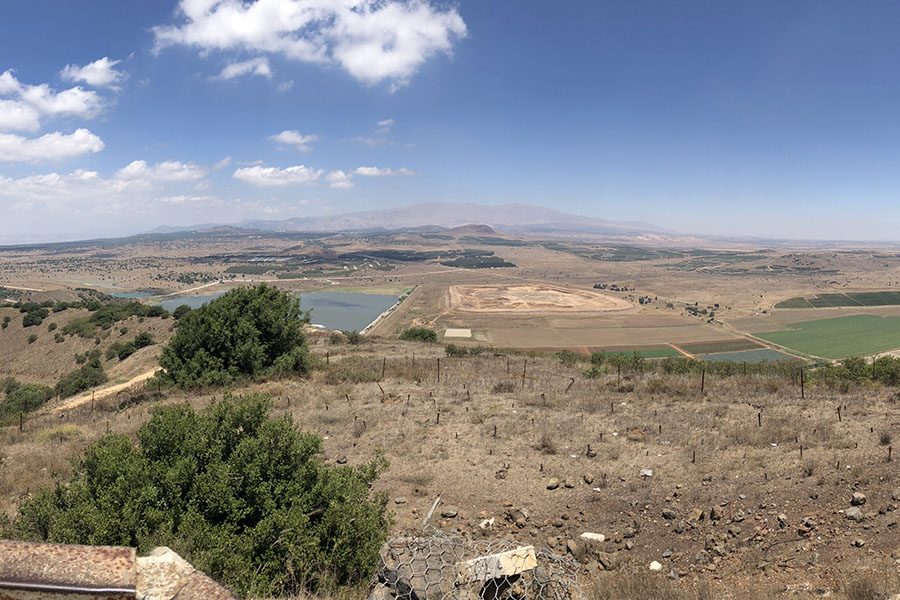 Local
Know: A group of 40 people met at a Christopher Columbus statue to discuss its fate, Sept. 1.
Inform: Tower Grove Park, has been home to a statue of Christopher Columbus since 1886. For the past two years, park officials have found the statue vandalized with "murderer" and "black lives matter" in red paint. This vandalism adds the St. Louis statue to the list of Columbus monuments defaced across the country. One year ago, workers removed a Confederate Monument in Forest Park after it had been vandalized and was at the heart of similar controversy. Now, St. Louisans are calling for the removal of the Columbus statue.
Care: Columbus Day falls on the second Monday of October and is meant to celebrate Christopher Columbus who is often credited as the founder of the land that is the United States of America. Each year, Columbus, an Italian explorer, is celebrated by St. Louis' Italian community who gathers at the statue each year. Those without such close ethnic ties to Columbus see him as an oppressor of indigenous people, someone who does not deserve either a holiday or a statue. The Columbus controversy has been brought St. Louis, as seen through the vandalism of the statue. Following the September 1 meeting at the statue, the park's Board of Commissioners will discuss the statue's future. While no decision has been made regarding the statue, protestors have already created a Facebook event for the removal/destruction of the statue. Growing unrest because of racial ties is something to be taken seriously. Without proper control, a simple protest can turn into a state of emergency such as what happened in Charlottesville, Virginia, August 2017.
National
Know: Friends and family of Senator John McCain (R) laid him to rest, Sept. 2.
Inform: Following McCain's death, Aug. 25, fellow servicemen, politicians, classmates and family members attended McCain's funeral at the U.S. Naval Academy in Annapolis, Maryland. McCain served in the Navy for 22 years. The North Vietnamese captured McCain, holding him as a prisoner-of-war for five and-a -half years. After his service, McCain ran and won a seat in Congress and eventually won a seat in the Senate. In 1999, McCain ran for President, but he dropped out in early 2000. McCain ran for President again in 2008 but lost to Obama. In July 2017, McCain went public with the news that he had been suffering with a brain tumor. After a year-long battle with the tumor, McCain announced he would be stopping cancer treatment, Aug. 24. One day later, the senator of 31 years died.
Care: Following Senator McCain's death, President Donald Trump tweeted his condolences to the McCain family. Trump ordered the flags outside the White House by flown at half-staff to honor Senator McCain, Aug. 25. By Aug. 27, the flags were back at full-staff. Tensions between Trump and McCain date back to 2015 when McCain called Trump supporters "crazies." Trump's follow up to this included calling McCain "not a war hero." In October 2016, McCain withdrew his support for Donald Trump after recording of Trump sexually harassing women arose. According to McCain's family, Senator McCain requested that Trump not attend McCain's funeral. While Americans looked up to Senator McCain for his courage and perseverance, the President of the United States had his own views on McCain and did not abandon those views even after McCain had passed. Both of McCain's opponents in the 2000 Presidential Campaign and the 2008 Presidential Campaign, George W. Bush (R) and Barack Obama (D) spoke at McCain's funeral, addressing his bipartisan efforts.
International
Know: President Donald Trump took to Twitter to voice his concerns on the Syrian conflict, Sept. 3.
Inform: Trump's tweet urged Syrian President Bashar al-Assad not to attack Idlib, a province in northern Syria and one of the last cities held by Syrian rebel forces. Syria's civil war has been going on for seven years between Assad's forces and rebels. As Assad's forces continue to slowly take over Syria, Idlib is one city that has not yet been attacked. Reuters received news from an inside source claiming that Assad has plans to take on the city. Trump warned of the deaths of hundreds of thousands if Assad attempts to regain the territory. Trump also noted Russia and Iran's alliance with Syria. The Syrian army dropped pamphlets over Idlib warning that the war would soon end, Aug. 9.
Care: Nikki Haley, Ambassador to the United Nations, added on to Trump's tweet with her own, demanding Syria stop their use of chemical weapons. The Syrian Civil War has taken the lives of more than 400,000 over the span of seven years. Refugees who have been forced out of their homes have fled to Idlib, which may now be under fire. Iran will host a summit in Idlib to discuss the situation with Russia and Turkey, Friday, Sept. 7. As the Syrian conflict progresses, so does the number of refugees. There are now 5.6 million registered Syrian refugees left with nowhere to go. The number of refugees brought into the United States has been declining, especially with Trump's strict policies and actions against refugees in the U.S. With 11 million refugees and ongoing chemical warfare claiming the lives of more and more citizens, the U.S. is left with an ultimatum: Should they enter the Middle East once again or continue life without getting involved? While it's hard to sit idly by and watch the Syrian conflict unfold, the U.S. would be entering dangerous territory by getting involved.
Leave a Comment
About the Contributor
Ethan Fine, Editor-in-Chief
This is Ethan's seventh semester on the News Production staff. In his free time, he enjoys taking photos, going to concerts and hanging out with his friends....