Homecoming reminders, Supreme Court nominee allegations and an Iranian military parade
Local
Know: EHS Homecoming week begins, Monday, Sept. 24.
Inform: In the days leading up to Homecoming, Sept. 29, EHS will have five spirit days:
America Monday,

Tie Dye Tuesday

Meme/Vine Wednesday

Pajama Thursday

Purple and Gold Friday
Junior and senior girls will compete in the annual Powderpuff football game at 6 p.m, Sept. 27. Admission will cost three dollars. Half of the proceeds will go to benefit the Baremore family and the other half with go toward Renaissance. Because this is a charity fundraiser, athletic passes will not be accepted. The Eureka Wildcats will take on the Lindbergh Flyers at EHS at 7 p.m., Friday, Sept. 28.
The dance will be held in Gym A, Saturday, Sept. 29 from 7-10 p.m. The doors close at 8 p.m. The theme is "Dancing with the Stars." Tickets for Homecoming will be sold from Sept. 20-Sept. 26 at $15 for singles and $30 for couples. Starting Thursday, Sept. 27 and running through Friday, Sept. 28, tickets will be sold for $20 for singles and $40 for doubles. Tickets will be sold during both lunch shifts near the library.
Students must have all fines cleared and obtain a fast pass via the library or grade-level offices to purchase tickets. This week's schedule will be A-B-C-A-A. The schedule for the pep assembly, Friday, Sept. 28, is as follows: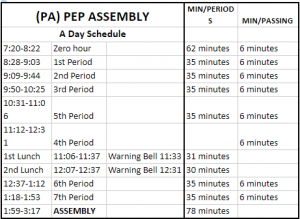 Students are to leave their backpacks in the classroom and return to get them after the assembly.
Care: Students will be able to earn points for their grade-level every day by dressing in spirit wear and participating in games and activities during both lunch shifts. The grade-level with the most points will win the annual Spirit Cup, which will be given to the winner during Friday's pep assembly.
National
Know: Christine Blasey Ford's attorneys reached an agreement for her testimony with the Senate Judiciary Committee, Sept. 23.
Inform: Ford, who accused Supreme Court nominee Judge Brett Kavanaugh of sexual assault, will testify in front of the committee, Thursday, Sept. 27. Ford claims that Kavanaugh sexually assaulted her at a high school party in the 1980s. In the agreement, Kavanaugh will also appear in front of the committee, but he will not be present when Ford is giving her testimony. Several politicians have spoken out against the allegation, announcing that they will still side with Kavanaugh. A statement from the White House said Kavanaugh was "eager to testify publicly to defend his integrity and clear his good name." Four denials have been sent to the committee, the most recent one saying that partygoers do not recall Kavanaugh even attending the party.
Care: Judge Brett Kavanaugh is not the only political figure to face allegations amidst the #metoo movement. Among the politicians are movie stars, musicians, CEOs and public figures who have all been accused of sexual misconduct. Former Missouri Governor Eric Greitens resigned after sexual misconduct allegations arose. Even President Donald Trump has faced sexual misconduct allegations. Twenty-seven years ago, a similar situation occurred when Anita Hill accused Clarence Thomas, Supreme Court nominee, of sexually harassing her when they had worked together for the Department of Education. Hill would go on to testify during Thomas' confirmation hearing and Thomas would be confirmed in a 52-48 vote. The 1991 scenario bears striking similarities to the Ford-Kavanaugh allegation, setting a precedent for Supreme Court nominees facing sexual misconduct accusations. While the #metoo movement began and gained momentum in 2017, sexual assault cases that popped up nearly three decades ago are popping up today posing the question of whether or not such movements have actually made a difference in society.
International
Know: Gunmen attacked an Iranian Military Parade in Ahvaz, killing 25, Sept. 22.
Inform: The bloodiest assault on Iran soil in several years came when gunmen disguised as soldiers in an annual military parade began firing into the crowd, ultimately killing 25 and injuring as many as 70. Iranian Foreign Minister Javad Zarif took to Twitter to cast blame upon the U.S. Iran's former supreme leader Ayatollah Ali Khamenei also blamed the United States in his official statement. Three of the gunmen died on the scene, and the fourth died in the hospital after falling to serious injuries.
Care: The Islamic State took responsibility for the attack, posting a video of three men saying they were on their way to go attack an Iranian military parade. ISIS originally began as a "splinter" group of al Qaeda, the group responsible for the 9/11 attacks. The goal of ISIS, also known as ISIL or IS, is to create an Islamic State throughout the Middle East. ISIS has been responsible for several notable U.S. attacks such as the 2015 San Bernardino attack and 2016 Pulse Nightclub shooting. Terrorism has been on the rise since 9/11, with 46,573 attacks worldwide from 1986-2001 and 98,773 attacks worldwide from 2001-2016, according to the Global Terrorism Database. While the U.S. has been trying to fight terrorism since 2001, it does not seem to be making much of an impact as there were more than double the attacks after 9/11 than there were in the same period of time before.
Leave a Comment
About the Contributors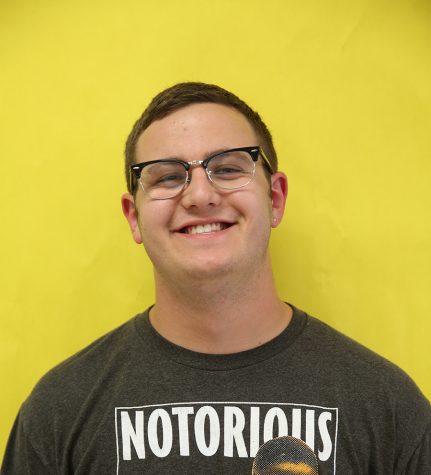 Ethan Fine, Editor-in-Chief
This is Ethan's seventh semester on the News Production staff. In his free time, he enjoys taking photos, going to concerts and hanging out with his friends....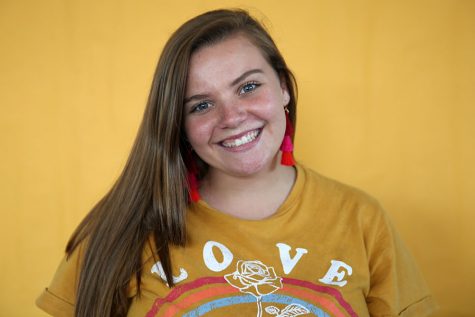 Regan Peterson, Managing Editor
This is Peterson's seventh semester on staff where she serves as the Managing Editor for both the Eurekana Yearbook and EHS-hub. Peterson enjoys sleeping,...